By
for on February 25th, 2014
Meet the New Faces Arriving for 'Downton Abbey' Series 5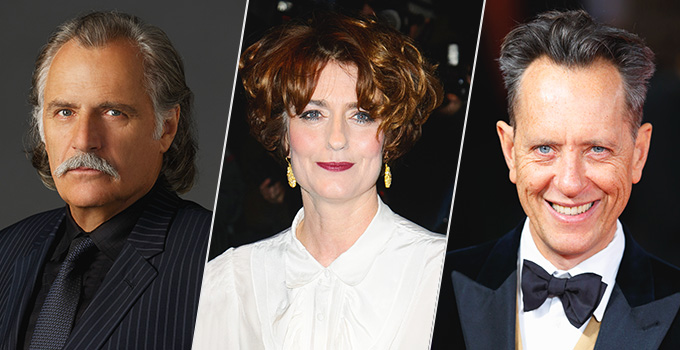 We only finished Downton Abbey Series 4 a couple of days ago here in America, but it seems a pretty safe bet that many people are already experiencing the classic symptoms of withdrawal and sadness that characterizes the deadly dull time that is the hiatus.
Luckily, Downton was renewed for Series 5 well before the season aired here in the US and filming officially got under way this week in England, so we are not completely without diversion at this most crucial of times. The start of production has not brought us much (yet) by way of storyline or character-related details, but Carnival Films, ITV and Masterpiece have announced that the new season will bring with it a handful of new and familiar faces.  
Three fabulous and well-known actors will be joining the cast of the mega-hit costume drama when it returns for its fifth season. 
Richard E. Grant – seen most recently as Jessa's dreadful rehab partner Jasper on Girls and as Dr. Simeon/the Great Intelligence on Doctor Who – will be playing Simon Bricker, a guest of the Granthams who is visiting the abbey. Given the rate at which Downton seems to acquire houseguests who never leave, who can say how long he might be sticking around?
The fabulous Anna Chancellor, probably best known for her role as war correspondent Lix Storm on cancelled all too soon drama The Hour, is playing the guest role of Lady Anstruther. Sadly, nothing else is mentioned in the press release about this character, but since Chancellor's a very talented actress, here's hoping the role is a substantial one. We do know that Ed Speelers' Jimmy used to be a footman for the Dowager Lady Anstruther, so that could potentially lead to some interesting twists.  But wouldn't it be fun if this Lady Anstruther has anything to do with the woman of the same name who has her portrait in the Tate? Wishful thinking, I'm sure, but still.
Internationally acclaimed actor Rade Sherbedgia, whom you may have seen in Eyes Wide Shut and 24, will be playing a Russian refugee named Kuragin, who is fleeing the revolution after World War I. Bring on the Romanovs, right?
"We are delighted to welcome these talented actors to the world of Downton," said Gareth Neame, Downton's Executive Producer and Managing Director of Carnival Films. "The characters they play are set to bring yet more excitement and intrigue to the show."
Additionally, Dame Harriet Walker will be returning as Lady Shackleton, also known as "that woman who didn't think Molesley was very capable at serving", and Peter Egan will be back as Lord Flintshire. No word on whether we can expect to see Lady Flintshire return with Shrimpy, but perhaps she's still gallivanting around India with O'Brien.
Thoughts? Any of these particular actors strike your fancy? What do you want to see happen in Series 5?
---
By
for on February 25th, 2014