By
for on July 23rd, 2021
Masterpiece Confirms the 'Sanditon' Season 2 Cast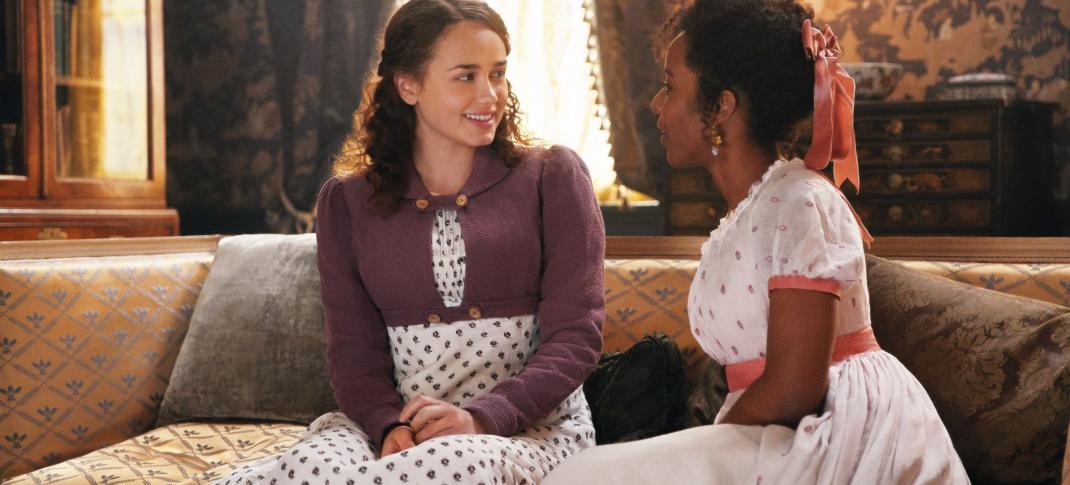 Masterpiece has confirmed that Sanditon Season 2 has begun production with a press release revealing the show's new and returning cast, the series synopsis, and a few hints of where the story will go from here. The good news is that most of the Season 1 cast is slated to return for the revived series. The better news is that the new faces promise new adventures and romance.
As announced previously, Rose Williams will return to the series as Charlotte Heywood. But her former love interest, Theo James' Sidney Parker, won't be. James' absence left fans wondering just how many characters from the original series would return. Crystal Clarke (Georgiana Lambe) suggested she would, and Jack Fox (Edward Denham) posted a photo from the first table read.
But it turns out that we'll be seeing several familiar Sanditon residents in Season 2. Anne Reid (Lady Denham), Charlotte Spencer (Esther Denham), Lily Sacofsky (Clara Brereton), Kris Marshall (Tom Parker), Kate Ashfield (Mary Parker), and Turlough Convery (Arthur Parker) are all headed back to the seaside. Also returning in more minor roles: Kevin Eldon (Mr. Hankins) and Adrian Scarborough (Dr. Fuchs).
The series has a brand new synopsis for Season 2, with the story picking back up nine months after the Season 1 finale.
Charlotte returns to the beautiful seaside resort and soon attracts the attention of not one but two new men. In her last summer season before turning 21, Georgiana, keen to forge her own identity, gets up to mischief in the name of love, but will she run the risk of being lonelier than ever before?

The Parkers are back as Tom strives to rebuild. But many unforeseen issues are awaiting him while the secrets and lies of the dysfunctional Denhams continue to rock the foundations of the sunny seaside town. The Army also arrives to make Sanditon their new base, bringing potential new romances, friendships, and challenges for the residents.
The press release also seems to confirm that Young Stringer (Leo Suter) will not be back. Instead, two new love interests are heading Charlotte's way. Ben Lloyd- Hughes (War & Peace) will play Alexander Colbourne, a man with a complex family history, who contrasts with the self-assured war hero Colonel Francis Lennox, played by Tom Weston-Jones (Shadow & Bone).
The cast will also add an entire new heroine in Rosie Graham (Outlander), who plays Charlotte's younger sister Alison Heywood. Her love interest will be Captain William Carter, played by Maxim Ays (Still So Awkward). Other men about town who could catch someone's eye: Captain Declan Fraser, played by Frank Blake (Normal People), and Byronic artist Charles Lockhart, played by Alexander Vlahos (Versailles).
Death In Paradise's Justin Young spearheads Sanditon's new series, but original series creator Andrew Davies will return to write and executive produce the revived series. Charles Sturridge (Marcella) and Ethosheia Hylton (Ackley Bridge) will trade off directing duties.
Sanditon Season 2 does not yet have a release date but is expected to premiere on PBS in 2023. The series premieres as a BritBox Original in the U.K.
---
By
for on July 23rd, 2021
More to Love from Telly Visions