By
for on May 26th, 2023
The First Look at Period Drama 'Mary & George' Is Positively Regal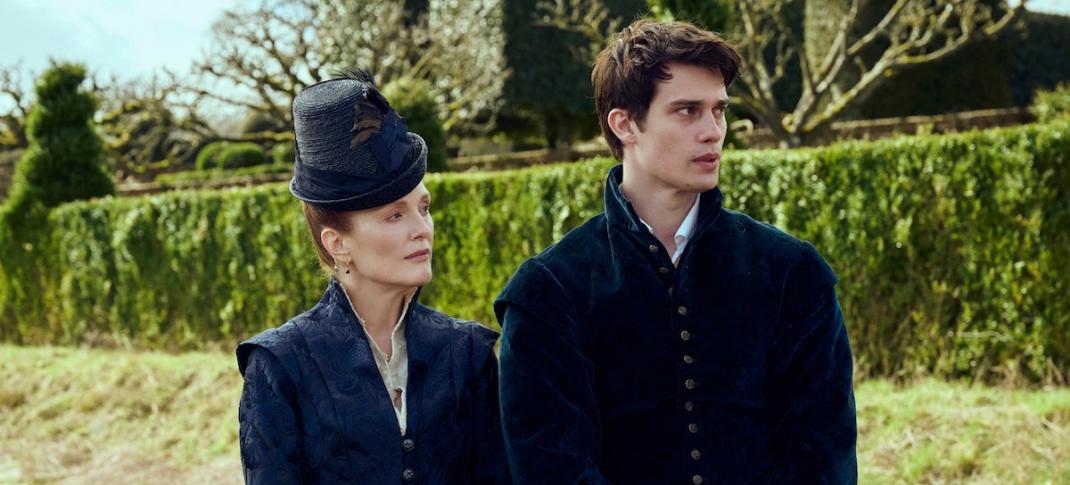 Given how much of our popular media focuses on the reign of England's Queen Elizabeth I, it's nice to finally see a story about what happened next. After all, her chosen heir, James I, was the first monarch to rule over a united England, Ireland, and Scotland, continued her patronage of literature and the arts, sponsored the translation of the Bible into English, and bolstered the colonization of America. He also constantly scrapped with Parliament, and his paranoia over the occult catalyzed one of Europe's deadliest witch panics. Basically: there are so many stories from this era that our current media would do well to explore (and that are undoubtedly preferable to another treatise on the monstrousness of Henry Tudor. Just saying.)
Thankfully, period dramas finally seem to be developing some interest in the Stuart period, with films and television series featuring everything from the reign of James I to the English Civil War and the Stuart Restoration. One of the most intriguing projects is Mary & George, which aims to tell the story of Mary and George Villiers, an ambitious mother-son pair of courtiers who rose to immense power in James's court.
Sky and AMC have released a batch of first-look images for the highly anticipated period drama, which gives us our first glimpse of its lush seventeenth-century setting and costumes.
A charismatic royal favorite known for her greed and nonstop ambition, Mary Villiers supposedly groomed her (extremely handsome) son to seduce King James I. (The king's interest in men was pretty much an open, if unspoken, secret at the time.) Thanks to her dedicated (read: nonstop) scheming, George became the king's lover, and he and his mother rose to become one of the wealthiest and most influential families in the history of the British court.
George was showered with titles and powerful positions: he was appointed Lord High Admiral of England, and the dukedom of Buckinghamshire was recreated for him, and he became the only English duke in the country who was not a member of the king's family (and the first commoner elevated to such a position in a hundred years.) He remained at the height of royal favor even into the reign of James's son, King Charles I, until a disgruntled army officer assassinated him in 1628.
The series stars Oscar and BAFTA-winning actress Julianne Moore (May December) as Mary in just her second major television role, alongside Nicholas Galitzine (Cinderella) as her son George and Tony Curran (Your Honor) as King James I.
"Since I first read about Mary Villiers' life – and all she achieved with her son, George – I've been obsessed with bringing this story to the screen," Moore said in a statement when the series was first announced. "Between King James' often-overlooked love and lust for men, Mary's extraordinary rise as a woman in a man's world, and George's (many, many) sexual and political conquests, this is a profoundly rich, and, as yet entirely untold on screen, story, about a pair of 'commoners' who conquered all before them."
Inspired by the non-fiction book The King's Assassin by Benjamin Woolley. Mary & George is created and written by playwright DC Moore, whose credits include Killing Eve, Temple, and Not Safe For Work. 
The series' starry ensemble cast includes Nicola Walker (Annika) as Lady Halton, Niam Algar (The Wonder) as Sandie, Trine Dyrholm (The Legacy) as Queen Anne, Sean Gilder (Poldark) as Sir Thomas Compton, and Simon Russell Beale (Operation Mincemeat) as Sir George Villiers. 
Other notable cast members include Adrian Rawlins (Chernobyl) as Sir Edward Coke, Mark O'Halloran (Devils) as Sir Francis Bacon, Samuel Blenkin (The Witcher: Blood Origin) as Prince Charles, Jacob McCarthy (Rogue Heroes) as Kit Villiers, Tom Victor (Peaky Blinders) as John Villiers, Alice Grant as Susan Villiers, Mirren Mack (The Nest) as Katherine Manners, and Rina Mahoney (Happy Valley) as Laura Ashcattle.
Here's the series description.
Mary & George is inspired by the unbelievable true story of Mary Villiers, who moulded her beautiful and charismatic son, George, to seduce King James VI of Scotland and I of England and become his all-powerful lover. Through outrageous scheming, the pair rose from humble beginnings to become the richest, most titled and influential players the English court had ever seen, and the King's most trusted advisors. And with England's place on the world stage under threat from a Spanish invasion and rioters taking to the streets to denounce the King, the stakes could not have been higher.

Prepared to stop at nothing and armed with her ruthless political steel, Mary married her way up the ranks, bribed politicians, colluded with criminals and clawed her way into the heart of the Establishment, making it her own. 

Mary & George is a dangerously daring historical psychodrama about an outrageous mother and son who schemed, seduced, and killed to conquer the court of England and the bed of King James.
Production is currently underway on the series. While Mary & George doesn't have a premiere date yet, it will air on  Sky Atlantic in the U.K. and AMC+ in the U.S.
---
By
for on May 26th, 2023
More to Love from Telly Visions