By
for on April 5th, 2022
Martin Freeman's 'The Responder' is Coming to BritBox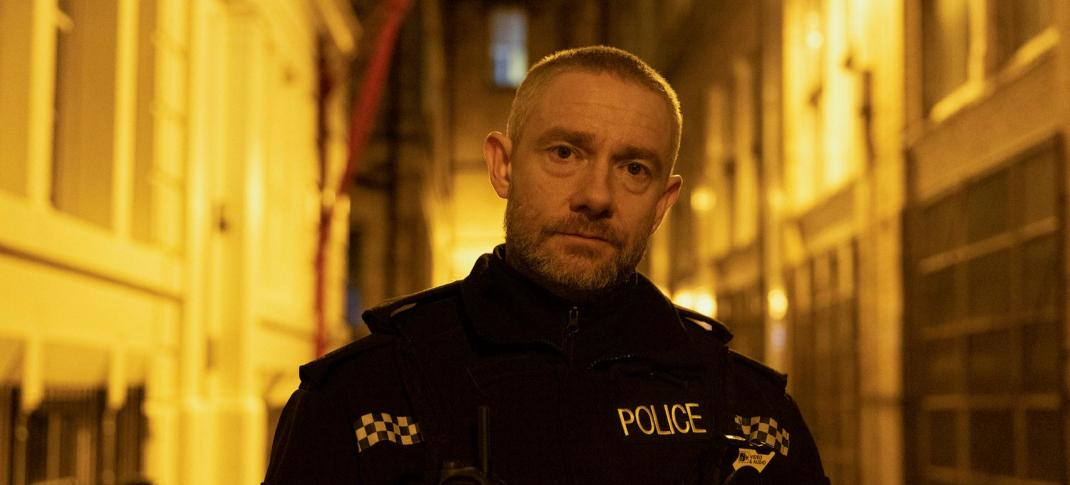 The BBC renewals from the last month have mostly been for dramas American fans have already seen. Time, for instance, aired Season 1 on BritBox last year, Vigil Season 1 is tucked away on Peacock as one of the few British offerings they have, and The Tourist Season 1 recently arrived on HBO Max. However, the fourth big drama the BBC is going all-in on with a renewal, The Responder, starring Martin Freeman (Sherlock), has not yet hit American shores. But at least fans know where it's going, if not an official release date, as producer Fremantle has closed a deal with BritBox North America for stateside distribution.
For those who haven't heard about the U.K.'s newest hit police procedural, it debuted on BBC One in mid-January 2022, running five episodes (down from the original order of six) and picking up rave reviews along the way. Initially commissioned and announced in January 2020, the series is one of many originally planned for a 2021 release that saw its release date pushed back due to lockdowns.
Written by former Merseyside Police officer Tony Schumacher, a graduate of the BBC Writers Room emerging writers initiative. and set in Liverpool, the fictionalized story is drawn from Schumacher's experiences on the force, with The Guardian praising the resulting series as "riveting as a thriller and as profound as a documentary."
Freeman's leading role as Chris Carson was initially described as "a night shift officer." It would probably be more accurate to call him part of an "urgent response" unit assigned to work the night shift after being demoted to Detective Sergeant from Detective Inspector. MyAnna Buring (Downton Abbey) plays his wife, Kate Carson, trying to determine if their marriage is worth saving. Adelayo Adedayo (The Capture) is Rachel Hargreaves, the new recruit assigned to partner with him, while Warren Brown (Luther) plays his old partner, determined to exact payback for their demotions.
Whilst trying to keep his head above water both personally and professionally, Chris is forced to take on a new rookie partner, Rachel. Both soon discover that survival in this high-pressure, relentless, night-time world will depend on them either helping or destroying each other.
Other familiar faces appearing in the show's first season include Ian Hart (Noughts + Crosses), Rita Tushingham (Ridley Road), Philip Barantini (Chernobyl), David Bradley (Doctor Who), Elizabeth Berrington (Sanditon), Kerrie Hayes (The English Game), James Nelson-Joyce (The Outlaws), Victor McGuire (Kate & Koji), Dominic Carter (Game of Thrones), Faye McKeever (Little Boy Blue), Philip Whitchurch (Sharpe), Christine Tremarco (Waterloo Road), Amaka Okafor (The Split), Matthew Cottle (Unforgotten), Josh Finan (The Current War), and newcomer Emily Fairn. Tim Mielants (Peaky Blinders) directed. It is not yet known who among them will return for Season 2.
The BBC has not yet set a state date for The Responder Season 2 production, though the plan is for the show to continue to film in Liverpool. BritBox US has not yet announced a premiere date in the states for The Responder Season 1. However, the series' 90-day exclusivity window won't run out until May (the finale aired on Feb. 2), so fans can hopefully expect the show to have a release date by summer.
---
By
for on April 5th, 2022
More to Love from Telly Visions