By
for on January 1st, 2018
Looking Forward: 7 British Highlights Coming to PBS In 2018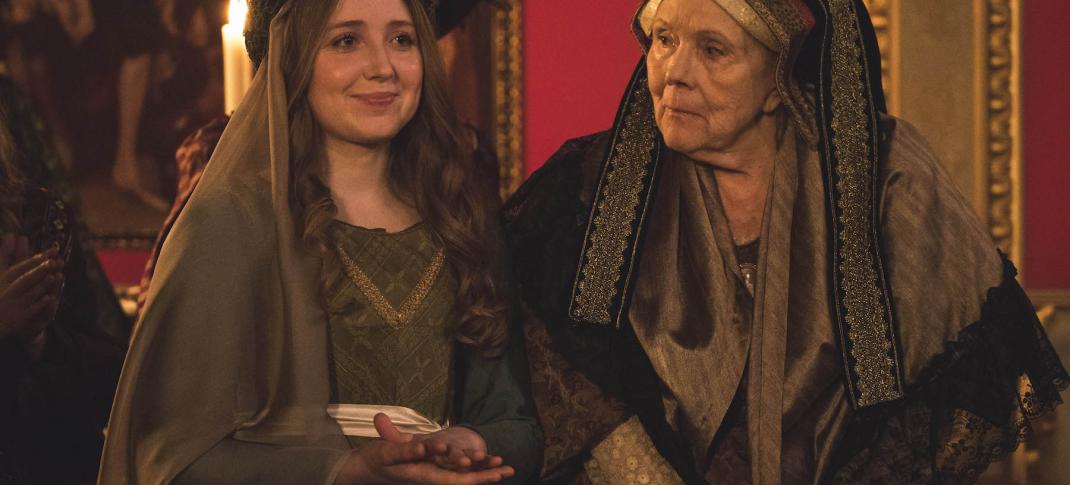 Despite the news of the world, it's been a great year at PBS. But as 2018 begins, it's time to look ahead to see which new programs are heading our way, and when we can expect those shows we can't wait to return. Let's run down some of the major highlights we're expecting to see here at TellyVisions come the new year.
Victoria Season 2 (January 14, 2018)
The first big return for PBS this year is Season 2 of Victoria. The ratings for the second season didn't do as well as the first, (blame J.K. Rowling's new BBC series Strike for putting up more competition that Poldark did last year), but those who did watch across the pond assure us it's more of the same sumptuous drama of Season 1.
New cast this year includes the fantastic Dame Diana Rigg, who joins the court as Duchess of Buccleuch, the court's new Mistress of the Robes. And despite the young queen having wedded and bedded Tom Hughes' ridiculously handsome Albert, Rufus Sewell will still be hanging around as Lord Melbourne for at least a few more episodes yet.
The Child in Time (April 1, 2018)
For those who primarily watch Sherlock for their Benedict Cumberbatch fix, this year the man with the name that spawned a thousand memes brings us a new tale. Based on Ian McEwan's award-winning novel from 1987, The Child In Time is a meditation on heartbreak and loss.
Cumberbatch plays author Stephen Lewis, a successful writer of children's books, who wakes up one day to discover his three-year-old daughter has disappeared. Also starring Kelly Macdonald (Boardwalk Empire, Gosford Park) as Julie Lewis, Stephen's estranged wife, as well as Stephen Campbell Moore (The History Boys) and Saskia Reeves (Wolf Hall).
Unforgotten (April 8, 2018)
This one's for the mystery lovers, as well as fans of Last Tango in Halifax and Indian Summers. Sanjeev Bhaskar (Dr. Kamble from Indian Summers) and Nicola Walker (Gillian from Last Tango) team up in this series as DI Sunil "Sunny" Khan and DCI Cassie Stuart. Together they are the team assigned to their unit's cold case files.
This will be an airing of the Series 1 episodes, which aired on ITV in the fall of 2015. The good news is, if it clicks with audiences here, there's already a Series 2 that aired last year and a Series 3 on the way.
Little Women (May 13, 2018)
Louisa May Alcott's seminal novel for teen girls (before it was an entire genre in your local bookstore) has been averaging a new adaptation every 20-25 years since 1949. The last one was 1994, so we're due again. T
his generation's BBC adaptation of Little Women stars Maya Hawke (daughter of Uma Thurman and Ethan Hawke) as Jo March. She's been joined by Willa Fitzgerald (Royal Pains) as Meg, Annes Elwy (King Arthur) as Beth and Kathryn Newton (Little Big Lies) as Amy. The supporting cast is a virtual who's who of BBC names including Emily Watson, Angela Lansbury, Dylan Baker and Michael Gambon.
Endeavour Season 5 (Summer 2018)
Endeavour, ITV's successful pre-boot of their Inspector Morse series, will be back this year with an expanded season of six feature-length episodes instead of four. This gives the period drama more time to delve into the seminal year of 1968, when Detective Sergeant Morse (Shaun Evans) and his boss DCI Thursday (Roger Allam), found themselves no longer working for the Oxford Police, as the Police Act of 1964 reshuffled the entire UK force from top to bottom.
There's no premiere date for Season 5 set as yet, (it had premiered on ITV in January the last two years), but once they do announce, we expect PBS to schedule it sometime in the late summer.
Poldark Season 4 (Fall 2018)
Aiden Turner and Aiden Turner's amazing head of hair will return once again to Cornwall for another season of Poldark, to ride his horse at breakneck speeds along cliffsides which double as the video advert for VisitCornwall.com. With Ross Poldark finally taking his place in Parliment in order to help the working man's cause, how will his already floundering marriage to Demelza survive? Will Elizabeth continue to be able to convince her husband George Warleggan that the child Valentine is actually his? (Spoiler alert: it's not!)
The new season doesn't have a premiere date on either side of the pond yet, but BBC sources say they expect it to remain in the successful summer slot it held last year, which would likely put the stateside debut sometime in mid-autumn.
Press (TBD 2018)
​For those who have been badly missing David Suchet ever since he retired his mustaches and little grey cells, rejoice. Suchet will rejoin our schedule as "the Chairman & CEO of Worldwide News" in the BBC's newest ambitious series, Press, focusing on the newspaper industry in this time of "Fake News" and television/internet domination.
The series also stars Charlotte Riley, Shane Zaza, and Ellie Kendrick as reporters and editors at the two main completing papers. No premiere date yet in the UK, but this is a co-production with Masterpiece, so unlike some of the other series, the US debut stateside should hopefully only be off by a week or three once it airs on the Beeb. 
What shows are you looking forward to in 2018? Sound off below in the comments.
---
By
for on January 1st, 2018
More to Love from Telly Visions