By
for on November 3rd, 2021
'The Long Call': Episode 1 Recap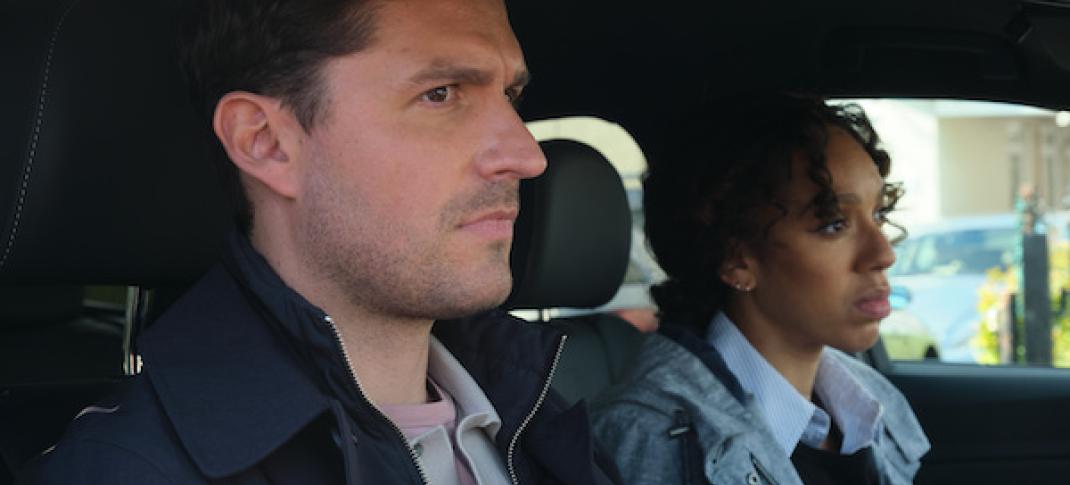 The Long Call, Britbox's newest four-part police procedural, has an impressive lineage, is based on a new series from mystery writer Ann Cleeves, whose Vera and Shetland series are longtime audience favorites among Anglophiles. With a great cast, ascreenplay by Kelly Jones (Death In Paradise, Baptiste, Des), and directed by Lee Haven Jones (The Bay), The Long Call is complex, thoughtful, and gorgeous to look at, filmed mostly in north Devon, and set in Ilfracombe.
(It is also, amazingly, the first series of its sort to feature a gay lead character in DI Matthew Venn, played by Fleabag's Ben Aldridge.)
The Long Call is dense and intense, and the first episode is crammed with characters, hints, and questions. If you didn't quite grasp the relationships and details, you'll learn more as the series goes on. As it is, this first installment drops you straight into the lives of the characters. The opening montage is of early morning awakenings in quick succession which includes: Matthew, setting off to attend his father's funeral, and promising husband Jonathan (Declan Bennett) he'll keep on his wedding ring; Matthew's mother Dorothy (Juliet Stevenson, Riveria) mourns at the bedside of her dead husband; and DC Jen Rafferty (former Doctor Who companion Pearl Mackie) learns in the chaos of a school morning with two teenagers that her ex-husband may be back in their lives.
And, yes, there's been a murder; the body of a man has been found on a beach.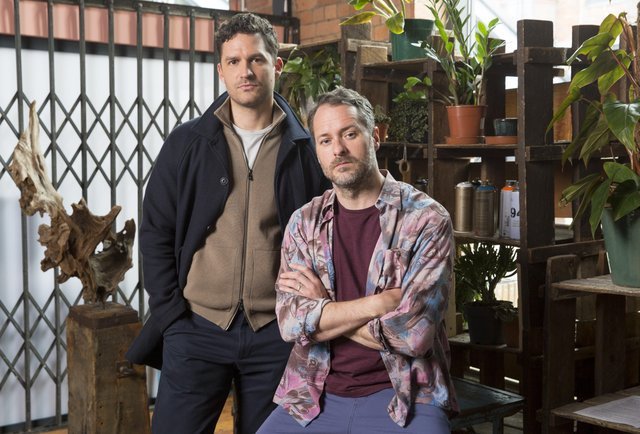 We learn that Matthew is estranged from his family, and also from his former religious community, the Barum Brethren, because of his sexuality. The Brethren is a fundamental sect that rejects the modern world, led by Dennis Stephenson (Martin Shaw, Inspector George Gently). Matthew views the funeral service through a window--windows, light, seascapes being the aesthetic of this series, with beautiful muted colors and spectacular scenery.
Matthew and Dorothy have a brief exchange in which she rebukes him for being there--"Worldly aren't supposed to mourn with us"--and for visiting his dying father in the hospice. You just know that Dorothy is setting to blow up with repressed grief and rage. Interactions with his mother and with the Brethren awaken painful memories for Matthew.
Matthew's grief is interrupted by a call that a body has been found, and he and Jen go to the scene. The dead man has the tattoo of an albatross on his neck, but has no identification, and there are no physical clues other than one incomplete footprint (and one stab wound). But an envelope in the corpse's pocket leads the detectives to a group house in the town and confirms his identity as Simon Walden (Luke Ireland, Chance Encounters), who came to the town for a hotel chef job, but under a (slightly) different last name. That in turn leads the detectives to the other major sect in town, the Woodyard Community Centre.
The owner of the group house, social worker Caroline Reasley (Siobhán Cullen, Dalgliesh) used to work at the Woodyard until her interfering and influential father, Christopher Reasley (Neil Morrissey, Line of Duty), stepped in and took her off the schedule. He also knew Simon was using a false name and wanted him out of Caroline's house. Caroline had offered Simon volunteer work at the Woodyard and a room in the house when he suddenly quit his hotel chef job. Gaby Chadwell (Aoife Hinds, Derry Girls), Woodyard's artist-in-residence, also lives in the house and it's unclear what her relationship with Simon was other than intense.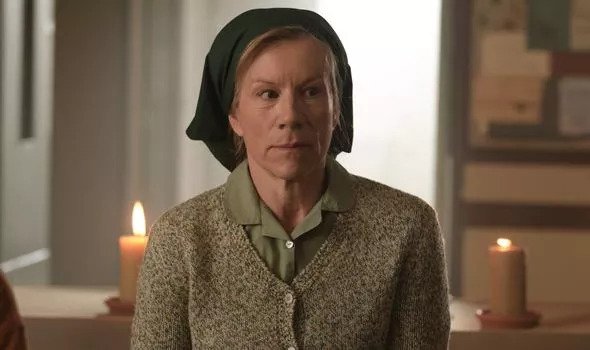 Simon Walden has a criminal record. He spent two of a four-year sentence in jail after driving drunk and killing a child. The father of the child, Rich Chorley (Charlie Anson) threatened him with violence at the sentencing, and when Matthew interviews him, he is still filled with rage, and won't allow them to speak with his wife. His alibi however, is impeccable.
Jen finds that Simon was known at the local pub, and according to the flirty barman, has been seen there with a woman. Her visit to interview the bereaved mother of the child, Bryony Chorley (Jenny Plat) pays off; she tells Jenn that she met with Simon there several times after he wrote to her. They were bound to each other by their mutual pain of her loss, and his guilt (which explains his albatross tattoo).
Meanwhile, Matthew has been contacted by Elder Stephenson of the Brethren and you have to wonder if they're trying to draw him back into the fold. Stephenson tells him that his sexuality meant he was banished from the church, but not from his family. And yes, this is almost certainly gaslighting, but it does confirm Matthew's suspicion that his mother orchestrated his banishment. Naturally the Stephenson household is grim and dim, and after Matthew's visit an elderly woman appears. Who is she? A former wife Stephenson kept in the attic? His mother? It's getting Gothic.
The Brethren as yet don't have a connection with the Woodyard--or do they? Matthew receives an early call the next morning from his mother. She reports that a young, female member of the Brethren, Rosa, is missing, and he and Jen (with whom the flirty barman stayed the night) get on the case. Rosa's 999 call clearly indicates that a man has abducted her. They meet with the distraught family who claim that Rosa was a good obedient girl whose only contact outside the Church and home was a weekly visit to--yes, you guessed it--the Woodyard. She had a phone only for use on these occasions, which is nowhere to be found.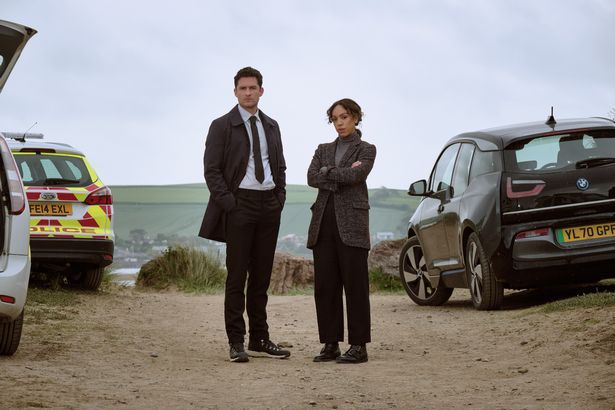 A young woman with Down's Syndrome, Lucy Craddle (Sarah Gordy), the only person at Woodyard Rosa mentioned to her family, is interviewed. But she's hiding something and lies to the police. And the detectives discover that, yes, Rosa has a connection with Simon Walden, because she invited him to the Brethren's services. And who took £2,000 out of Simon's bank account shortly before his death? How will Christopher Reasley react when he finds out that his wayward daughter is becoming involved with yet another unsuitable man?--he's social worker Ed Raveley (Amit Shah) who escaped to Ilfracombe for a new start after life as a high-flying London accountant.
Both Matthew and Jen are intriguing and likable characters. Clearly Matthew was damaged by his family and his religion (referred to by co-workers as a cult.) They have a smooth, professional partnership, and it's clear they like and respect each other. We know Matthew is a good, if a damaged person. He jumps down the throat of a colleague who makes a joke in poor taste about Jen having an affair with someone marginally involved with the case. He has a loving and affectionate relationship with Jonathan, who stays home restoring their house, and home and husband clearly provide him with a sanctuary from what he sees in his work. He's a very different character from outspoken, brash Vera, and so far he lacks the quiet charisma of Jimmy Perez (Shetland). This first episode demands a lot from the viewer but also promises intriguing action to come as the story develops.
Have you started watching The Long Call? What did you think?
---
By
for on November 3rd, 2021
More to Love from Telly Visions