By
for on May 13th, 2018
'Little Women' Recap Part 1: Pilgrim's Progress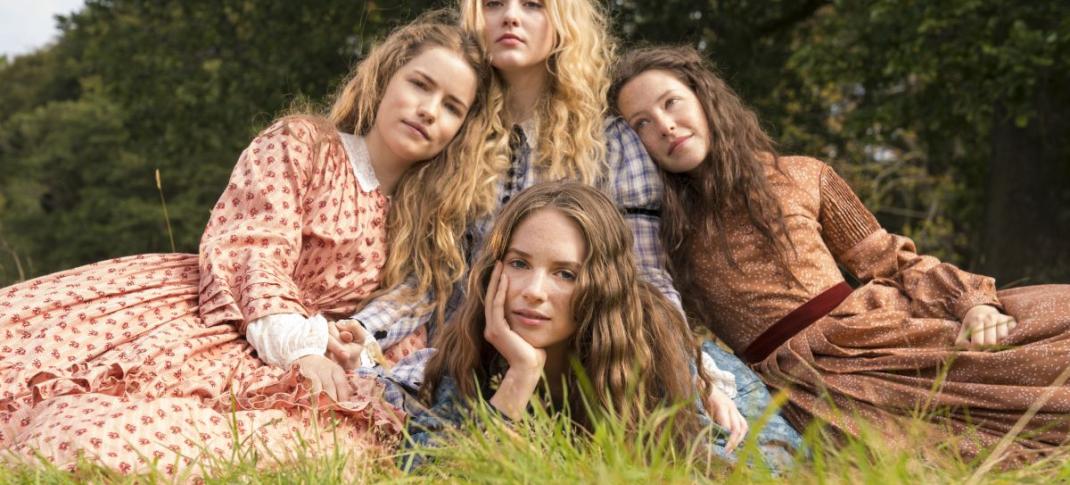 The eternal children's classic Little Women is back for a new generation.
Jo: Christmas won't be Christmas without any presents.
Before people asked themselves in the 90s if they were a Carrie, a Miranda, a Charlotte, or a Samantha, there was a different set of four female characters girls sorted themselves into: Meg, Jo, Beth, and Amy. The story of the March sisters has been a classic since 1868 when the first volume of Little Women was published. (Volume 2, which features Meg, Jo, and Amy getting married, is also known as Good Wives.) The story was an instant success and spawned two more books beyond Little Women and Good Wives, called Little Men and Jo's Boys. Considered the first novel to capture the idea of the "All-American Girl," the story has been adapted for the big and small screen since 1917 when the first silent movie version was released. Some of the more famous films include the 1933 version starring Katherine Hepburn as Jo March, and the 1994 version starring Winona Ryder in the same role. In between, there were two more big screen adaptations, averaging one every 20 years. And that's not including all the TV versions. The BBC alone has adapted it four times since 1950, the most recent of which is our version here.  
Each version of the book reflects the sensibilities of the time it was made and puts the actress with the biggest name in the starring role of Jo. Our latest version, which first aired over Christmas and Boxing Day on the BBC, stars Maya Hawke, who may look oddly familiar. She's the daughter of actor Ethan Hawke (The Sunrise Trilogy) and Uma Thurman (Kill Bill Parts 1 & 2). She looks like her mother, sounds like her father and clearly sees this as a vehicle to launch her career. She throws herself into the role of Jo with the abandon of someone who clearly assumed she was born to play it from the moment she first read the book. 
Her sisters are all obedient secondaries to Hawke's Jo, though Willa Fitzgerald as Meg actually has some decent fiber under her more retiring character and Kathryn Newton as Amy is obediently spoilt on cue. Annes Elwy as doomed-to-die Beth is exactly as saccharine as one would expect of a character whose entire job is to be a misty water-colored memory. Our not-exactly -a-male-love-interest Laurie is played by Jonah Hauer-King who is 2018 style handsome, and probably will inspire a few chaste crushes. The adults are at least fantastic, as the BBC has brought in the best to fill their parts, including Emily Watson as Marmee, Michael Gambon as Laurie's grandfather and Angela Lansbury (still ticking!) as the wonderfully formidable Aunt March. Even I quavered in my non-existent button-up boots. 
Jo: Castles in the air need keys, and sometimes I dare to think that this is mine.
As for those sensibilities, I'm sure I'm not the only one whose eyebrows raised all the way up at the bizarrely "innocent" opening of unlaced petticoats and bedcovers flying as Jo, with a wicked look on her face comes prowling in to cut locks of hair to send to their father. But once the series was done with attempting a "modern" opening, the show settled into the exactly same pious moral shorts and Puritan stories they always were, from the famous opening line to the letter from father (pulled directly from the book) to the giving away one's Christmas breakfast to the poor-than-thou. 
There are additions and embellishments, including scenes with Laurie and his grandfather, and more focus on Beth than in the original story, with the "Castle in the Air" bits played out over a longer timespan. (Perhaps some of the most touching bits are with Elwy and Gambon and the piano.) In exchange, Amy's valley of humiliation is reduced down to a single reference over the limes, and Meg doesn't go to Vanity Fair. (I'm a little sorry for that.) Instead, we move directly to Camp Laurence and Meg's budding relationship with Brookes. But the parts of the novel that make the cut stick to the page as faithfully as they can, with Jo lecturing Laurie about finding one's interior motive, scribbling away at her books. Jo meets Apollyon with abandon, burnt book, ice skating accident and all. And she cuts her hair to get the money for Mrs. March to go to Washington to see father when he gets sick.
And that's where part one closes, on a cliffhanger of whether the girls will ever see their father again. (Spoiler alert: the answer is for sale at your local bookshop.) The rest (parts two and three) air next week back to back in a two-hour special on Sunday, May 20, at 8 p.m. ET. Check your local listings. 
---
By
for on May 13th, 2018
More to Love from Telly Visions