By
for on September 27th, 2020
'Last Tango in Halifax' Recap: Season 4 Episode 2
Last week we were reunited with all the Last Tango in Halifax crew for the first time in years. We saw evidence that for lovebirds Alan and Celia, the bloom was off the rose a bit. Enough so that Alan decided to apply for a supermarket checkout job just to get out of the house and see a few new faces. Tempers flared when money became the topic of conversation at Caroline and Gillian's birthday celebration and Caroline recruited her crush to participate in a Q&A interview of the newest hot children's author, Judith Tyzack- yes, John's Judith! Check out the full recap here.
In episode two, we pick things up right where we left off. Alan and Celia have left the party and, once in the car, the apologizing begins. Celia realizes she shouldn't have confronted Gillian in front of everyone. Alan regrets not discussing the proposed loan in advance. Neither one wants to fall out, but it's obvious to Celia that Alan currently has the upper hand in the relationship which hasn't been right since they couldn't agree on Brexit. And despite his assurances, Alan may be weary of butting heads with his wife at last.
Back in the farmhouse, Caroline offers to loan Gillian the money she needs for the house repairs, but Gillian resolves to find another way to get the funds. Conversation shifts to loneliness. While Gillian admits she doesn't miss Robbie and doesn't feel alone at all, raising five-year-old Flora has made Caroline feel rather isolated. Gillian suggests she put herself out there and encourages her to go for it with her teacher friend, Ruth. With genuine sisterly love, Gillian says Caroline's a nice person and deserves something nice in her life.
The next day the family organizes a caravan to collect Alan's brother from the airport. There was some concern that Ted (Timothy West) would be able to negotiate his connecting flights, so the family greets him with a sigh of relief and some surprise when they see he is accompanied by two young women. Turns out Mia (Catherine Campion) and Alyssa (Sophie McIntosh) are nurses from New Zealand on holiday who bumped into Ted in Hong Kong and saw he needed some looking after.
They hitch a ride back to the Buttershaw's bungalow and, though Celia is appalled they've never heard of the Bronte sisters, she eventually decides they can lodge with them a few nights for the kindness they showed Ted.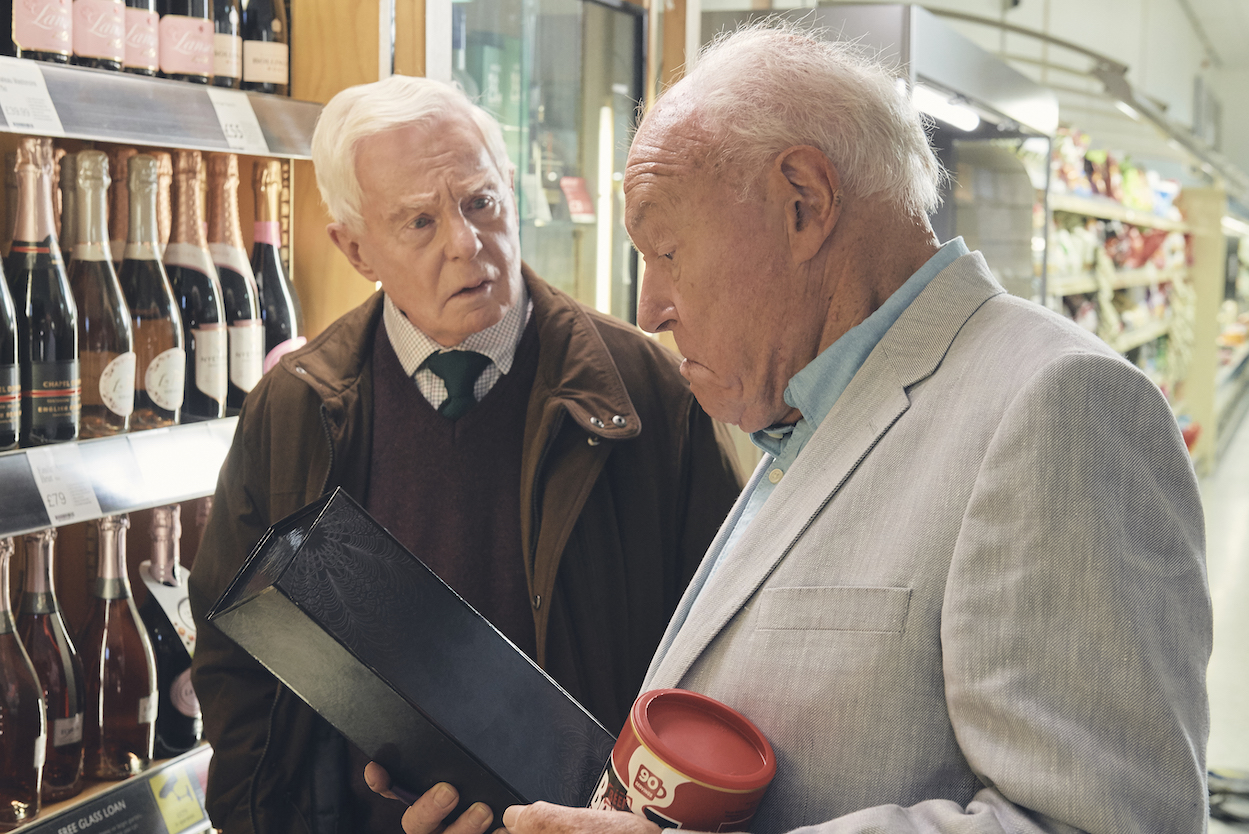 Meanwhile, at Ted's request, the Buttershaw brothers stop off at a pub for a pint and private catch-up. Ted insists his daughter Nadine tells lies and his family was always asking him for money. Their conversation continues at the supermarket where Alan has just learned he got the checkout job. While picking up some Bovril and choosing an expensive bottle of bubbly, Ted tells Alan that he's not going back to New Zealand. He was born in Yorkshire and he wants to die there
Back at Far Slack Farm, Raff heads out for a sneaky smoke before feeding the chickens and is gobsmacked to find a giraffe painted on the barn. Ellie is convinced it's a Banksy painting worth millions, but Gillian freaks out wondering how it got there overnight. She surely doesn't want public attention focused on her cursed barn.
Judith's wedding proposal is keeping her beau up at night. No one, including John, thinks this marriage is a good idea, but he fears a refusal will drive Judith back to drinking.  John calls Caroline for her input which is an unequivocal "don't do it". He blurts out his wish that he was still married to Caroline- but his ex has just spotted the mural on Gillian's barn and heard nothing of his love confession. (Not that it would change anything between them.)
Caroline tries to calm Gillian, reiterating Ellie's thought that the mural could bring her the money she needs to fix the house. But Gillian is convinced this is something to do with Eddie and nothing good will ever come out of that barn.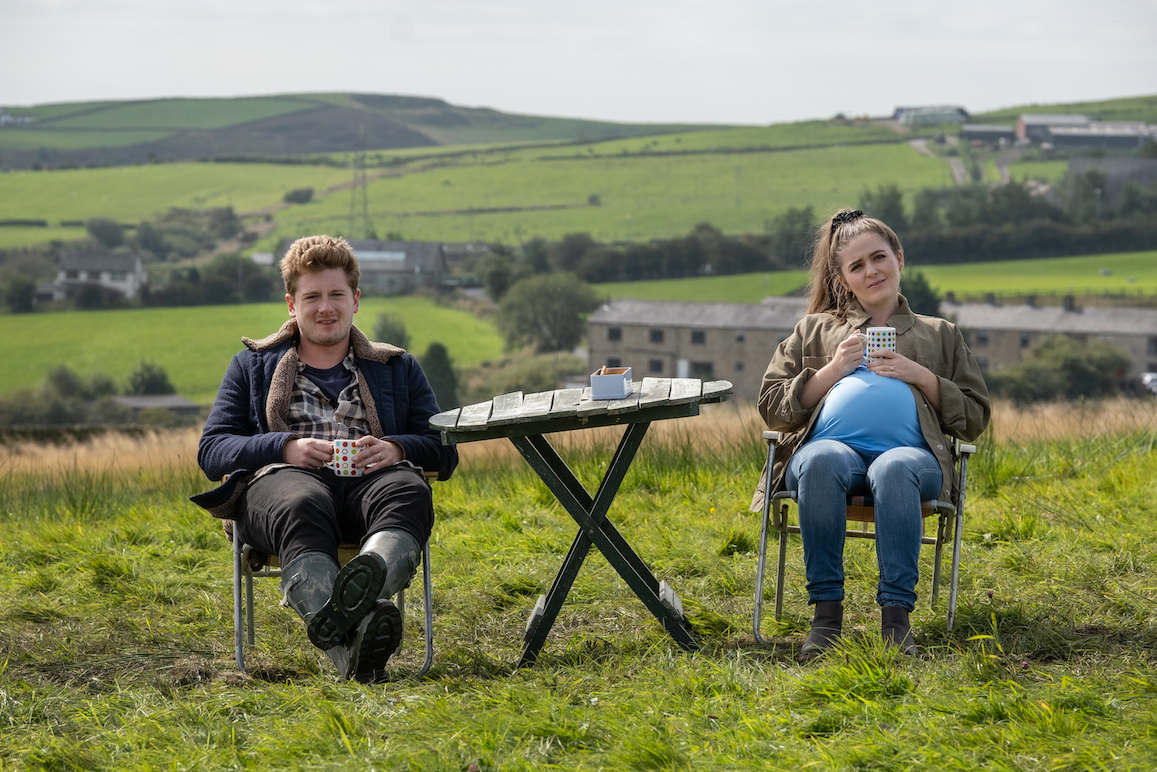 As for Caroline's evening with Ruth, it starts off with a few quick introductions. Lawrence and Angus have dropped by unannounced to ask for petrol money.  Over dinner, the two women hit it off and Caroline entertains her guest with the stories of her family and her personal experiences with Judith that have a rather tipsy Ruth in stitches. 
Unfortunately, the evening goes pear-shaped when Ruth asks about Flora. Feeling pretty comfortable herself, Caroline tells her about Kate – the pregnancy, the marriage, and her untimely death. Ruth sobers up immediately. She says she had no idea about Caroline's sexuality and it's pretty clear she's upset that her colleague assumed she was a lesbian. Caroline denies the accusation, but their pleasant evening has come to an end. 
In the meantime, Lawrence and Angus move on to Granny Celia's who coughs up the cash gladly. Alyssa and Mia perk up at the arrival of the young men and flirtatiously ask how big their tent is. Before you know it, the foursome's off for a night under the stars in the shadow of Gillian's giraffe-adorned barn.
The next morning, and in the pouring rain no less, Gillian walks purposefully into the field and starts shooting at what she claims are foxes pestering her sheep. She offers her camping guests breakfast in the kitchen and walks off with a strange look in her eye.
And finally at Alan and Celia's, a soundly sleeping Ted gets tucked in on the couch.  Once ready for bed themselves, Alan relates to Celia how Ted and his wife Alice were forced to move to New Zealand by their parents. Alice got pregnant almost immediately after the couple started dating and the family feared a scandal. It makes Alan sad that they had always wanted to return home, but felt banished.
Alan comes down in the morning to find that Ted is not on the couch, nor is he been in his bedroom. Searching the house, Alan notices with some alarm that the conservatory doors are wide open.  It can only be assumed that Ted wandered off into the night. InLast Tango world, that's quite a cliffhanger!
So what did you think of this episode? Did Celia redeem herself at all? Is the giraffe plotline too far-fetched? And how bad did you feel for Caroline when Ruth reacted so coldly? Let's have a nice natter in the comments section, shall we?
---
By
for on September 27th, 2020
More to Love from Telly Visions