By
for on May 15th, 2012
Just Announced: BBC Hit Call the Midwife Coming to PBS This Fall!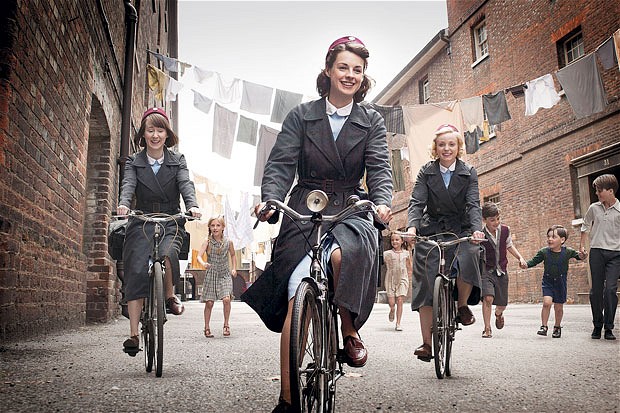 Our PBS Annual Meeting is taking place in Denver  this week– I'm not there, sadly, but I'm hearing about lots of great things and series announcements coming out of it already and it's only barely under way.
The most exciting bit of news to emerge so far today – it's been officially announced that hugely popular BBC One drama Call the Midwife will be coming to a PBS station near you this Fall. The series, which aired this past winter in the UK, was the most successful (i.e. highest-rated) drama for the BBC since 2001. (PS: It's also really good!)
Want to know more? Click through for a quick synopsis and a look at the BBC's trailer for the show.
Set in the East End of London during the 1950s, Call the Midwife was adapted from the real-life memoirs of Jennifer Worth. Written by Heidi Thomas –known for other fabulous Brit dramas such as Cranford and Upstairs Downstairs – the series stars Jenny Agutter, Jessica Raine, Pam Ferris, Judy Parfitt and comedian Miranda Hart, appearing in her first dramatic role. The plot follows newly qualified midwife Jenny Lee (Raine) and the work of her colleagues at Nonnatus House, a nursing convent, as they cope with the medical problems facing those living in economically deprived East London.
Midwife's first series is six episodes long. Given its monster ratings success I'm sure no one will be surprised to know that it's already been commissioned for a second season, and a Christmas special is currently being prepped in the UK.
Have a look at the trailer and let us know what you think. I found Midwife to be delightful: the combination of a really interesting time period/setting, charming characters and heartwarming, but not overly saccharine, stories is tough to beat.
We'll keep you posted as a US airdate firms up, so keep an eye out – you won't want to miss it! ETA: Well, what do you know - it's now official, Call the Midwife will premiere at the end of September! AND will be followed starting in October by the second season of Upstairs Downstairs!
---
By
for on May 15th, 2012
More to Love from Telly Visions