By
for on August 27th, 2016
'The Great British Baking Show' Series 3 Episode 9 Recap: Chocolate Week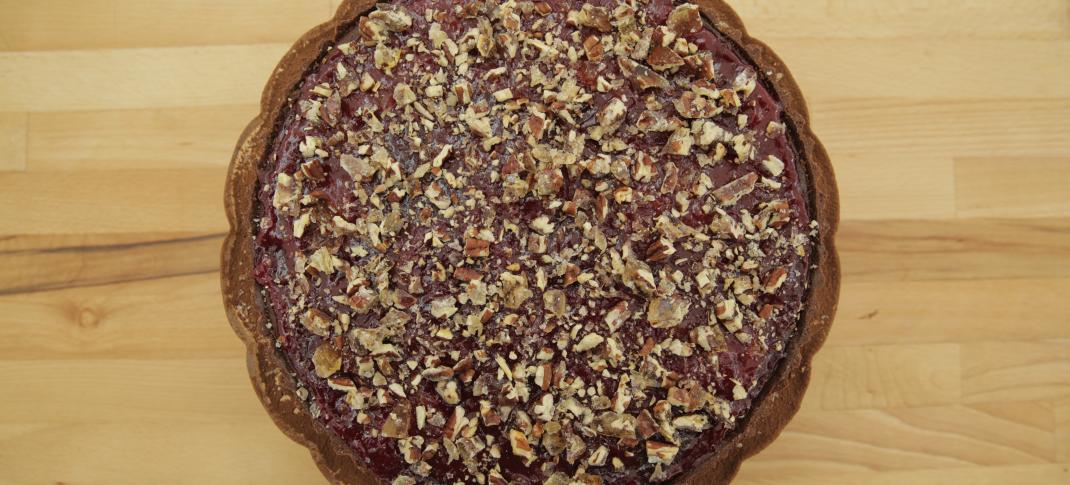 Judging by the Forest Gump-themed reference made by Sue Perkins and Mel Giedroyc at the beginning of the show, it's chocolate week! But not just any chocolate week; two boys and two girls will bake to within inches of their lives to make it through to the holy grail of baking – the Great British Baking Show Final!
But before we get ahead of ourselves, let's take a peek back at the outcome of our last episode. Despite her bubblegum and peppermint cream nun tower showstopper which proved flavor-challenged and structurally unsound, Nadiya's  cream horns and first place mochatines were more than enough to warrant the Star Baker title during patisserie week. Paul, on the other hand, produced raw genoise sponge for his mochatines and disappointed Mr. Hollywood with his promise of real banana cream horns. So it was that his hopes to continue came tumbling down along with his haphazard religieuse à l'ancienne' in the showstopper round and it was to Paul that we bid adieu.
This season's semi-final field is bursting with talent. Over the course of the competition, Tamal has impressed the judges with his creativity and stunning flavors but has had timing issues throughout. He has claimed the Star Baker title once. Flora's bakes are lovely to behold but she frequently strays from the brief and tends to overburden herself with style over substance. (Remember Frances from last season?) Twice named Star Baker, Nadiya seems to have overcome her technical challenge curse and with it her confidence has increased allowing her artistic flair and bold flavors to come to the fore. Ian's precision, ingenuity and unique homegrown flavors have earned him three straight Star Baker titles, but he has struggled more recently with consistency. How will they do with this week's tension-filled, no room for error semi-final? Let's have a look.
For the first challenge, the bakers had two and a half hours to make a chocolate tart. Pastry crust, filling and decorating options were up to the contestants but they all had to be of the chocolate variety.
This week's technical round had a bit of twist built in which obviously quite rattled our bakers. The judges ordered a staggered start with each competitor being given one hour and fifteen minutes to make a chocolate soufflé. The judges then blind tested each bake as they came straight from the oven. Flora started the whole thing off followed by Ian, Nadiya, then Tamal.
A 3-D chocolate centerpiece was set as the showstopper. In four hours, the bakers were required to create a piece of chocolate artistry with detail and precision. Molds and stencils had to be homemade; a biscuit element must be present in the piece as well as the use of white chocolate in some form.
Highlights: Tamal's chocolate New York pie had a simple finish, a lovely thin crust and a good contrast of textures. It was Nadiya, however, with her attractive peanut salted caramel and chocolate tart that elicited a Hollywood handshake for her perfect peanut butter flavor.
Flora came first in the technical. Her soufflé was well baked, had a good rise and nice flavor. Tamal came in second only because his meringue wasn't as well blended and some white flecks came to the surface of the bake.
In the showstopper round, Ian's chocolate well was praised for its contemporary originality, good flavors and beautiful shortbread. The bell tower Tamal created had excellent tempered chocolate and tasty biscuits with good flavors coming through.
But it was Nadiya's chocolate peacock that most impressed the judges with its overall beautiful effect that included good proportions and detail. As Paul summed it up, "It looks good and it tastes good." That was enough, along with her strong signature challenge tart, to win Nadiya her third Star Baker title.
Missteps: The signature round wasn't a total wash for anyone this week, but this is the semi-finals so little mistakes mean a lot more. Ian's chocolate and bay tart had a mirror shine, thin crust and a rich and creamy texture. However, Paul called him on his bay leaf gamble saying plain caramel filling would have been better. The passion fruit and chocolate tart made by Flora was attractive and had good crust and flavors. Nevertheless, Flora being Flora, she added macarons for garnish and Paul deemed them dry and very bad indeed.
Nadiya returned to the bottom rung on the technical ladder this week. Considering her comment during the bake that she'd rather have another baby than bake a soufflé, this result should come as no surprise. The biggest issue was that her meringue wasn't mixed through. Ian's soufflé came in third mainly because he overfolded the meringue causing the whole thing to lose volume.
In the showstopper, Ian's well was a little lacking in the ornamentation department and Tamal's bell tower could have been neater. But it was Flora whose slightly wonky cocoa carousel actually looked better than it tasted. The puffed rice and chocolate roof didn't bind together and the mixture was bitter while her chocolate cake base tasted too much of raising agent. So despite the fact that Flora scored first place in the technical, she was the one chosen to leave the tent this week. She left tearfully but expressed how honored and privileged she felt to get so far.
And so the finalists have been determined! Ian, Tamal and Nadiya will go head to head (to head) next week in the tent. I always like the final because the previous bakers come back for a lovely garden party and the announcement of the winner. Who are you looking forward to seeing again? Which of our baking trio has the nerves of steel required to get through all three challenges relatively unscathed? Chat about it all below and we'll see you next week for one last big baking blowout!
---
By
for on August 27th, 2016
More to Love from Telly Visions