By
for on July 23rd, 2016
'The Great British Baking Show' Series 3 Episode 4 Recap: Dessert Week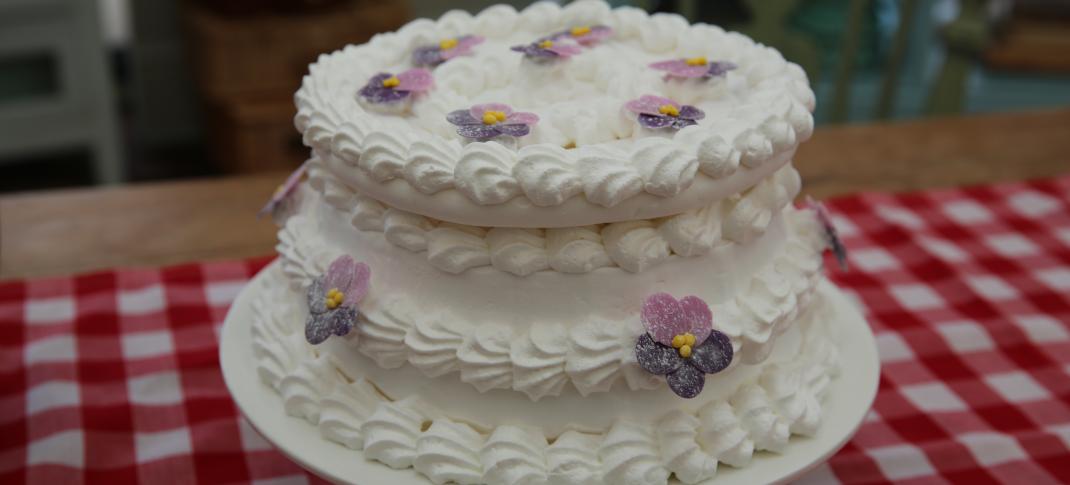 Nine bakers sloshed through the cold rain to face this week's formidable dessert challenges. However, before we immerse ourselves in a profusion of dairy products and refined sugar, let's take a look back at who stumbled and who triumphed in the previous bread-centric episode.
Ian showed himself to be no flash in the pan when he captured the Star Baker title for the second straight week. He continued to dominate with his great flavor combinations demonstrated in his wild garlic pesto soda bread, architectural baking abilities visible in his flour power 3-D bread sculpture and solid technical skills as he came in first in the baguette challenge. Alas Dorret's undistinguished quick bread and baguettes coupled with her failure to practice her showstopper project in advance made her the judges' choice to leave the contest.
This week's triad of decadent dessert challenges was all about the wobble, international meringues and caramelizing the way they used to do back in the day.
For the signature round, the bakers had to make a dozen identical crème brûlés in two and a half hours. Any flavor combination was acceptable, however, the bakers had to forsake the blowtorch and use the oven grill to caramelize the tops.
In the technical challenge, the bakers had four hours to make a spanische windtorte, a fussy Baroque Austrian dessert comprised of rings of meringue baked into a cylindrical shape, filled with cream and berries and topped with life-like fondant violets. And finally for the showstopper, our culinary competitors were charged with the task of creating a three tier cheesecake. The only restriction on flavor was that they be sweet and not savory.
Highlights: This is the first week when the signature challenge bakes garnered more criticisms than kudos from Paul and Mary. Tamal had the best result with a velvety texture and good flavors in his rhubarb and stem ginger crème brûlées. Ian too had perfect custard and caramel though Paul didn't care for the pomegranate in his two ways crème brûlées. Naydia and Unge also got generally good marks particularly for their flavors, but neither was technically exceptional.
Though Mary Berry's assignment this week was all about meringue (Swiss and French), it was no fluffy challenge by any means. Paul's delicate violets, abundance of meringue layers and great taste earned him first place in the technical. Unge came in second with an impressive height on her dessert as well as demonstrating a mastery of both types of meringue.
The showstopper round was a good one for Ian whose trio of spicy and herby baked cheesecakes was called a "stunning centerpiece" and "heaven on a plate". Tamal's mango, hazelnut and rosemary cheesecake trio was praised for its caramel work, lovely flavors and good textures. Naydia amazed the judges with the clever design and surprising soda flavors in her fizzy pop cheesecakes. And Mat probably avoided the ax with an outstanding effort. His chocolate bar cheesecakes were judged to be a fantastic trio of great color, appearance, consistency and perfect texture.
Despite multiple notable efforts by Tamal, Unge and Nadyia this time around, Ian was once again named Star Baker for his "Ian-genuity." Mary Berry cited his inventiveness, fantastic flavors and panache for the baker's trio of Star Baker wins. He certainly harvests great results from that herb garden of his!
Missteps: For some, the crème brûlée signature challenge proved to be a problem of inconsistent custard. Paul and Alvin's mixture turned to scrambled egg, a sign of overcooking, while Mat and, especially Sandy's, might have been able to be consumed through a straw. Paul Hollywood questioned if her oven was even on.
The skills necessary for constructing an acceptable spanische windtorte eluded a few of our bakers. Alvin left his in too long which turned it an ivory color similar to something Mr. Hollywood's nan would make. This overbaking made the two types of meringue dry and indiscernible from one another which earned him last place in the technical. Consistently in the bottom two or three in every technical challenge thus far, Naydia came in just ahead of Alvin for her messy piping, chewy French meringue and the stickiness of her Swiss variety.
The tower of cheesecakes showstopper was a tall order for some. Paul's berry cheesecake tower was overbaked and lacked creaminess; Flora, who was the only one not to attempt three different flavors, failed to impress with her elderflower and granola cheesecakes which lacked excitement and were overbaked as well; while the bases of Alvin's messy tower of fruits cheesecakes crumbled like birdseed and were deemed clumsy by Paul and in need of better time management.
Alas it wasn't Sandy's weekend and the showstopper was the straw that broke the camel's back. Her ambitious cassata, whisky and orange & apple pie cheesecakes were mostly raw as were the shortbread pastry bases. Her third tier couldn't be mounted without collapsing on the layer below. That combined with her runny pontefract crème brûlée and her sixth place finish in the technical made Sandy the fourth baker eliminated from the baking competition. Too bad her uncanny ability to imitate a custard or cheesecake wobble did not work in her favor.
So are your teeth aching from all the sweet and creamy creations this week? Do you feel Ian is the teachers' pet as Naydia has accused? Were you surprised to learn they didn't have culinary blow torches back when Mary Berry was a young woman? And who votes for Mel Giedroyc's "Meringue m'lord?" as the best pun of the episode? Please discuss these and other more relevant baking issues in the comments section below!
---
By
for on July 23rd, 2016
More to Love from Telly Visions