By
for on July 18th, 2016
'The Great British Baking Show' Series 3 Episode 3: Bread Week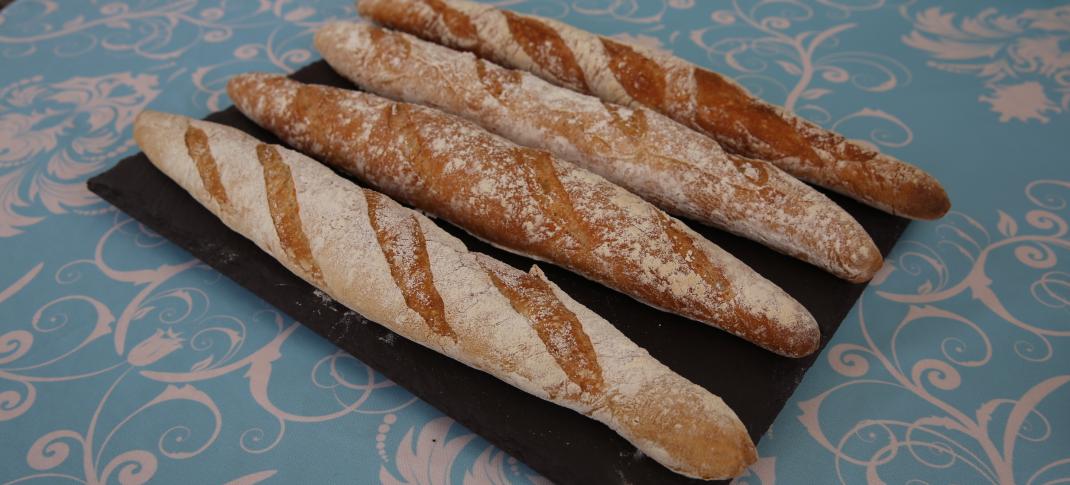 In this installment of our Great British Baking Show recaps, we follow our ten intrepid contestants as they try to "prove" their expertise in the creation of yeasty, crusty foodstuffs. But first let's review how eleven became ten in last week's biscuit bonanza.
Travel photographer Ian was declared Star Baker on the strength of his orange and almond biscotti (with the secret weapon of rosemary from his garden); a third place finish in the arlette technical challenge; and his charming architectural shortbread creation filled with festive pink macarons.  Self-proclaimed silly Marie from Scotland, on the other hand, played it too safe with her flavors and designs and alas had an oven malfunction during the technical round. She went from Star Baker one week to being gently banished from the tent the next.
This week brought three trials in delicous bread making. Viewers were also treated to plenty of witty banter from presenting pair Sue Perkins and Mel Giedroyc including their humorous posh opening that predicted lashings of harsh judgement from Paul and Mary and a life-size statue of the Taj Mahal made out of cheese straws.
In this episode's signature round the bakers were given one and a half hours to make two loaves of free-form quick bread. The technical challenge was set by the man-gorilla that is Paul Hollywood who asked them to produce four identical crusty baguettes (with very little guidance) to be presented at the gingham alter in two and a half hours. The marathon showstopper this week required our competitors to be not only bakers but artists too as they created a 3-D bread sculpture in five hours. The bread sculpture had to include three types of dough with one of the breads containing a sweet or savoury filling.
Highlights: Once again, there were few complaints from Paul and Mary in the signature bake judging of quick breads. They were particularly complimentary of Alvin's prosciutto, manchego cheese and balsamic onion soda bread with Paul declaring it a thing of beauty; Ian's wild garlic pesto soda bread was deemed magical; while Paul's cranberry and orange sweet soda bread's perfect bake, good textures and flavors earned him a handshake from Mr. Hollywood.
Ian also excelled in the tricky task of baking a quartet of praise worthy baguettes thus earning first place in the technical challenge. Flora came in second with her bread being only slightly underproved. A great feat indeed considering Paul's recipe didn't indicate proving or baking times and failed to mention the necessity of steam in the oven to get the proper bake on this bread.
The showstopper brought out exceptional design skills in some of the bakers. Tamal's breadcyle looked spectacular and demonstrated multiple techniques of bread making. Ian's flour power sculpture magnificently fit the brief of the assignment – one simple uniform piece with lovely flavors. And the piece de resistance of this round of course was Paul's King of the Jungle sculpture which blew the judges away with its detail and knowledge of how to manipulate bread.
Despite Paul's special commendation for his lion sculpture (a first in the show's history), Ian was named Star Baker for the second week in a row for displaying his advanced proficiency and creativity across the entire trio of challenges.
Missteps: None of the signature bakes were out and out disasters, but some shone less brightly than others. Dorret's Waldorf-inspired walnut and Stilton soda bread had a tight texture due to the cheese being distributed throughout the dough and her flavors needed to be more intense. Mat's jalapeno Mexican cheddar and smoked salt soda bread had a good crust but was overworked and therefore didn't crumble enough whereas Sandy's soda bread with smoked bacon and onion crumbled too much.
At the beginning of the baguette technical round, contestant Paul was heard to say "How hard can it be?" Well, Paul your barely baked, ciabatta-like loaves came in last place so... sort of hard, I guess. Naydia was close behind with her soft, unsteamed baguettes. She also got the cuts across the top wrong. Mary Berry later commented that Naydia does well on things she has practiced in advance but has been consistently at the bottom in the technical tasks.
There were a few showstopper gaffes. While Alvin's bread making skills were excellent, he basically baked a lot of different loaves and piled them up near his cornucopia rather than making one uniform 3-D piece. Sandy's basket of bread flowers had a clumsy appearance and the poppies resembled tinfoil in their brittle texture and bitter flavor.
Dorret however admitted she had not practiced this massive showstopper in advance and thus her unmade bed sculpture was her undoing. The middle of the mattress was raw and the messy appearance of the piece did not impress Paul and Mary.  Coupled with her less than stellar quick bread and her middle of the pack showing in the technical, Dorret was the baker chosen to leave the tent this week.
Next week nine contestants will tackle the rather ambiguous category of desserts. Until we meet up again, please comment on the competition thus far – the recipes attempted, the skills of the bakers and your feelings about having two Pauls in the tent. I know it's doing my head in as I'm writing these recaps!
---
By
for on July 18th, 2016