By
for on September 4th, 2016
'The Great British Baking Show' Series 3 Episode 10 Recap: The Final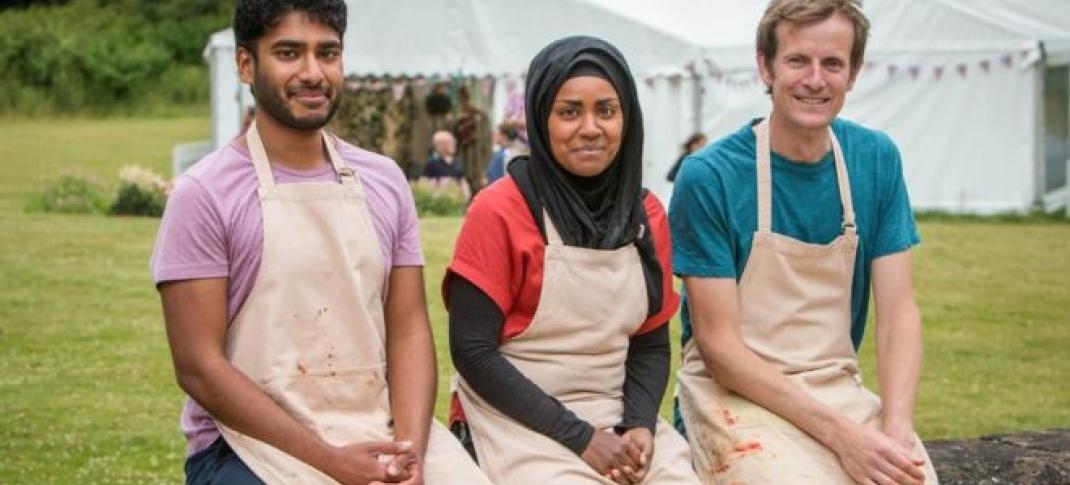 Welcome to our final Great British Baking Show recap of the season! It's been an emotional week for Ian, Nadiya and Tamal with only one trio of challenges standing between them and British baking glory. If your memory is foggy on how we arrived at our final three, you can check out last week's results here.
Naydia is coming into this round with the inspiration of her family and the momentum of her third Star Baker title from Chocolate Week. Nevertheless, our two blokes can't be counted out since Ian, a standout engineer of structures and inventor of pioneering flavors and Tamal, brimming with ingenuity and daring flavor combinations, have just as much drive and prowess as their female competitor. Let's review how each challenge panned out...
Signature Round
Sixteen filled iced buns, a thing of beauty according to Paul Hollywood, was set as the final signature challenge. The bakers had to create two varieties of any flavor in three hours. This bake required enriched dough which Mary Berry admitted was tricky.
Tamal chose cinnamon and apple and toffee and marmalade for his two bun filling flavors and topped them with plain royal icing. He chilled his crème pat for the marmalade batch too long and had to omit it from the bake altogether. Paul and Mary called him out on his issues with timing once again, but found his flavors and buns good. They were particularly impressed with his marmalade.
Ian's decision to make two batches of dough concerned the judges, but he wanted to flavor each one differently so there was no way around the extra work. His elderflower and lemon buns were highly praised by both Paul and Mary as dynamite and sheer heaven respectively. The buns spiced with cardamom and cinnamon and filled with apple and cranberry jam were not as well received. Paul said the flavors didn't marry up and Ian realized he had left the sugar out of that batch of dough making the baking time much longer thus altering the texture of the bun.
Nadiya chose not only two flavors but two shapes for her iced buns; the traditional long shape for her nutmeg and sour cherry fingers and round cardamom and almond crème pat buns. Despite her extreme nerves and shaking hands, Paul declared her effort to have ticked all the boxes – both buns were neat, full of flavor and very different from one another as well.
Technical Round
Based on the fact that all three bakers had experienced problems with pastry in previous challenges, Mr. Hollywood assigned a bake to force them to display their rough puff acumen. Our trio was asked to whip up six raspberry mille-feuille, a dessert layered with pastry, Chantilly cream, jam and berries and topped with candy striped fondant icing. They had two hours to complete the task.
A down-hearted Tamal came in third place. His mille-feuille looked about to topple and the pastry layers were peeling with some on the verge of disintegrating.  Ian's effort earned him the second spot. His fondant icing didn't bond with the top layer of pastry and he had gaps in his cream piping, but his jam was good and pastry turned out flaky if not a bit underbaked. Nadiya's mille-feuille was a strong bake with neat layers earning her first place in the technical.
At the end of two rounds, Naydia seems to have the competition well in hand. However, as loyal viewers know, the last bake of the final can turn the tide and change fortunes. But before we jump headlong into the showstopper madness, let's take a peek at our finalists at home.
Tamal Ray is a 29 year-old trainee anaesthetist from Manchester and he has had to practice for the competition in between his shifts at the hospital. Tamal learned to bake from his older sister Shoma as soon as he was old enough to hold a spoon. She sees him as the total package – good looking, funny and intelligent- and her pride in him moves her to tears.
Ian Cumming is a 41 year-old travel photographer and father of two young children from Cambridgeshire. His wife encouraged him to apply for the competition because she wanted to attend the finale tea party. However, she didn't know her kitchen would become Ian's laboratory during the week which only gives her weekends to blitz clean before he returns and the process starts all over again. She calls him her rock and she and the children are very proud of Ian.
Nadiya Hussain is a 30 year-old full-time mother of three from Leeds. Her husband has been filling her shoes at home as she has been participating in the baking competition, the first time she's done something for herself in ten years. Mr. Hussain doesn't care what happens with the final because in his family's eyes, Nadiya is already a champion.
Showstopper Round
The last challenge of the season was appropriately a quintessentially British one. The bakers were asked to create a single flavor classic British cake in four hours. The cake must have at least three tiers of different sizes and the judges expect to be wowed with all the bells, whistles and jazz hands. By the end of this round, all three bakers were entangled in a tearful group hug, obviously relieved to be at the end of such a monumental but stressful journey.
As for the judging, each contestant impressed Paul and Mary with their very best efforts.
Tamal's take on the classic sticky toffee pudding was a breathtakingly beautiful fruitcake inspired by photos he saw of an ancient abandoned Chinese fishing village. His sugar work webs (which were in jeopardy due to the humid rainy conditions) linked each of his three layers of wonderfully filled and iced sponge.  In Hollywood's words, "This works!"
Ian's colossal curvy carrot cake exceeded the brief of the challenge by two tiers. He engineered his own custom-made stand and adorned the sprawling creation with a cascading flow of icing shaped like a carrot. Even with a major cake batter miscalculation on his first attempt, Ian was able to rally back and construct an ambitious classic looking cake. The layers were consistent, the spices were good and Paul said it was one of the best carrot cakes he'd ever eaten.
Nadiya's creation was a very personal one. She and her husband got married in Bangladesh where wedding cakes are not the custom. So she made one for her final showstopper instead. Her big fat British wedding cake was a three-tiered lemon drizzle cake, filled with lemon curd and covered in her homemade marshmallow fondant. Mary and Paul found her bake to be elegant, delicate and stunning to behold. The lemon flavor came through in each identically baked layer and the texture of the fondant was deliciously smooth.
As the finalists headed to the garden for the tea party, they were greeted by family, friends and many of their former tent buddies.  The weather had cleared and everyone awaited the announcement from co-presenter Sue Perkins. And while all three bakers had every reason to be proud of themselves, only one could be named winner of this esteemed baking competition and that person was, of course, Nadiya.  
Her fellow finalists chimed in on her well-deserved victory. Paul cited how Nadiya brought her ideas, flair and passion into everything she made and Mary commented on Nadiya's growth in skill and confidence as the weeks of the competition progressed. Ms. Berry even choked up there a bit at the end, if I'm not mistaken. I'll admit it, I cried too!
But it was Nadiya herself who expressed the most important thing to come from her experience in the tent. 
And this is why I believe The Great British Baking Show is so beloved. By and large, the people who compete come out the other side with wonderful, life-affirming experiences. The yelling, the scheming and the negativity of so many other reality competitions have no place in the world of the baking tent and the gingham alter.
I hope you enjoyed our GBBS recaps this season. We did the best we could with the fractured schedules we had to navigate. For many of you, this episode aired weeks ago and may be something of a memory. Nevertheless, I ask you to try to recall how you felt when you watched it and share your reaction to the talent and the emotions of those moments. It certainly was a series to remember.
---
By
for on September 4th, 2016
More to Love from Telly Visions