By
for on November 20th, 2020
'The Great British Baking Show' Season 8 Semi-Finals Recap: Pâtisserie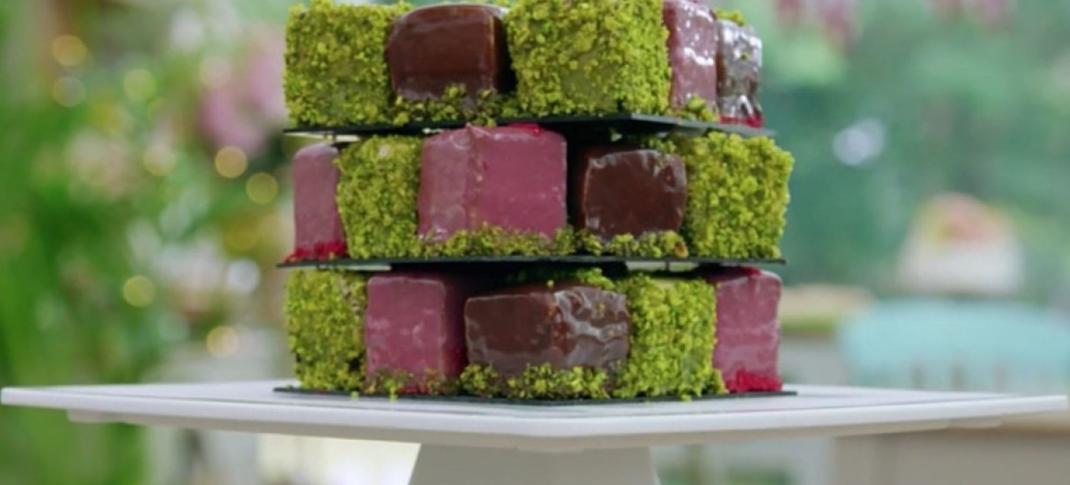 The Great British Baking Show Season 8's semi-finals have arrived, and unlike other seasons, it's a bit of a motley crew in the Top 4. By this time, in different seasons, firm favorites had emerged: Nancy, Nadiya, Candice, and Rahul all spring to mind. But this season is less easy to parse. There's Hermine, who is very good at traditional cakes but unable to function outside of that lane. Laura somehow manages to pull beautiful bakes out of her backside last minute while she's going to pieces. Peter is a judge's favorite, but he's faltered the previous few weeks. And then there's Dave, who is so forgettable I never remember he's still here.
Pâtisserie solidified itself as GBBO's semi-final subject very early on, starting with the never aired stateside Series 2. (Series 1 didn't have a semi-final since the format was so different.) The only year pâtisserie wasn't the semi since then was in Series 6 (our Season 3) when it was the quarter-final, and Chocolate Week was the penultimate round. It's a round that affords the show a chance to hit things that failed the first time (like meringue and choux pastry), difficult biscuits and cakes (madeleines and opera cakes), and sometimes just downright weird stuff that doesn't go anywhere else. (Think fondant fancies, petits fours, and entremets.)
This season, the Signature returns to pâte à savarin, last seen in Series 7/Season 4. It's an alcohol-soaked circular cake, the French version of the Polish yeast cake known as a baba au rhum. The bakers are charged with making a dozen perfect mini-cakes. Notably, the rules here say syrup and not alcohol. As always, the Signature is judged on a pass/fail metric.
Peter's Strawberry & Elderflower Babas. #GBBO pic.twitter.com/bbX76qGzaZ

— British Bake Off (@BritishBakeOff) November 17, 2020
Hermine Creme ét Abricot Baba au Rhum (Pass) They look beautiful and taste great, but they're not all baked evenly, and the savarin is underproved.
Laura Poached Pineapple, Kiwi & Passion Fruit Rum Babas (Pass) They look messy, but the bake is perfect, and the choice to do injection syrup works well.
Dave Honey Tequila, Passion Fruit & Mango Savarins (Pass) They aren't traditional looking, but the texture is perfection, even though the curd on the bottom doesn't make a lot of sense to the judges.
Peter Strawberry & Elderflower Babas (Pass) He's pulled himself back together after two weeks. His is the only non-booze offering, but it's so good he earns a Hollywood Handshake.
Paul sets this second-to-last Technical and continues to pull out some oddities. This time it's a Danish Kransekake Cornucopia Cake. The word "kransekage" translates to "wreath cake." The original cake is a holiday tree-shaped cake made of circular "wreath" cakes stacked in descending order. In this case, they need to be stacked in the shape of a horn. Though everyone knows what a cornucopia on the American audience (and this is a well-timed episode for Netflix since Thanksgiving is less than a week away), it's less familiar to British viewers.
It's also entirely out of the bakers' realm. They stare at the instructions like they're written in Greek. Laura loses it for a second because she can't visualize what they mean, and Matt stops to pep talk her back into action. Let's see who pulls themselves together and who goes around the horn.
Oh dear. #GBBO pic.twitter.com/PqBZ5TGqHn

— British Bake Off (@BritishBakeOff) November 18, 2020
4. Laura: It's utterly collapsed, and Porue recognizes this was made by someone who never grokked the challenge
3. Dave: It's less a horn and more a snake. But it stands erect! (Ahem. Paul loses it.)
2. Hermine: The only one to make a cornucopia, but the chocolate and icing are all wrong.
1. Peter: The closest to getting the decor, but his horn lacks a curve.
Peter's win is a bit of a default, not unlike Laura's victory in the Technical last week. It is another sign of how the show is fighting to trip these guys up rather than give them challenges to figure out how to ace.
As for the penultimate showstopper, this is a play on the fondant fancies and petits fours of other years, just supersized. The bakers are to make miniature "cube cakes," which are large petits fours, but strictly cubical. They are to make 25 of them, over two dozen, flavored and decorated however they like. They may use sticks and dowels to hold their stacked cubes into whatever shape they want, but as Noel notes, extra points are awarded if they make the whole thing edible.
Once again, the weather is not going to help. It is now mid-August in the tent, the hottest time of year in the U.K., and climate change only makes it worse than usual, so the bakers are also working against the humid and sweat elements as well as their nerves. Let's run down who baked and who boiled.
Dave's Celebration of Chocolate Cube Cake. #GBBO pic.twitter.com/Xu0u0K2P5b

— British Bake Off (@BritishBakeOff) November 17, 2020
Dave's "Celebration of Chocolate Cube Cake" It's a little on the messy side, though the choice of drippy decor doesn't help with that. The cakes are neat, though, and the chocolate has set despite the weather. Paul calls them a triumph, with the caramel still soft and the mousse perfectly set.
Laura's Black Forest Cube Cake. #GBBO pic.twitter.com/hDljro1QcI

— British Bake Off (@BritishBakeOff) November 17, 2020
Laura's "Black Forest Cube Cakes" She attempted and failed mirror glazes on all her little cakes, so they look weirdly watery and running, even though they're perfectly set. Somehow she manages to look messy even in her exactness. The flavors and textures save her. Prue calls them worth all the calories.
Peter's Chocolate, Raspberry & Pistachio Cube Cake. #GBBO pic.twitter.com/Qz2Jxr4Zyq

— British Bake Off (@BritishBakeOff) November 17, 2020
Peter's "Chocolate, Raspberry & Pistachio Cube Cakes" Peter's comeback is complete with some of the best Showstopper work he's done in weeks. His tower is all on angles, which is much more complicated than everyone else, and his cakes are perfection. Paul calls the sponge and the mousse gorgeous.
Hermine's 'The Best of Hermine' Cube Cake. #GBBO pic.twitter.com/0z1wUWWGSb

— British Bake Off (@BritishBakeOff) November 17, 2020
Hermine's "The Best of Hermine Cube Cakes" These are not the best of anything. The stress of being the one viewed as the pâtisserie perfect one got to her. Her cakes are melting, the mousse isn't set, and her panna cotta cakes are rubbery. Prue says she's disappointed, but the real killer is how obvious it is that Hermine is disappointed in herself.
Peter's comeback makes him the only candidate for Star Baker this week, and the timing is perfect to put him in the lead for next week's final. With Laura and Dave managing to scrape by, Hermine is left to go home, which she calls the right choice. (Do click through and read her goodbye letter, it's lovely.)
---
By
for on November 20th, 2020
More to Love from Telly Visions