By
for on October 23rd, 2020
'The Great British Baking Show' Season 8, Episode 5 Recap: "Pastry Week"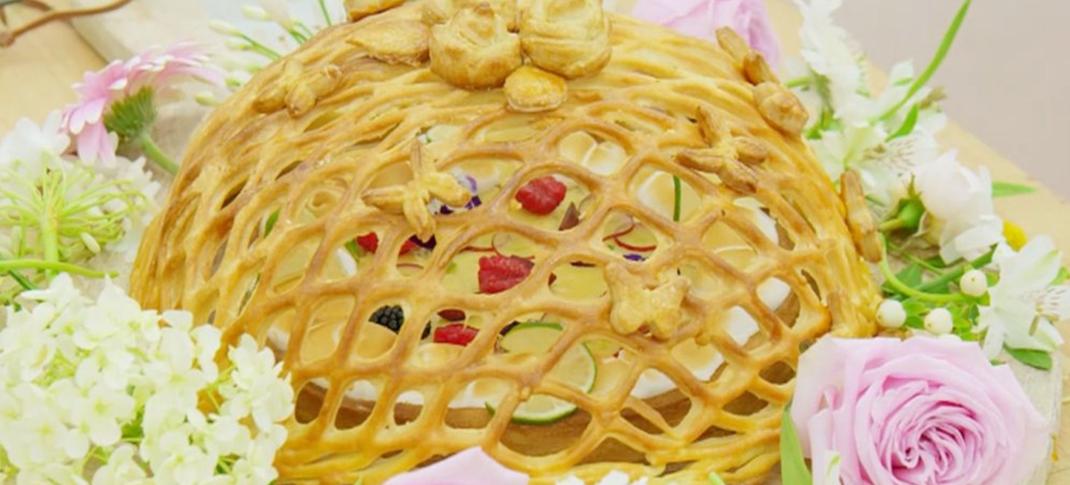 Last week's The Great British Baking Show was tough, both for those in the tent and those watching from home. The entire "Chocolate Week" theme proved deeply difficult, and Sura's subsequent dismissal from the tent (after serving the second-ever unedible bake in the show's history) was quietly devastating. The good news is, this week, the show goes back to something more fundamental: Pastry Week. 
Unlike Chocolate Week, Pastry Week has been a long-time staple of the series, going back to its very first series (the one most Americans haven't seen). After disappearing from Series 2 and 3, it came back in Series 4 and has turned up every year since, somewhere between Weeks 5 and 7. Pastry week almost always demands the same skills tests, too, with choux buns (be it eclairs or religieuses), puff pastries (rough puff ho!), and the British staple of the Cornish pasty. This is also where Tart and Pie Weeks went to hide, in case anyone was wondering.
But this year, we'll start with the pasty, which the series has not done since that fabled Series 1. Eight identical pasties, any shape, any flavor, but make sure they are personal to you. And it's very personal to Marc since he's from Cornwall. As always, the Signature is judged on a pass/fail metric.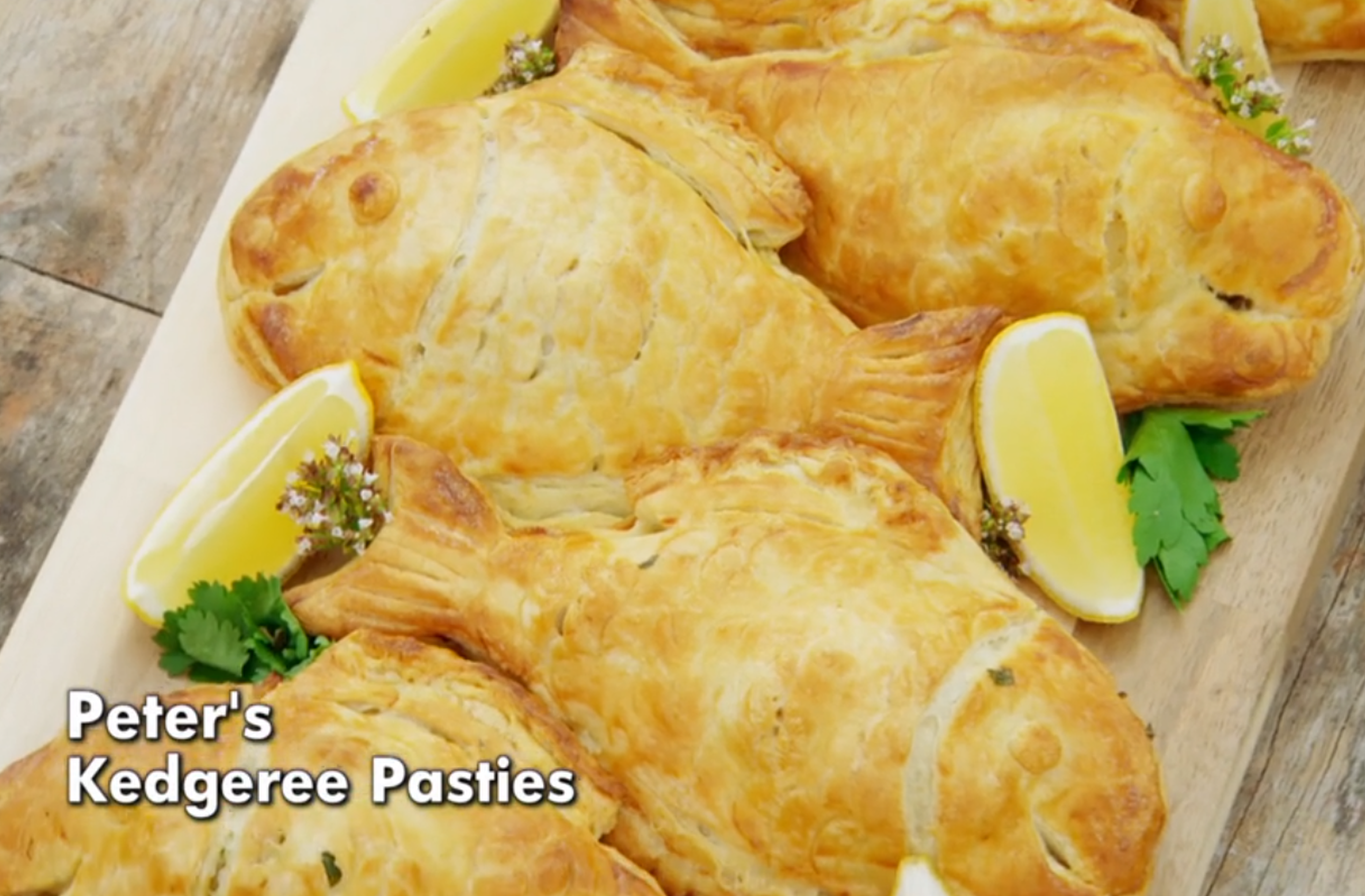 Marc Cornish Fish Pasties (Fail) Paul complains that there's a not pleated enough and pale. Prue says he should have cooked hotter for a shorter time.
Peter Kedgeree Pasties (Fail) They look like flatfish. Paul frets that they are badly dry.
Lottie Toad-In-The-Hole-Less Pasties (Pass) The chocolate frogs the pasties are in look better than the pastries themselves, but the good news is the flavor is spectacular.
Dave Thai Basil Chicken Pasties (Pass) They look perfect, but the flavor is merely ok because the rice soaked up all the liquid.
Mark Aloo Gobi Pasties (Pass) They look perfect, and the spices are the perfect blend. No Hollywood handshake, but Matt gives him one.
Hermine Moroccan Tagine Pasties (Pass) They're super pretty, but they are a bit pale. The lamb is cooked perfectly.
Linda Spicy Indian Pasties (Fail) She made samosas, not pasties, but they have fantastic flavor.
Laura Proper Tasty Pasties (Pass) Irregular sized, but the pastry is perfect, and Prue calls the flavors heavenly.
The good news is that after last week, everyone seems to have put in the practice, and the results are far better for this week's Signature as a result.
As for the Technical, this one comes from Prue: three raspberry and three caramel eclairs. These aren't just your run of the mill eclairs; she wants them high-end and fancy. Choux pastry as a technical test is a good challenge, and it's nice to feel like we're getting an old school segment. "Make the choux pastry" indeed — such an unhelpful instruction considering that Prue gave them four pages of directions all told.
As for who made choux and who found new ways to make scrambled eggs: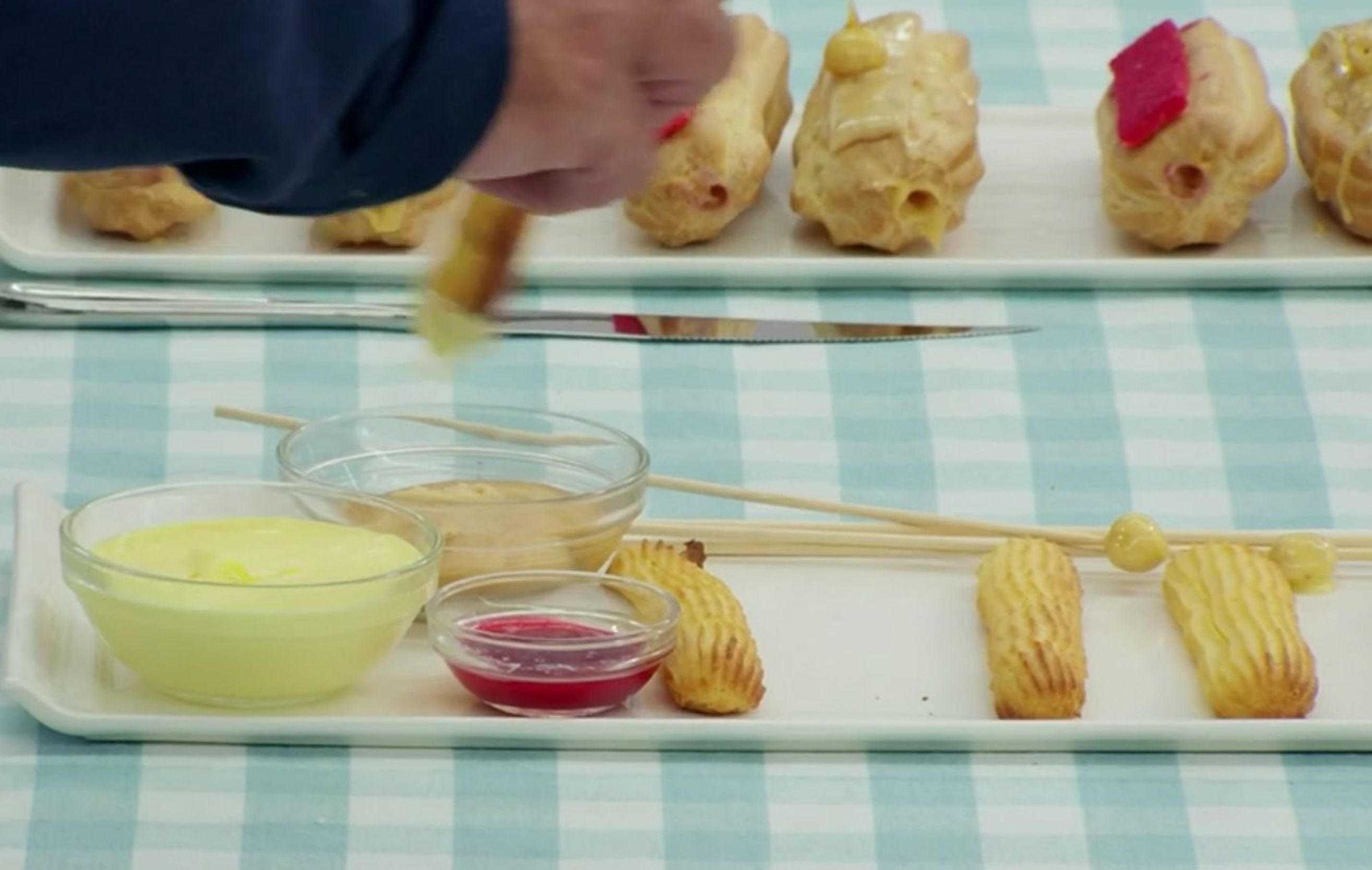 8. Linda: She failed at the choux the first time and didn't finish as a result, so she served the fillings as dip.
7. Marc: Prue compares them to caterpillars.
6. Laura: They're skinny and underbaked
5. Dave: The fillings are either missing or runny
4. Lottie: Neat and the piping set. The insides are runny
3. Mark: They're well-baked, but the filling evaporated
2. Hermine: They're a little on the plump side, but they are well baked
1. Peter: Quite neat and good flavor, right consistency to the creme pate.
We are halfway through the season at this point, so challenging Showstoppers finally begin to feel if not over the top at least less like they're setting contestants up to fail. This week brings something called a Caged Tart. As Noel explains, this is a fancy sweet-tart that they want to be enclosed within a latticed pastry cage. It doesn't matter what pastry they use for the cage, but it has to be both structural and tasty. Hermine calls this bonkers since a fancy tart should be shown off, not caged. 
By the way, the Caged Tart sounds made up. (And Noel and Matt's bit about Nicholas Cage is all made up.) But this is a play on the way tarts were presented back in the 1500s; this sort of pastry surround that opens and reveals the dessert is exactly the sort of thing you would picture being served to Herny VIII at a royal dinner party.
Let's see who managed a good presentation and who wound up with a lattice that collapsed.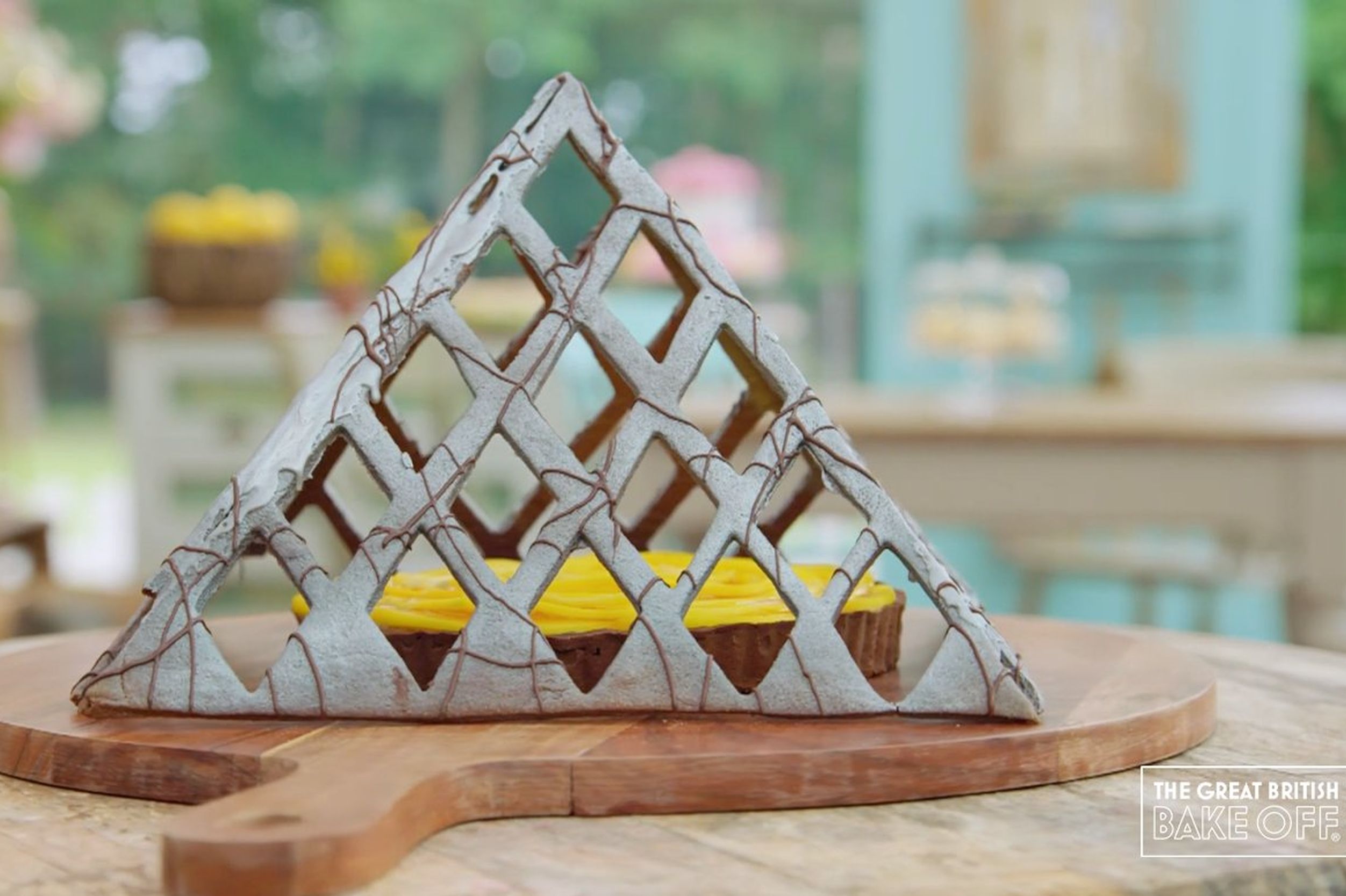 Dave's Chocolate, Mango & Lime Tart His pyramid cage came out well, glued correctly, and the silver color sets off the yellow floral tart inside. The flavor is lovely too.
Marc's Posh Apple & Blackberry Pie He did a dome that came off its mold correctly and made the rather dull brown tart with berries inside look enticing. Prue notes the tart's base is too big, so the chocolate is more "seated inside it" than a filling.
Hermine's Lime Confit & Lemon Meringue Tart She made a square cage, which is genuinely beautiful, but not glued together properly, and it falls to bits when Paul attempts to lift it. Paul is blamed for its collapse, and the tart is super tasty.
Laura's Kent Garden Tart She declares herself prouder of this than any bake thus far, and she's right to be. The delicate dome is gorgeous, and the tart is a beauty when unveiled. Prue and Paul love the key lime flavor.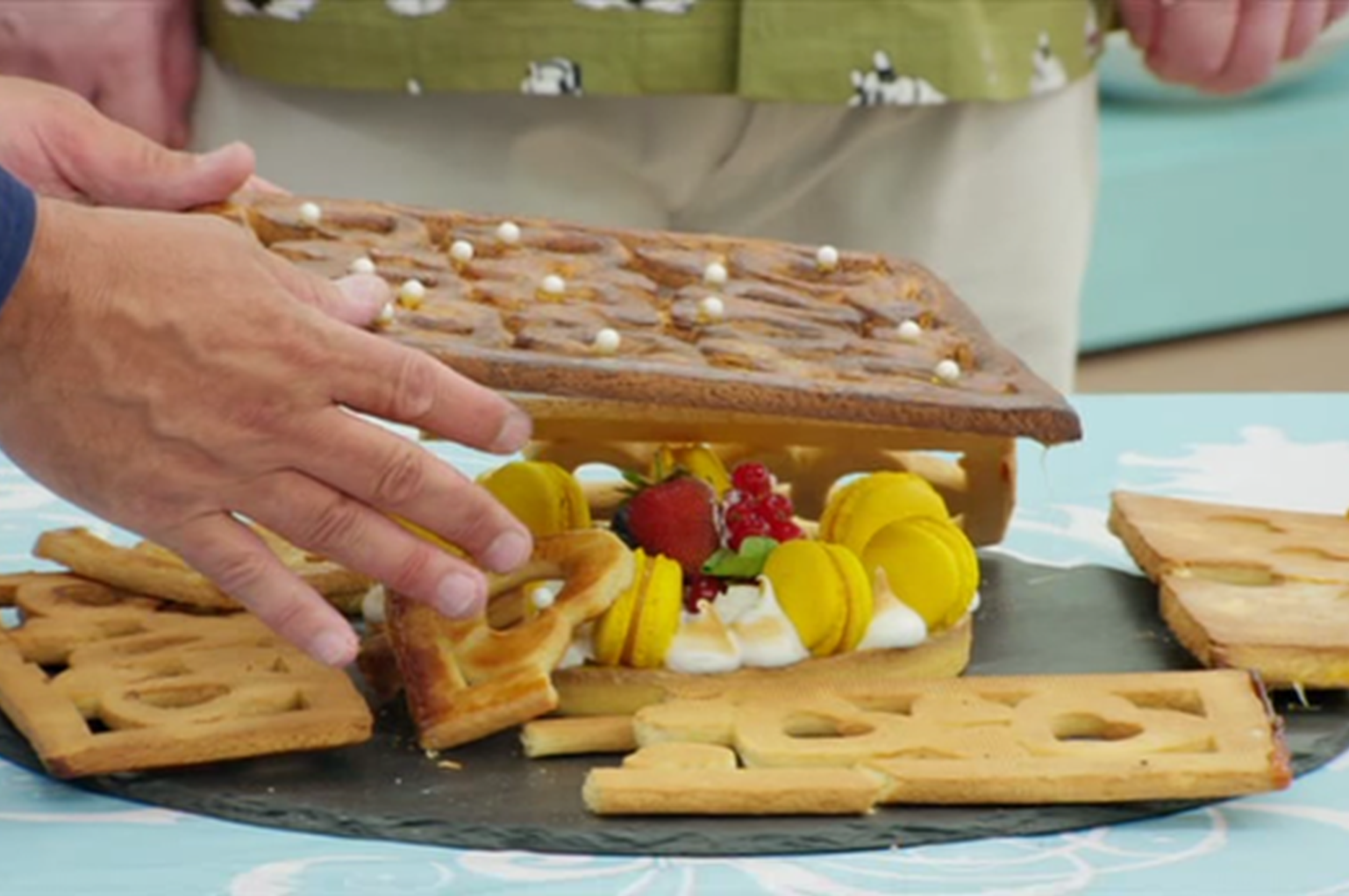 Linda's Gypsy Tart Her dome did not de-mold, and in fact, began cracking even before she got it out of the freezer. The largest unshattered piece frames about a third of the tart. At least the flavor is good, though the base is a bit thick.
Lottie's Apple Tree Tart She also did a pyramid that she glued together, and though it's all a bit beige, it does feel thoroughly apple-ly. She also did a tart without sides, which, though super tasty, Paul isn't sure counts. 
Peter's Blackberry & Lemon Tart His dome is perfect and has lovely violets all over it. The purple tart inside is declared lovely
Mark's Mes-SAGE in a Bottle The other cage disaster of the day, he did a long tart with the idea of a bottle-shaped cage, but the whole thing collapsed when he tried to get it off the mold, and now lies on top of the tart in bits and pieces. Paul declares this a setback from the usual Mark standard. Prue says the flavors are unusual but tasty, but Paul feels like he just failed from the concept stage.
Paul and Prue award Star Baker to Laura and her perfect Showstopper. Though Mark failed hard on the Showstopper, he did well in the first two challenges, and the judges are willing to give him a pass. That makes this Linda's turn to leave the tent.
---
By
for on October 23rd, 2020