By
for on October 16th, 2020
'The Great British Baking Show' Season 8, Episode 4 Recap: Chocolate Week
With the three beginner bakes out of the way, it's time for The Great British Baking Show to get into the meat of the season, as it were, as we reach the ever-rotating themes that span from "Victorian" to "Pastry." This season continues to push the bakers to their limits in hopes of a train wreck, with Chocolate Week. 
Like "Bread" or "Biscuits," "Chocolate" sounds like it's just a staple of baking. But, despite the love for the cocoa-based confectionery, it's not, nor has it been a recurring theme. Series 6, which we know as Season 3, is the only other time there's been a "Chocolate Week", and it was the semi-final. If previously the show saved it for only the top bakers, that's a bad sign.
And yet, the open Signature sounds easy: Brownies, a dozen and a half of them! Everyone loves brownies, they're the ultimate cross between cookie and cake. What could go wrong with brownies? Except the show is only giving them 90 minutes. Though, as Paul says, if you can't make brownies from scratch in your sleep, should you be here? As always, the Signature is judged on a pass/fail metric.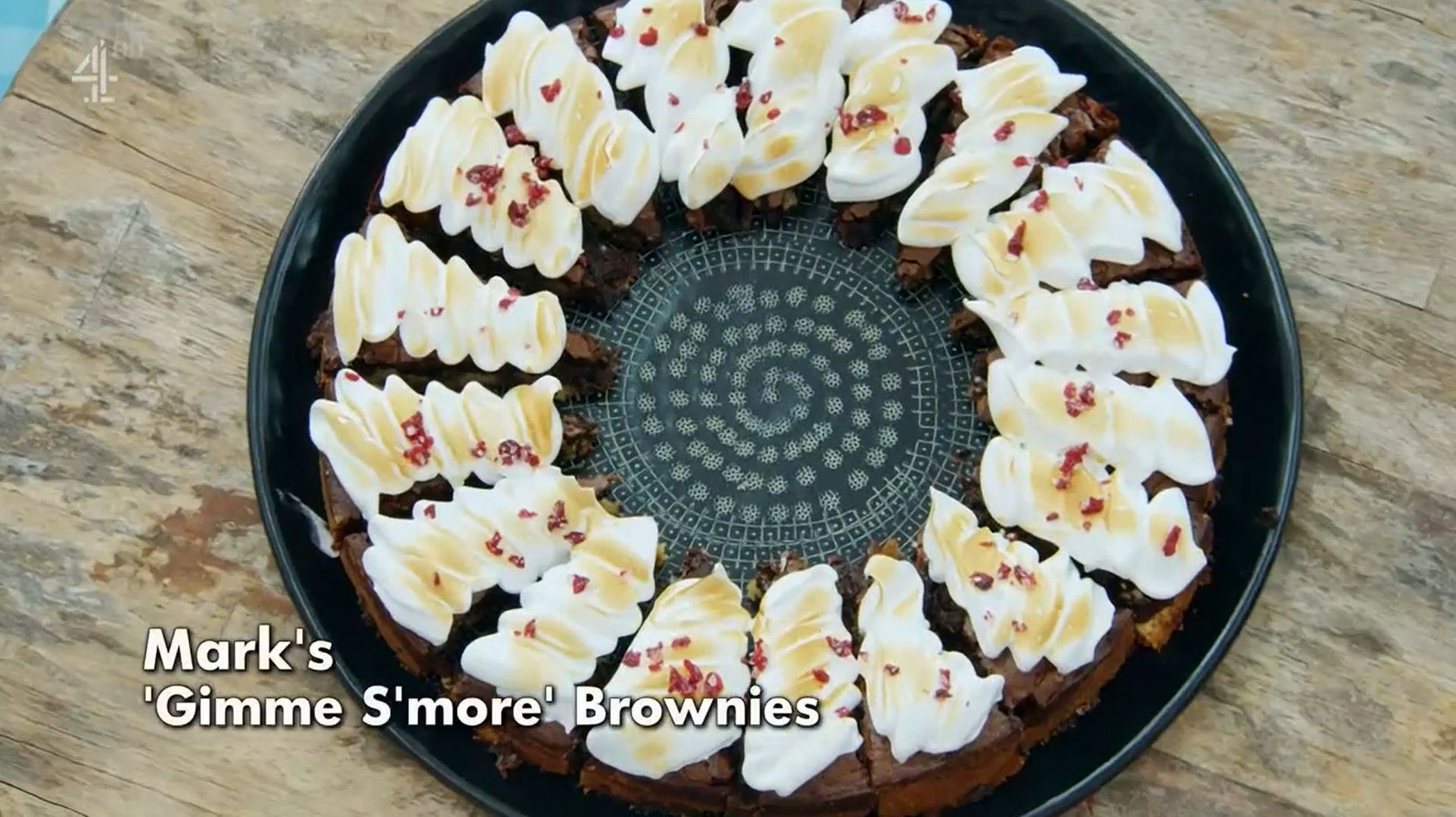 Peter Upside Down Brownies (Fail) He made them like upside-down pineapple cakes, but brownies. Unfortunately, they're overcooked, there's too much cinnamon, and the only chewiness is from the dates.
Laura Salted Caramel Brownie S'mores (Fail) Her brownies failed to bake, and there's too much meringue.
Sura Double Chocolate Marshmallow Brownies (Fail) She only has half the number because her second pan collapsed in the oven, and they're presented in the pan uncut. 
Mark Gimmie S'mores Brownies (Pass) He did a cookie base under his brownie, and Paul thinks it's too much cookie to brownie ratio. But it's the first to be adequately baked, so the judges let that slide.
Hermine Raspberry, White Chocolate & Pistachio Brownies (Fail) Messy, with too many competing flavors.
Linda Treats of Christmas Past (Fail) The texture is a sponge-like, but the flavors are good. 
Dave Honeycomb Explosion Brownies (Fail) Prue says it's not a brownie, but tray-bake.
Marc Praline Brownies (Pass) They look terrible, but the middle ones have the gooey center.
Lottie 'Have Your Cake and Eat It' Brownies (Fail) Paul asks if they were dropped on the floor and then asks for a straw because they're so underdone.
My gods. I knew going in the show set these guys up, but I would never have guessed seven fails out of nine. That's a record level of bad marks ever to be had in series history, even in the first two seasons that never made it over here because the bakers were such amateurs. 
I don't feel right about this. The Baking Show has changed and morphed since the joyous Sue & Mel and Mary days, and the move to Channel 4 (along with the loss of those three) would always mean the series would be different. But, you know what? Nailed It exists already. It's on Netflix. The Baking Show does not need to be Nailed It! It needs to be what it always was, and if it cannot be that, why is it here?
The Technical is back to bread, and a hard one at that, Chocolate Babka. Once again, the show fails to note the Jewish roots of this bake. However, Prue hints at that by saying she had it in New York. (We should note this is the second time the show has done this, much like the bagels last week, which not only failed to mention the bread's roots, but the attempted to follow the Tory's clumsy reassigning of the rainbow from an LGBTQ symbol to the NHS in place of funding during the pandemic.)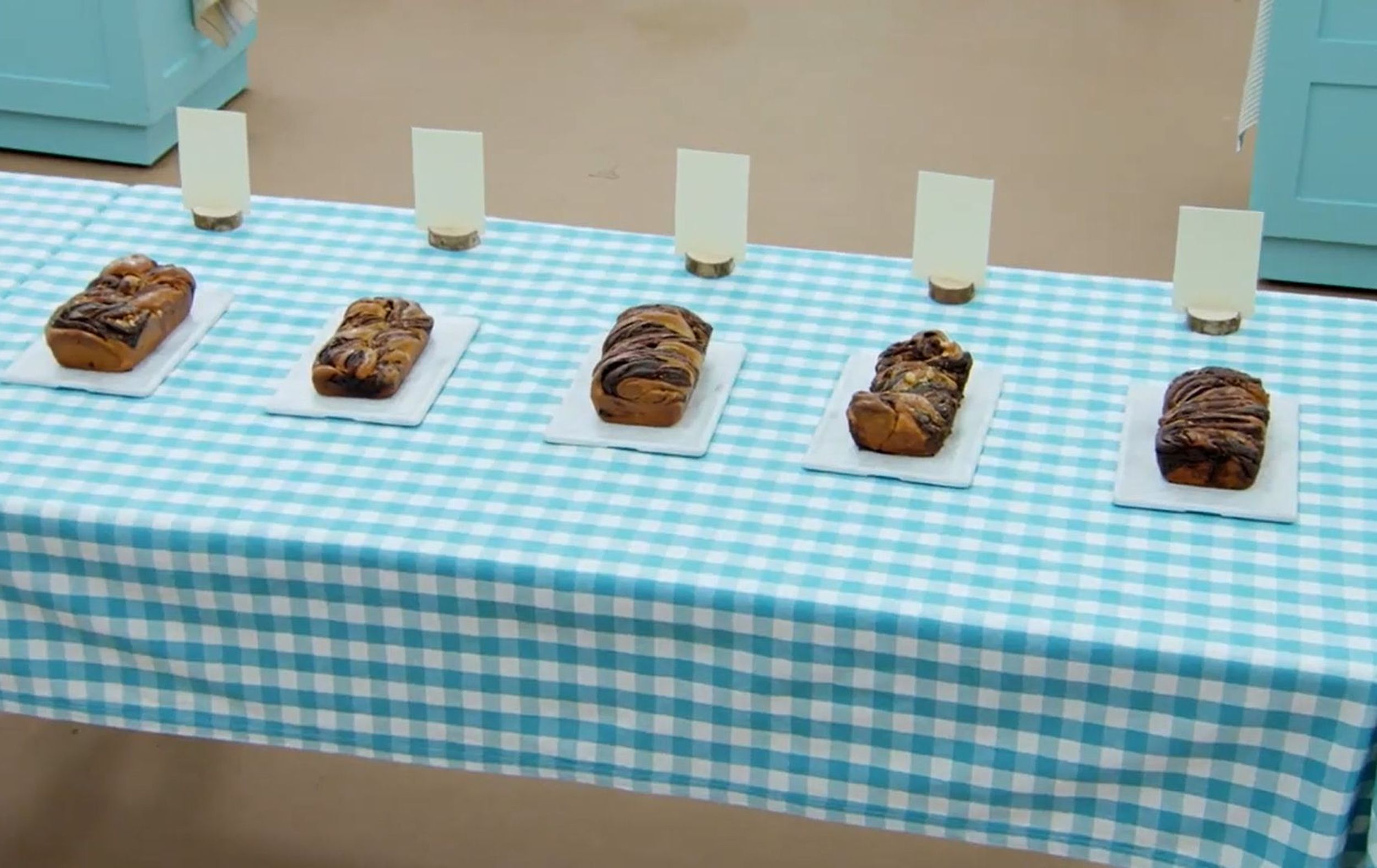 9. Lottie: It sunk in the middle; the edges are hard
8. Dave: Too dense
7. Sura: The plating is wrong, and it's dense.
6. Marc: The size is right, but it's too dry 
5. Hermine: The plating is wrong, and it's dense.
4. Peter: It's small, but it's got the swirls both on the crust and inside
3. Mark: It's not well brained, but it's delicious 
2. Laura: It looks right from the outside, and it's cakey.
1. Linda: Prue: "This is a "Model Babka."
That, at least, was less of a disaster, but there's no real way to tell who is in the bottom since so many failed on the Signature, and the Technical only matters if the judges decide it does. Moreover, this could all go out the window in the Showstopper, a White Chocolate Celebration Cake, with a minimum of two layers. White chocolate is the hardest of the chocolates to work because, unlike other chocolates, it's all made of cocoa butter and milk solids. As Paul notes, it's got a high-fat content, so everything else has to be adjusted. It also means the chocolate splits and breaks easier than darker ones. 
Also, because this was filmed in July instead of April, the weather is a significant factor. Global warming has changed English summers quite a bit in the last decade, and it's hot and sweaty in the tent, which will make the chocolate even more prone to collapse.
Let's see who managed this and who collapses with their cake.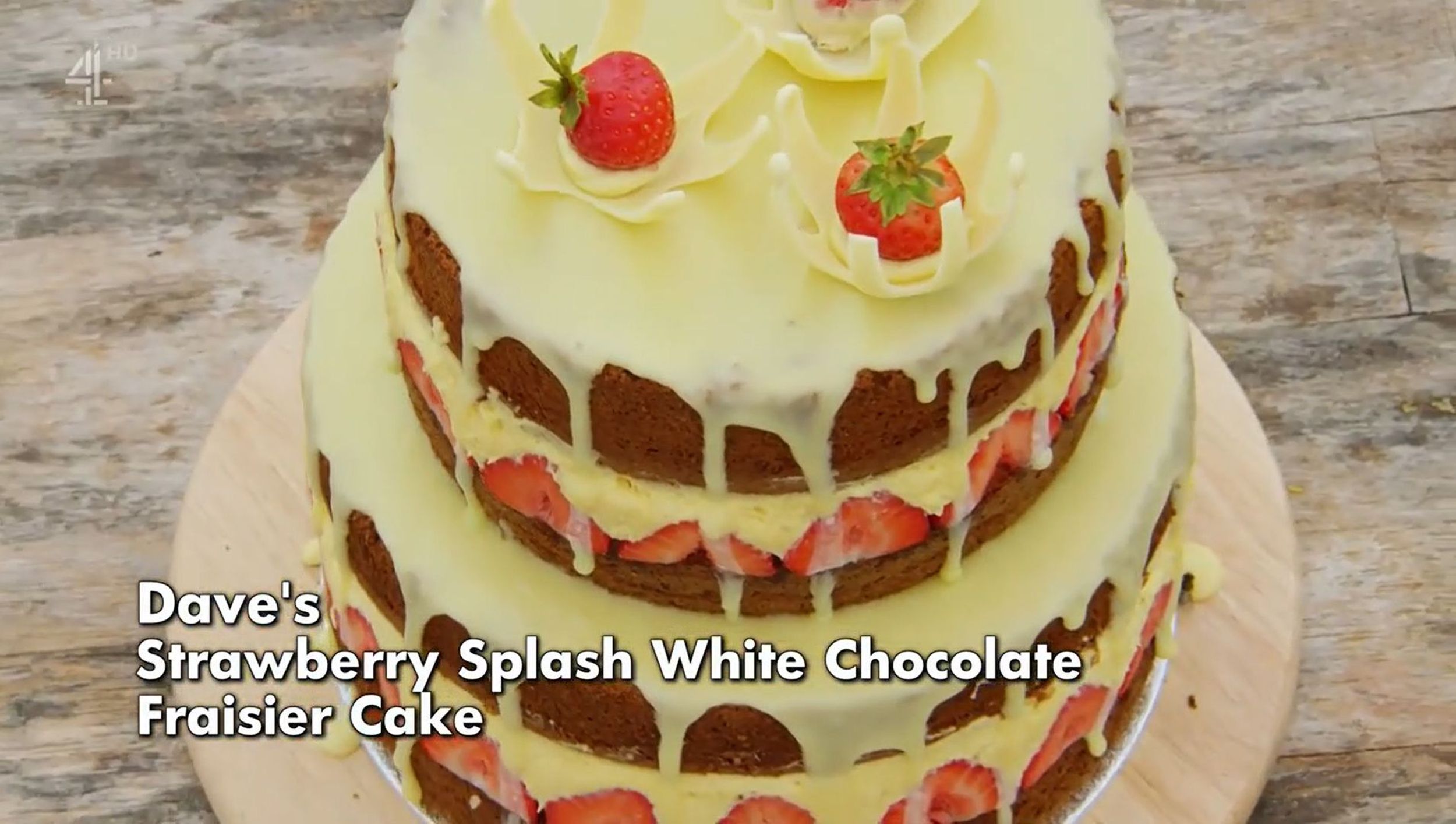 Mark's "A Bake Off Birthday" He managed a decent naked cake (iced without a fondant shell), which isn't easy to do. Prue and Paul like how modernist it looks, but the flavor is not very bold.
Lottie's "Nana & Papa's Sapphire Anniversary Cake" Paul likes her design and sugar sapphires. But it's dry inside and overbaked.
Sura's "Strawberry & White Chocolate Celebration Cake" The poor thing is practically crying. it's utterly basic in how it looks, and she knows it. Worse, it's so raw they can't taste it due to food safety regulations. This is a Food Network staple problem, but something I do not recall *ever* seeing in the tent, other than Bingate.
Dave's "Strawberry Splash White Chocolate Fraisier Cake" The spongecakes are super dark for a white chocolate cake, but it's not overbaked.
Linda's "English Rose Cake" Her piping is terrible, but the cake tastes lovely.
Marc's "White Chocolate & Raspberry Buttercream Celebration Cake" It's hilariously a better-looking version of Mark's cake with the same naked icing and drips, but better decor. The cake is a bit dense.
Peter's "Graduation Cake" He did a collar, and it is brilliant looking. It also helps hold the cake together, which has entire chunks of chocolate in it.
Hermine's "Lemon & White Chocolate Cake" The second tier is messy, but the top rosettes are pretty. Prue is delighted at how delicious it is and makes happy noises, which Matt dubs a "Pruegasm."
Laura's "Chocolate Heaven Cake" She tried to do white chocolate collars, but they're a mess. But the cake is lovely, and it doesn't matter that it doesn't taste of white chocolate since there's so much in the surround.
Mark lands Star Baker this week as one of the only brownie successes. Sura knows it's her going home, and Prue and Paul pretending it would be anyone else is a bit of insult. Though to be fair, Lottie did do badly. Like Prue, I vote for Noel to leave instead of either of them, but oh well.
---
By
for on October 16th, 2020
More to Love from Telly Visions