By
for on November 1st, 2019
'The Great British Baking Show' Season 7 Finale Recap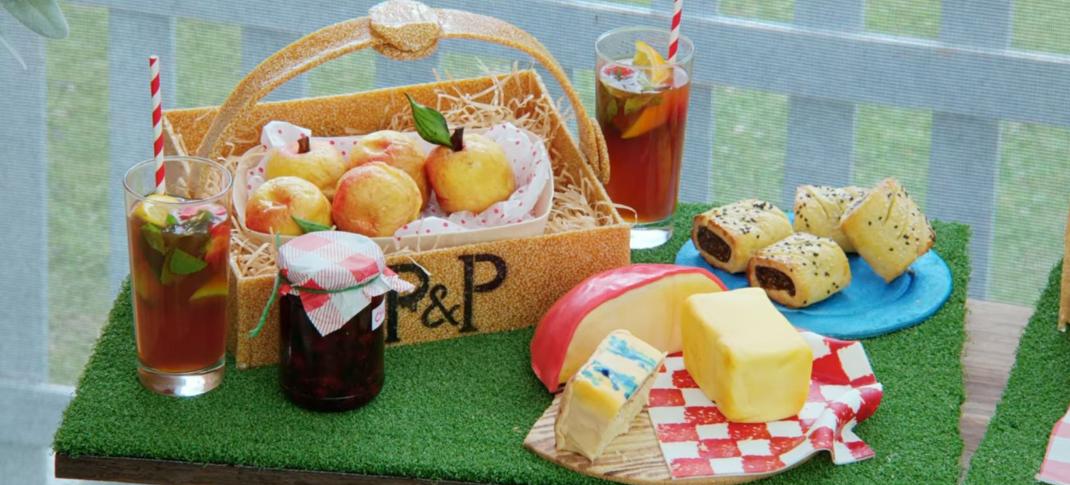 When The Great British Baking Show premiered in the summer of 2010 on BBC, it was not the show we know today. The six-episode series was an amalgamation of ideas: History, U.K. geography, fundraising (and getting others involved in starting baking fundraisers of their own), and a reality competition to bind it all together. Ten seasons in, it is now entirely a reality show, with contestant tears, mean judges, friendly hosts, and seemingly impossible challenges. Despite all the hurdles, including a massive scandal and cast turnover when the show moved from the BBC that nurtured it to Channel 4, which profited from it, the show remains a widespread phenomenon -- on both sides of the pond. 
The choice by Netflix to go week-to-week this year has made U.S. audiences more aware of how the show has changed since the BBC/PBS days. Fans are starting to consider if the show has run out of ideas, or if it's just failing to pull in the amateur talent it once mined so expertly. But despite the debates over this year's Technical Challenges and Showstopper concepts, the show remains as popular as ever going into the 2020s.
And it's popular because, no matter what the challenges are, the talent shakes out to the top by the finale every year to create some extraordinary final bakes. This season, those bakers are:
Steph, who won Star Baker 4 times, only one shy of Richard's Season 5 (U.S. Season 1) record
Alice, who won Star Baker twice
David, the never-Star-Baker, Always-2nd-Place-In-Technical underdog.
For their first final challenge, the Signature, they've been told to make Ultimate Chocolate Cakes, the "Mona Lisa" of chocolate cakes, made in a tight two hours. Let's dry our eyes from the touching family clips, and see who had the chocolate worthy of artwork.
David Chocolate, Armagnac & Prune Cake Pass but barely. It's super pretty, but the armagnac is a little overwhelming when there isn't a piece of prune for balance.
Alice Chocolate, Pear, Ginger & Maple Cake Pass on a Split Decision. It looks like it might collapse because the bottom is smaller than the middle layer. It's delicious, but Paul complains it doesn't taste enough of chocolate. Prue argues it's perfectly balanced and would be too much if there was more chocolate.
Steph Black Forest Gateau Pass. Prue says it's super 70s, but that's what she was going for, and it's a perfect example of the genre.
So after a season of Terrible Technicals, how can the show top things for the finale? With a challenge set by Paul, it turns out, of Six Stilton Soufflés, twice baked, with a side of lavosh crackers.
Stilton as in the British cheese; soufflé, as in the puffy French delight. Soufflés come from the word souffler, as in "to puff." Vincent La Chapelle invented the dessert in the eighteenth century, but it was not popularized until the early 19th century as a dish for the nouveau riche in the wake of the revolution.
David used to live with a guy who owned a soufflé dish, so he's somewhat experienced here. Alice, it turns out, has never made a bechamel in her life, so she's not. Let's see whose bakes souff'd and which ones laid.
3. Steph: They collapsed before they were unmolded; she barely baked them because they were already pancaked.
2. Alice: They're pale and underbaked, but the souffle stayed risen
1. David: Fully risen, most kept their shape, fully baked, and the crackers are even correct.
This is a setback for Steph, who was the front runner, but David's mediocre performance in the Signature somewhat mitigates his first place in the Technical. Alice is just running down the middle, which is basically what she's done all season. But she's in the worst shape emotionally on Showstopper day, as her parents are stuck in Ireland with a canceled flight. (That is a bummer. Here's to whoever stepped in and fixed that.)
For these finale showstoppers, as befitting the traditional English Tea-and-Picnic celebration that follows, the bakers are creating illusion cakes, as in cakes (and other baked goods) that look like other dishes. These cakes should look like Picnic Basket Feasts instead, and they must include all of the Baking Show's opening three elements: Cakes, biscuits, and (enriched) bread. On top of that, the basket must be made from nougatine, a hardened caramel infused with nuts and seeds.
Let's see who held it together, and whose picnic has been scattered.
Alice's End of the School Year Celebration Picnic The ice creams aren't convincing, but that's her only fail point visually. At least the bread in them tastes good. The (carrot cake) scotch eggs are a highlight, but her fruit buns don't have smuch flavor. (The strawberry macaroons do though.)
David's Peachy Pic-Nik It's a stunner. The basket is perfect. The peach buns are a delight, the fig rolls (which do look like sausage rolls) are tasty, and the "cheese" cake is soft and sweet. Paul calls it exceptional.
Steph's Picnic in the Park Steph didn't crash and burn, but the skidmarks are evident. The basket is crumbling, the strawberry macaroons are clearly biscuits, and the topping on her buns (which are obviously buns) is a mess. The burger cake is a highlight, but even that doesn't taste great.
It's not enough for a win, not by a country mile. It's a genuine heartbreaker. Steph's so distraught Paul follows her back to her station and hugs her. He tells her it's going to be ok and helps her pull herself back together. This is only the second time in Baking Show history the frontrunner has collapsed in the finale. (The other one was Kimberley in Season 4 (U.S. Season 2.) With Steph out of the running, the judges make some noise about Alice's steadiness as a factor, but David ran away with this today, and he's the only option to be crowned the winner. 
But of course, it's sweet when he does win, because it always is, and Alice and Steph pull themselves together. The final montage of "where are they now" is cute too, with David now doing cooking videos and a couple of pictures that will have everyone asking if Michael and Henry are dating yet. Baking Show rolls on.
---
By
for on November 1st, 2019
More to Love from Telly Visions