By
for on October 11th, 2019
'The Great British Baking Show' Season 7, Episode 7 Recap: Festivals Week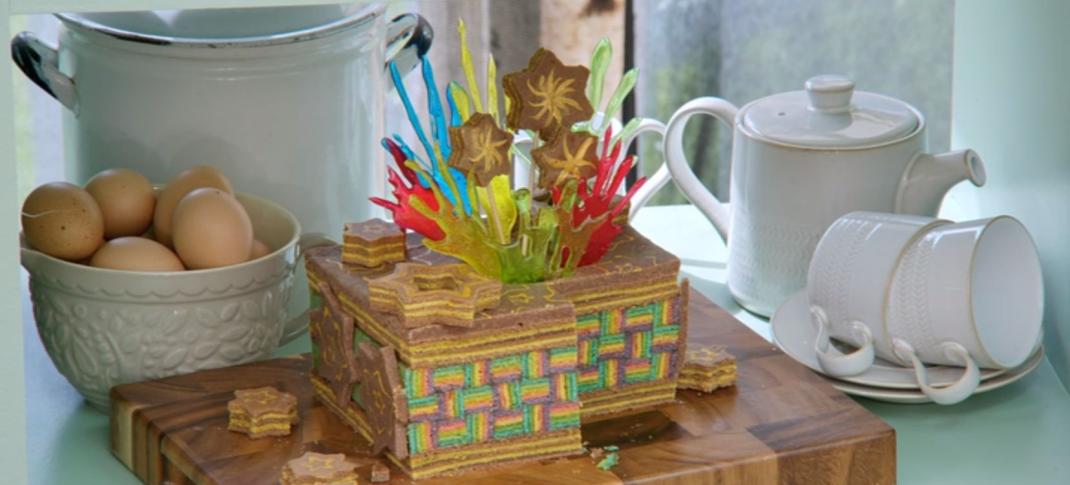 As if "Dairy Week" wasn't nebulous enough this season as a theme week, The Great British Baking Show goes even more meta with the Top Six and forces them to think "Festivals." I might go so far as to say this sounds like the worst, most useless theme the show has attempted since Series 7 (Season 4)'s Botanicals Week, which managed to fail flowers in several different ways. 
Part of the problem is the word itself "Festivals," which in America brings to mind things like State Fairs and butter sculptures, or Renaissance festivals, and turkey legs. (Noel thinks of musical festivals, bless him.) That's not what the theme week means here, not in the slightest, which means that for a U.S. audience, this could be the worst-titled theme week since "American Pies" from Series 3 (PBS Season 5, which Netflix calls GBBS: The Beginnings.)
"Festivals Week" is more like "Holidays Week." All three challenges are based on holiday celebrations around the world, and the bakes associated with them. Though considering how obscure some of the challenges have already been this season, it is doubtful the contestants will feel all that festive this week. (On the other hand, many of them might want to take a holiday.)
The Signature Challenge is to pick a festival, any festival, and make two dozen buns celebrating that occasion. As always, this is Pass/Fail, and considering it's buns, everyone should pass.
David Kozunak Plaits Pass. The plaiting and flavor are  good, but they're a touch overbaked
Michael Figgy Pudding Hot Cross Buns Pass. They're a bit all over the place in size, but the flavor is spot on
Steph Zest & Spice Hot Cross Buns Pass (Hollywood Handshake). They're practically perfect and sticky too.
Alice Lemon, Blueberry & Almond Hot Cross Buns Pass, but barely. Paul complains about the sizing, but Prue says, "Well, they look homemade."
Rosie Mardi Gras Finnish Semlor Peacock Festival Buns Pass. Paul says they belong in a shop window, but they're slightly dense
Henry Chocolate Kardemummabullar Pass (Hollywood Handshake). Prue said she's buy one from a bakery. When Paul sticks out his hand, Henry nearly falls over: "Shut! Up!"
Finally, a Signature where everyone passed with flying colors, except Alice. Two Hollywood handshakes is always a great sign. But then again, this was an easy one. It was just buns! Too bad the Technical challenge won't be just buns.
This week the Technical Challenge comes from Paul. It's an Italian bake that is at least famous enough that I've vaguely heard of it, which is a relief. The contestants are to make a dozen cassata siciliana, or "Sicilian cassatelles" in English. Traditionally served at the Italian Carnevale, this 10th century fried dessert consists of a stuffed dough filled with sponge cake, moistened with fruit juices or liqueur, layered with ricotta cheese and candied fruit. It's then covered with a marzipan shell, topped with pink and green icing, but that part is blessedly cut. The fruit dictated here is orange, and the sponge should be chocolate. 
Let's see who fried and who survived.
6. Alice: Didn't seal and puffed up
5. Michael: All pastry, not enough filling
4. Steph: Overfried and the pastry's too think
3. Henry: Neat and full of filling, despite several bursting
2. David: Could have more filling
1. Rosie: Filling is perfect
Despite Alice and Michael sitting at the bottom after that Technical, the judges are quite chuffed. After several pretty horrendous weeks in the tent, it seems like the contestants have found an equilibrium. Those who are the chaff have been cleared away (along with a couple of potential wheat, but nevermind). Either way, what's left now are the best of the bakers from the season.
And none too soon, because this Showstopper is a doozy. Sandi intones that this is the hardest challenge ever attempted inside the tent, and I, for one, believe her. The bakers are to make a Kek Lapis Sarawak, which is a Malaysian special occasion layer cake. ("Kek lapis" translates to "layer cake.") Baked for occasions like Eid ul-Fitr, Christmas, Deepavali, birthdays, and weddings, this specialized cake is a direct descendant of the spiced Betawi cake and came into it's own in the late 1970s/early 1980s. The fact that it's such a modern invention also explains why it's a multicolored and patterned dessert. And did I mention it's grilled?
Welcome to The Great British Grilling Show. Let's see who manages to survive the fire.
Steph's Orange & Chai-Spiced Revitalise Cake Steph's blocks are spun and turned, but there are gaps because the layers aren't perfect, and she didn't seal them with icing. That being said, the pattern is very traditional, and it's delicious.
Rosie's Rainbow Sarawak Style Layer Cake The diagonals are messy, though the colors are bright. Prue notes it's a complicated pattern she attempted. Still, the flavors are tasty. She just didn't execute to the level they were hoping for.
Michael's Jamaican Mule Sarawak Style Layer Cake He only did the colored layers in the center, which means the top and bottom look like single slabs. And the cake is sadly stodgy. He soaked it in liquor, which helped close the cracks, but ruined the cake texture.
Henry's Elegant Present Box Like Steph, his pattern is gaptacular. But the way he topped it with cut bits make it looks somewhat deliberate. Paul says it looks like a stack of egg sandwichs, which Henry says was what he was going for. "Shut! Up!" says Paul. And it that, Sandi steps in, walks up to Henry and gives out the first-ever Toksvig Handshake. 
David's Sarawak Style Layer Cake Sculpture Prue loves the architecture, but it's too small, this is supposed to feed an army of party-goers. David lost quite a bit of cake in the process and had to get creative. The texture shows that he was lucky any of it was edible at all.
Alice's Chocolate, Orange & Salted Caramel Kaleidoscope Sarawak Style Layered Cake The neatest of all six cakes, she's barely got gaps, and the whole thing looks woven. And the taste is perfect.
Star Baker this week goes to Henry. All together now: SHUT! UP! As for who is out, Alice just saved herself in the bottom off between her and Michael, leaving only one real candidate for exiting this week. Sorry, Michael!
---
By
for on October 11th, 2019
More to Love from Telly Visions