By
for on September 20th, 2019
'The Great British Baking Show' Season 7 Episode 4 Recap: Dairy Week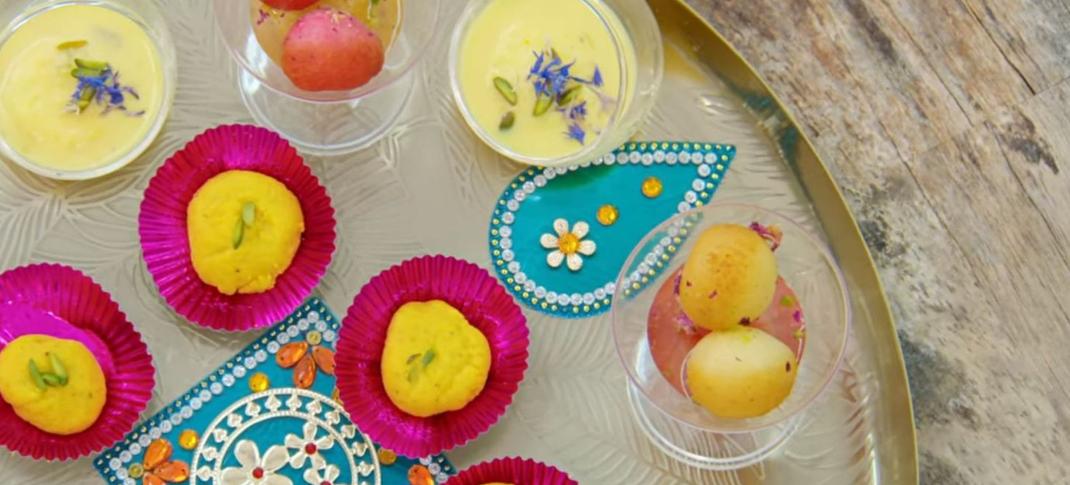 There was a time, early on inThe Great British Baking Show history where the categories were straightforward. There were Pies, Puddings, Traybakes, and Desserts. But since Season 6 (Season 3 for us), they've been getting more experimental in the tent. Now there are more meta ideas like "Botanicals Week" or "Spice Week." This year, the choice had been to go with the creamy goodness of "Dairy Week."
"Dairy" encompasses a lot of ideas, not just milk and cream. There's cheese, eggs, and the chance of sheep or goats appearing in more than just the B-roll footage.
This week starts with a Signature bake of "Cultured Dairy Cake." That means yogurts, buttermilk, and cheeses, not that Noel will start singing opera alongside them. At least, that's what we're all hoping.
As always, these are graded on a Pass/Fail metric, and no points deducted for breaking your cake stand:
Henry Ode to a German Breakfast Cake Pass. Nice and light
Rosie A Good Dose of Limoncello Pass. Paul is delighted by the lightness.
Helena Ghost Cake Pass. I prefer Noel's far better title for her cake "Groovy Ghoulie."
David A Kick of Limoncello Pass. It's gorgeous looking too.
Steph Answer to Everything Pass. But Prue calls it too rich. I say it needed more 42.
Phil Trucking Lovely Rose Fail. It's messy, no flavor.
Alice Leafy Yoghurt Cake Fail. Gorgeous to look at, zero flavors.
Priya Choc-chip Banana Pass. Texture is off on the outside, but the banana bread inside is good.
Michelle Homely Rhubarb Cake Fail. Texture is terrible, and Prue calls it "claggy."
Michael Cheesecake Surprise Fail. More like cheesecake collapse, as the cake failed to unmold properly and split in two. But the flavor is excellent.
Good on Michael for not binning his cake, even though he declared he would have done so at home. As everyone should know by now, the judges want you to present something.
Prue sets this week's Technical: make a dozen Maids of Honour. They consist of a rough-puff cup, a bottom layer of lemon curd, topped with cheese curd filling, and a Tudor Rose design out of icing sugar for decoration. These traditional tarts supposedly were invented during Henry VIII's reign. The story says he saw "Maids of Honour" who attended his wife eating them, had a taste, and demanded they be made for him regularly. No, we don't know which wife, but the theory is it was Catherine of Aragon, and the "Maid of Honour" who made them for Henry was Anne Boleyn.
The Technical is graded on a steep curve. As Prue says: "By in large, all, or almost all of them are a little too shallow." Or in the words of Paul: "They're awful."
10. Priya: She fell behind and never caught up. There are five underbaked pieces on the plate, one of which landed upside down.
9. Helena: She made shortbread. The nine on the plate are crumbling to bits.
8. Alice: It's a lemon curd tartlet, which was not the challenge.
7. Michael: The pastry shrunk, and it's too dry.
6. Phil: No rose, too dry.
5. Michelle: No height, but the rough-puff passes.
4. Rosie: Decent curds anyway.
3. Henry: Good flavor, but no rose, and far too flat.
2. David: Neat, right number, rose-like image in the middle. Close enough.
1. Steph: Neat, correct amount, centered rose, and best tasting.
So much for that. Paul threatens to send two people home this week. Everyone is glad to go home and come back tomorrow for the Showstopper.
This week's challenge is "A Display of Mishti." Along with being the name of a mononymed Bollywood actress, a mishti is a sweet cake made with mishti doi, a fermented sweet yogurt, which originated in Bengal. If you've ever had baked yogurt, it's a little like that.
"Mishti" as a dessert is a blanket term for any Bengali sweet made with this yogurt, which is why the display must include three different kinds, a dozen of each. This is insane because the khoya the bakers need to create to make their mishtis are painfully time-consuming — most finish theirs with 45 minutes left. So one of the three mishtis is allowed to be made with condensed milk to speed up the process. Everyone takes that route except Henry, who instead makes a kulfi, a frozen Indian dairy dessert which is *more* time consuming, not less. 
Steph's Pink & Pretty Mishti Prue loves the designs, and the flavor combos are fantastic.
David's Flavours of India Very neat and precise looking. Paul is very impressed with the way they melt in his mouth.
Alice's Afternoon Tea Her concept reads well, and all three of her cakes have the flavors one might find in a traditional tea.
Helena's Ye Olde English Sweet Shoppe Prue loves the design, but the sweets aren't all equal.
Rosie's Cocktails & Canapés Paul loves the colors. Prue calls them very clever.
Michelle's Home Comforts Mishti Two of them pass muster, but Paul hates the rice pudding ones.
Henry's Seaside Mishti It's a disaster. The ice cream one is melted, inedible. Even Henry admits he'd only eat it if he were a prisoner. The other two are boring and unfinished.
Michael's Flag of India He nailed this. The design is top-notch, and the flavor pairings are brilliant.
Priya's Flavours of My Childhood Prue complains the colors are only in the decor, but Priya nailed the flavors.
Phil's A Corner of My Garden It's cute, but there's a childish look to it, it's not elevated. Moreover, the flavors are godawful. Paul says they take "fake."
Star Baker goes to Steph, though I think it was that she nearly made Star Baker last week that made the difference in rewarding her and not Dave. As for who gets sent home, it's only one person, and it's Phil.
I want to stop and discuss this because there was a freakout on Twitter that Henry's inedible Showstopper should have gotten him offed, and that Phil was fine. (It doesn't help that the cast expected someone else to go as well.) But despite my jokes about Henry looking like a "poor man's Thomas Brodie-Sangster," he passed the Signature with flying colors, and he was Top Three in the Technical. Phil, meanwhile, failed one and was bottom of the barrel in the other. The choice makes sense.
---
By
for on September 20th, 2019
More to Love from Telly Visions