By
for on September 13th, 2019
'The Great British Baking Show' Season 7 Episode 3 Recap: Bread Week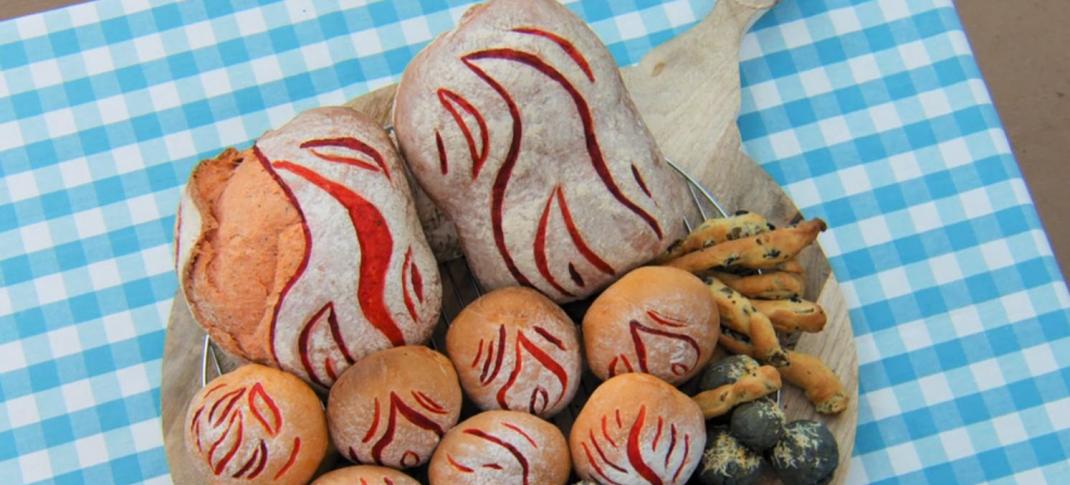 It's time for the third and final of the baking basics as The Great British Baking Show brings us Bread Week.
It's Bread Week in the tent, with all the under-proofed and overworked tragedies that come with it. Bread Week is also the unofficial Paul Hollywood Week, as somehow the manly work of baking bread has always been his domain. It's also usually a good sign of who the emerging front runners are. It is rare for someone to land Star Baker on Bread Week and not be in the finals, happening only three times in the show's ten-year run. So far it's only happened in Series 2 (which never aired in America), Series 7 (for us, Season 4) and Series 8 (Netflix's Season 5).
Will this week's Star Baker follow this trend? There's no way to binge ahead and find out. Instead, we'll have to content ourselves with this week's Signature Bake, which is "Tear & Share Loaves" or "Pull-Aparts." Here in America, it's usually called Monkey Bread, and sometimes Bubble Loaf. Cinnamon buns are also technically pull-aparts, as are Star Loaves, and we have multiple contestants making both.
As always, these are graded on a Pass/Fail metric:
Henry Chicken and Pesto Tear & Share Squares Fail. Somehow he has all the right ingredients, and it tastes like nothing.
Steph Sun-Dried Tomato and Pesto Star Bread Fail. It's bone dry and overbaked.
Rosie Chilli and Manchego Tear & Share Pass. Prue calls it heaven.
Alice Baklava Ring Pass. Slightly overbaked, but the flavors save it.
Amelia Chorizo Brunch Rolls Fail. They're not evenly sized, and chorizo is way too strong.
David Cinnamon Swirl Tear & Share Pass. The bake is perfect, but it needed more dried fruit.
Helena Frosted Cinnamon & Pecan Buns Fail. Paul refuses to consider that iced cinnamon rolls count as a tear & share.
Michelle Noson Gaws Tear & Share Pass. It's rustic looking but "wonderfully cheesy."
Phil Pancetta and Cheese Focaccia Tear & Share Pass. Paul loves the flavors.
Priya Smoky Jalapeño Tear & Share Pass. Slightly over-proofed.
Michael Keralan Star Bread Pass (Hollywood Handshake.) It's gorgeous, and the chili flavors are perfect. Paul says he's never had anything like it before.
With the first Hollywood Handshake of the season, Michael is riding high into the Technical Challenge. Paul sets the Bread Week challenge, as he usually does, and promises our bakers it's not as easy as they will think. Considering the challenge is eight White Burger Baps, a.k.a. buns, plus four Veggie Burgers to go inside half of them, I don't know why anyone would mistake this for easy. I'd have fainted dead away if it had been actual meat. (It would not. This is Bread Week, not Burger Week.)
Let's run them down from worst to best.
11. Amelia: Too squat, under-proofed, burger overspiced
10. Phil: Too dark and the bread is too dense
9. Rosie: Buns too small, burgers too big
8. Helena: Breaks apart when handled
7. Alice: Good color but under-proofed
6. Michael: Too small, texture tough
5. Michelle: Too chewy
4. Priya: Bread structure is right
3. Steph: Bit small, but nice height
2. David: Nicer size and shape, and bread density is right
1. Henry: Right shape, right size, perfect texture.
Amelia made the judges cough and gag with her spices in both rounds. No one else has two fails in quite that manner. Rosie, for instance, passed the Signature but failed the Technical. Henry failed the Signature but landed first place for his baps. Of course, it all comes down to the Showstopper, but unless something massive changes, Paul's threat for a double elimination seems unlikely.
This week's Showstopper is "Decorative Loaf Display." It must have at least two full-sized loaves of different bread types, but Noel and Sandi emphasize the real judging will be on their decorations, and how they score the loaves. 
Let's see who breaded properly.
Rosie's Bread Safari The scoring came out great. You can really see the animals in the bread. Paul says it's slightly undersalted, but the bake is lovely.
Alice's Global Bread The definition is excellent, but the bread flavor is more about the nuts than the bread itself.
David's Trio of African Masks His scoring is a disaster, but you can still see the African masks the loaves are supposed to be. It's also barely baked.
Helena's Every Bread is Halloween Prue loved the presentation, but Paul sees through it to her lack of precision cuts and missing definition. Also, the bread is super dense.
Henry's Herb Garden There's paper stuck to the bottom, and the loaves are tough. His other loaves needed more time in the oven and are under-proofed.
Steph's Hand-Tied Bouquet of Flowers It's super pretty. Paul calls it super effective. The flavorings are just right, as are her bakes.
Priya's Bird Boules The design is a little childlike, and the the design is more like basic line drawings. But the bread has great structure.
Phil's Winner's Wreath Prue loves the concept, Paul loves the bake, but it needed more scoring.
Michelle's Garrd Ni The painting backdrop is a little distracting, but once one looks past it, the loaves and the scoring are actually quite lovely. Good bake too.
Amelia's Caterpillar Transformation Amelia unluckily tried much the same as Michelle, but with clumsier results, and everything is underbaked, and has no flavor.
Michael's Mediterranean Camp Fire Some of his scores are too deep and blew out, but the overall image he was going for works well, and the loaves are quite nice.
In the end, Star Baker goes to Michael. Proof, in case we needed it, of the power of earning the Hollywood Handshake, since he was a mid-packer in the Technical and had a blow out on the Showstopper. As for who is headed home, and no surprise, it's Amelia, who has been struggling the last couple of weeks, and just couldn't handle her bread. She'll join Jamie in the discard pile, who has at least made a name for himself in the week since he left with an open letter to fans hoping he entertained them. 
---
By
for on September 13th, 2019
More to Love from Telly Visions