By
for on June 24th, 2017
'The Great British Baking Show' Season 4 Episode 3: Bread Week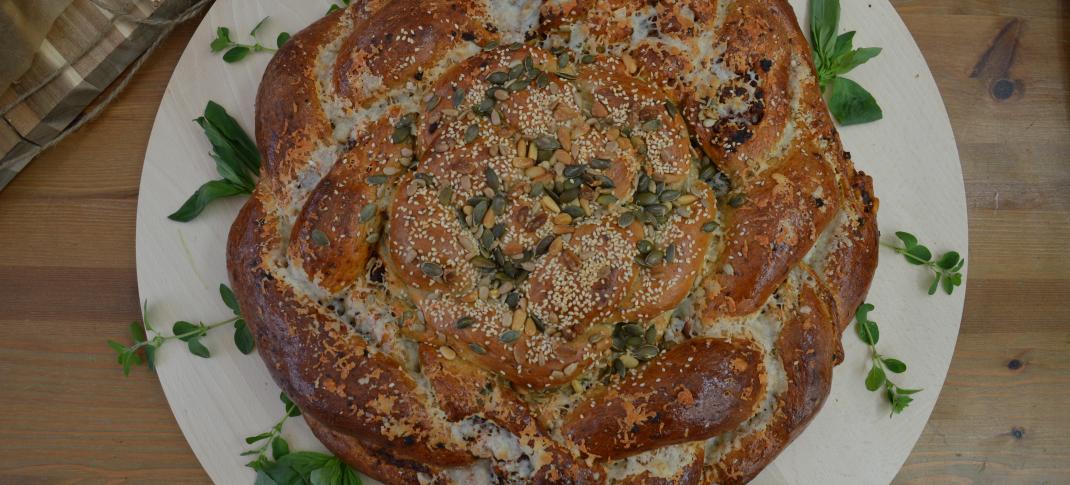 In this third installment of our The Great British Baking Show Season 4, we follow our ten bold bakers as they attempt to "prove" their mastery of the bread making arts. But first let's review how eleven became ten in last time's biscuit-palooza.
Despite messy iced biscuits and coming in at the bottom third in the Viennese whirl technical challenge, PE teacher Candice won last week's Star Baker title on the strength of her 3-D gingerbread story piece. Her tendency to be overly ambitious paid off this time as her meticulously detailed family pub won Paul and Mary over big time. Meanwhile hairdresser and bride-to-be Louise confessed that biscuits weren't her forte making the challenges in this round her downfall. The complete collapse of her gingerbread church was the final straw in the judges' decision to send her home.
But this week, bread was the theme, and that means Paul Hollywood was in the driver's seat. An intimidating dilemma for our ten remaining bakers to be sure. The signature challenge required the contestants to create a chocolate bread to which the bakers responded with couronnes, babkas, and brioches aplenty.
Mr. Hollywood baffled our competitors in the technical round with his request for a dozen German steamed buns called dampfnudel. I for one was so happy for the return of Sue Perkins. I mean I love Mel to pieces, but Sue's German accent beats Mel's Austrian one by a mile. Am I right?
As for the show stopper assignment - a savoury plaited centerpiece using three different flours wasn't a piece of cake either! Wait, I should have used that one in the first week…
Highlights: The signature challenge was a test of proving time versus baking time and three contestants demonstrated they had it all worked out. Andrew's traditional Irish Halloween loaf called a barmbrack only required one proving and Paul loved the color, the distribution of chocolate and the flavor. Rav made a smaller loaf than most of his competitors so his chocolate, cardamom and hazelnut babka had a better chance to bake through. Grumpy Paul loved the flavors of this one as well despite the fact he said it was a couronne rather than a babka. Finally Tom made his chocolate orange and chili swirl bread shallow so that the bake was complete and his risky flavors were declared to be excellent.
In the technical round, Val's dumpfnudel came in first. Her buns had nice domes that were cooked through and her plum sauce was good. Paul declared them closest to his recipe but still miles away from his standard and Val graciously said she aspired to his level of skill. Andrew came in second with a sauce that was right and buns with bounce though they were slightly overcooked.
The savoury plaited show stopper highlighted the skills of a number of bakers in the tent. Benjamina's braided bread heart had a bold design, glorious color and lovely flavors including feta, pesto, onion and tomato. Paul proclaimed it gorgeous times three. Kate's corn maiden creation was praised for the intricate plaiting, excellent texture and fantastic flavors of goat's cheese, cheddar and onion. Jane's chorizo and chili flower with parmesan and pesto center had splendid definition, lots of flavor and beautiful color.
However, it was Tom with his Norse mythology-themed centerpiece entitled Jormungandr and Mjolnir (the serpent and the hammer) who ran away with the Star Baker title this week. Once again his daring flavor choices paid off (laver seaweed anyone?) as well as excellent plaiting and good proving. Combined with his fourth place showing in the technical and his successful chocolate bread, this project manager was rewarded for his creativity, bold flavors and solid baking skills.
*Paul mentioned that the Star Baker of bread week has always made it into the final. We'll have to see if this statistic holds true for Tom as well.
Missteps: Making chocolate bread is apparently not as easy as it might sound. More bakers than not produced underbaked, sometimes raw loaves in this round. Benjamina's chocolate, tahini and almond babka was exceptionally heavy and not baked through. In fact, Paul compared it to wallpaper paste. Jane's chocolate and cranberry couronne contained too much filling which prevented a complete bake and Michael's chocolate and chili swirl plait had too much heat which ruined the flavor of the chocolate. But it was last week's Star Baker Candice whose chocolate, salted caramel and pecan brittle brioche bread failed most spectacularly. It collapsed into a sticky, underbaked mess. Paul told the distraught baker not to be embarrassed, but to reign in her tendency to add or do to much with her bakes until they are spot-on.
The dumpfnudel challenge went poorly for Rav. The fact that his buns could be rolled back into dough balls earned him a last place finish. Jane and Kate weren't far behind with mostly raw dumpfnudel as well. To be fair, Paul's instructions were as minimal as possible.
As for the plaited centerpieces, there were plenty of poorly executed bread structures to go around. Selasi's mediocre Bedouin escape tear and share bread was three loaves and a story, not one unified centerpiece. Candice's Italian light and dark rye twist wasn't plaited on top, was close textured and lost much of its flavor. And what about Val's plaited bread/ark/hymn? No one could identify the animals (Mary kindly called it informal), it was raw in places and tasted mainly of salt which Val claimed was on purpose to represent the sea. What???
Alas it was Michael, the youngest baker in the competition, who was sent home this week. His Cypriot dove and olive branch loaf was messy, not properly plaited and lacked many finishing touches. Even his "bribe" of an accompanying shot of the Cypriot alcohol zivania didn't allow him to squeak by. Michael's poor flavor choices with the chocolate bread and his seventh-place finish in the technical meant the college student will not return to the tent to bake another day.
Another week is in the books for this season's GBBS! How do you feel about the competition so far? Do you see any of the bakers emerging as likely finalists? Do you think Michael was the right person to be eliminated? Did Candice narrowly escape the "curse" of Star Baker? How about Val? Do you think her ditziness is for real or an act? Please go to the comments section to discuss this week's eventful episode!
---
By
for on June 24th, 2017
More to Love from Telly Visions