By
for on November 13th, 2021
'The Great British Baking Show' Collection 9 Quarterfinals Recap: "Free-From"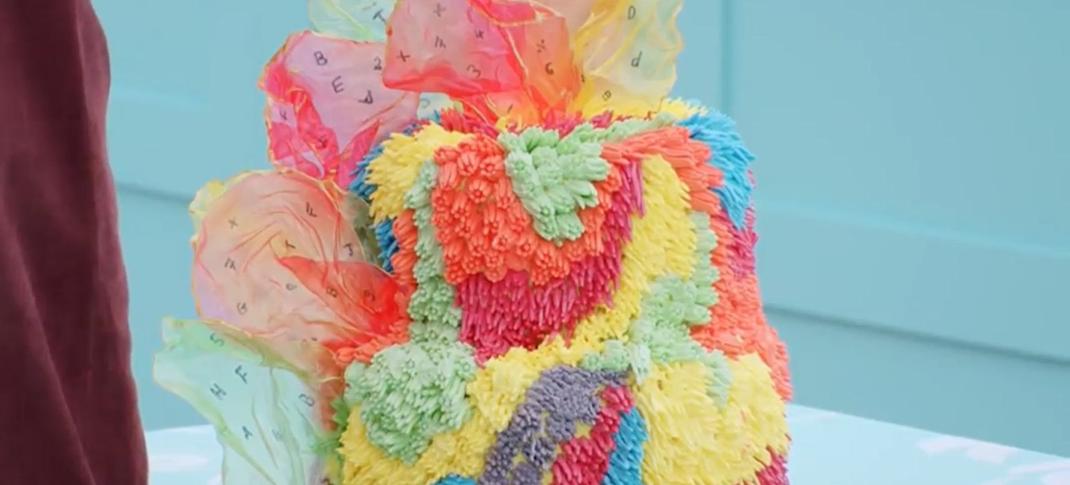 The Great British Baking Show quarterfinals have always been a bit of a muddle in terms of theme and contestant skill. Unlike the opening rounds and the Semi-final themes, which have rarely varied, the quarterfinals have been everything from generalized "Desserts" to funkier ideas like "Advanced Dough" and "Forgotten Bakes." (It was even Biscuit Week once, though that was in the very early years.) The only thing that stays consistent: no matter the theme, the show always makes the challenges hard.
Likewise, it's never a guarantee the five best bakers will make the quarters, though it's always a sign that the season has gone well when they do. The final three years the show was on the BBC (Series 5-7 aka Collections 1, 3, and 4) notably landed their five best bakers in the quarters all three years, as did Series 9 (Collection 6), which, up until now, was the best Channel 4 season so far. That this season's group is so strong — Jürgen and Giuseppe in the lead, Chigs and Crystelle nipping at their heels, and adorable Lizzie doing her thing — is a testament to how well GBBO has managed in this second Bake Off Bubble year.
As for the theme, despite the cutesy "Free From" name, Noel's ignorance, and Paul's faux Hulk-rage, this is not the first time the series has done a dietary theme. Series 4 (Collection 2) had this same theme for the quarterfinals, though the production gave it the far more straightforward name of "Alternative Ingredients." The series has also done a straight Vegan Week before, in the aforementioned Series 9, and though that was not the quarterfinal, it fell just one week prior, making it one of the final rounds. But the new name means Noel and Matt admitted they were free from comedy, which may be the funniest they've been yet.
Signature Challenge 
Waiting for the weekend to hit like… #FridayFeeling #GBBO pic.twitter.com/Pk9U4tT0uJ

— British Bake Off (@BritishBakeOff) November 12, 2021
The Signature this week begins with "dairy-free" and eight dairy-free ice cream sandwiches. As noted above, this is not the first dairy-free challenge. Series 4's Alternative Ingredients Week had a dairy-free showstopper cake. We should note GBBO's definition of "dairy-free" is slightly different from ours. Eggs are legal in this challenge; they would not be under the American definition. (It's also why this is "dairy-free" and not vegan.) As always, the Signature is judged on a Pass/Fail metric.
Lizzie Best Thing About Walks (Pass) They're gigantic, messy, and her dog images didn't come out in the chocolate cookies, but the flavor and texture are excellent.
Chigs Mum's Tropical Delight (Pass) They are super neat and professional, but the mango flavor is too subtle.
Jürgen Meet My Favourites (Pass) He knew the macarons weren't going to pass before the judges, but the ice cream more than makes up for it.
Crystelle Tahini & Miso Coffee Ice Cream Sandwich (Pass) They are nicely uniform, and the ice cream has a light, airy texture.
Giuseppe Ginger & Orange Ice Cream Sandwich (Pass) His are the most natural-looking ice cream sandwiches, but the tofu made for heavier ice cream, though the flavors are lovely.
It took getting to the quarters, but we finally have passing grades across the board in the Signature round.
Technical Challenge
Stay calm. Don't panic. Smile. We can all learn from Jürgen. #GBBO pic.twitter.com/fytI6Krzt1

— British Bake Off (@BritishBakeOff) November 9, 2021
Prue sets this week's Technical, vegan sausage rolls, eight of them, all uniform. The series has done Vegan before, an entire week of it, which included a Signature of savory vegan tartlets, which required "vegan block," the commonly accepted butter substitute. Notably, despite the name, these do not have impossible plant-based meat in them but are mushroom and veggie laden. 
5. Crystelle: They are pasties, not sausage rolls, and the chutney is way too hot. Paul calls for milk and gets oat milk. 
4. Jürgen: He dropped them on the floor halfway through baking. Let's hope the rest of the time in the oven killed any germs.
3. Lizzie: Overbaked but well laminated
2. Giuseppe: They're flat, and the seal is too big.
1. Chigs: The pastry is thin, but they look good.
Paul is so irritated at Crystelle's chutney he makes her come up and eat some in front of them and apologize for how hot it is. Chigs, meanwhile, declares he now has the full trio of wins: Star Baker, Hollywood Handshake, and First in the Technical.
Showstopper Challenge
Crystelle's 'My Nana's Cascading Dress' Gluten-Free Celebration Cake. #GBBO pic.twitter.com/XUlQ67CRrU

— British Bake Off (@BritishBakeOff) November 9, 2021
The Showstopper is to make a "Gluten-Free Celebration Cake." Series 4's Alternative ingredients also did a gluten-free-ish Signature challenge, though it was referred to as a "Wheat-Free" bread. Vegan Week also featured a "Celebration Cake" as the Showstopper. This version must have multiple layers, multiple flavors, be highly decorated, and be themed to celebrate something or someone that inspires them. 
Chigs' Gluten-Free Red Velvet Celebration Cake. #GBBO pic.twitter.com/Zz6bQNUnHt

— British Bake Off (@BritishBakeOff) November 9, 2021
Crystelle "My Nana's Cascading Dress" A genuine showstopper to look at (Chigs says, "Your nan has a dress like that?!"), the cake itself has a lovely texture. Paul says you'd never know it was gluten-free.
Giuseppe "Black Forest Cake" The chocolate work decorations are stunners, though Paul isn't sure he loves the overall effect. It's also a bit gluey, and Paul says the overall cake is stodgy. 
Chigs "Red Velvet Cake" His chocolate collar looks like a crown, and the inside is perfect. Paul says it's spot-on, and the cream cheese frosting is perfection.
Jürgen's Ultimate Gluten-Free Birthday Celebration Cake. #GBBO pic.twitter.com/edQtOBzDCo

— British Bake Off (@BritishBakeOff) November 9, 2021
Jürgen "Ultimate Gluten-Free Birthday Cake" The decor is gorgeous, and then Paul cuts into it and lets out a "wow" at the perfect layers inside. 
Lizzie "Extraordinary Cake" Lizzie calls this her celebration of being different, with a shag-rug-like icing representing how her brain works and rice paper dyslexic flags. It's beyond anything she's created before, a triumph of finesse through mess. Paul compares it to Yellow Submarine, and he means that as a compliment. The flavors are intense, but that tracks with her personality. Paul asks for one for his 40th birthday.
With our leading contenders each having a bad round, Crystelle and Jurgen in the Technical and Giuseppe in the Showstopper, Chigs is the clear choice for Star Baker, which means he's peaking at the right time. As for who goes home, it was always going to be Lizzie, but that's ok. Her Showstopper finally genuinely impressed Paul, and that makes her a Bake Off winner, trophy or no.
---
By
for on November 13th, 2021
More to Love from Telly Visions