By
for on November 26th, 2021
'The Great British Baking Show' Collection 9 Finale Recap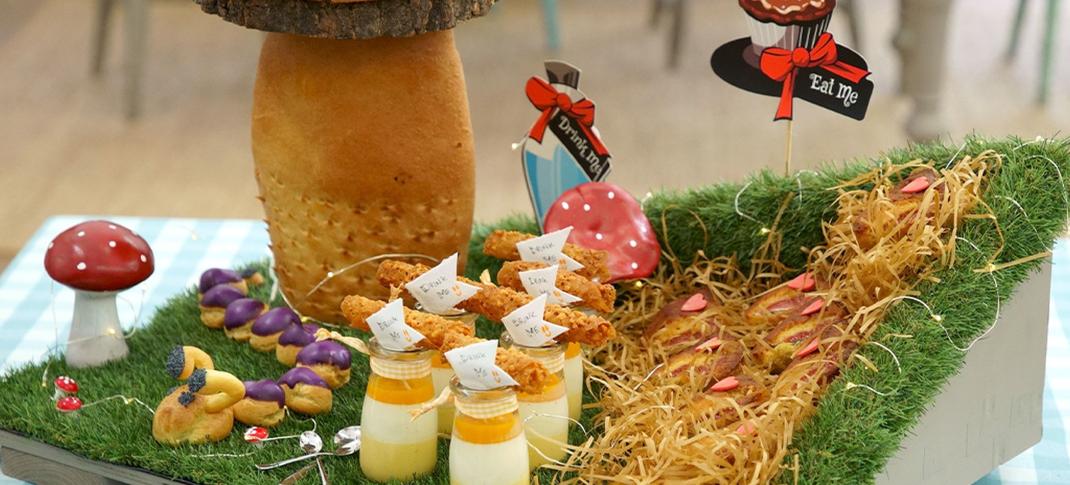 After nine weeks of terrible not-funny openings where Noel and Matt have corraled most of their obnoxious boy energy, The Great British Baking Show season finale starts with an emotional pull at the heartstrings. One loss fans have had since the move to BakeOff Bubble land is the inability of film crews to interview the families early on as part of the get-to-know-you packages. Instead, we only meet them here and now, at the end, via iPads, as the three finalists get calls from home and fans get to learn a bit about their home lives.
Crystelle's crew of screamers finally get some face time, Chigs' bewildered but proud family can't believe he made the final any more than the rest of us. But Giuseppe, oh my heart, his family. First of all, did we know his father was a professional baker in Italy for many years? (That's why these video packages are so necessary, Giuseppe might have said it, but until you see the photos, it doesn't register.) Now elderly, his father slowly and hesitatingly records a message from back home in Milan (in Italian, natch), in which he tells Giuseppe he's so proud to watch his son surpass him like this; it's what every parent wants for their child. 
With those tears shed, it's time to get on with the baking itself, and the nerves are a significant factor — as is the lack of tea party goers for the finale. As was done last year, the bakers are baking for the crew and the hotel staff, as no one's parents (and none of the eliminated contestants) are allowed in the bubble.
Signature Challenge
"Where you've gone wrong when you're trying to be healthy is cake" - @noelfielding11 #GBBOFinal pic.twitter.com/qw57iLaua5

— British Bake Off (@BritishBakeOff) November 23, 2021
Good god, it's Carrot Cake, the healthy alternative to cake, which is just an oversized muffin when done without cream cheese icing. It's been an age since we saw carrot cakes in the tent; back in Series 4 (Collection 2), it was a popular choice for Alternative Ingredients week, and in Series 6 (Collection 3), it turned up a couple of times, including Iain's final.
Crystelle Pistachio, Cardamom & Orange Carrot Cake (Pass, barely) It's the leaning tower of carrot cake, but the flavors are what save it.
Chigs Take Two (Pass) It's pretty but stodgy.
Giuseppe Torta Camilla (Pass) He had to ice it while hot, and it looks like it, but it's the best tasting of the lot.
One round down and it wasn't a good one. Hopefully the Technical can do better?
Technical Challenge
Leaked version of the original Technical Challenge instruction sheet. #GBBOFinal pic.twitter.com/VtuyG6cTAP

— British Bake Off (@BritishBakeOff) November 23, 2021
Paul sets the final Technical, and it's to make a dozen Belgian buns. The series has never done these before, and the bakers are slightly mystified, as none of them have had one or know what they look like. Even better, Paul has brought back one of Mary berry's favorite Technical tricks: The two-step instructions of "Make Thing/Decorate Thing" after years of letting that fall by the wayside. It's one of my favorites from the BBC years, and I forgive nearly everything for Paul bringing it back, even if Prue's jaw just about falls off and rolls away at it.
3. Chigs: He made them all wrong.
2. Giuseppe: He overbaked them like whoa.
1. Crystelle: Even if they hadn't been practically perfect, she would have won by default. But they were!
The show noted at the top how even everyone was coming in: Two Star Baker wins apiece, two Hollywood Handshakes apiece. Only Crystelle wasn't up to par, as Chigs and Giuseppe had won a Technical previously, and she had not. Finally, now all three are genuinely even.
Showstopper Challenge
Chigs and his 'Party Treats' Mad Hatter's Tea Party Showstopper. #GBBOFinal pic.twitter.com/RCxAAYNg0S

— British Bake Off (@BritishBakeOff) November 23, 2021
"It all comes down to the Showstopper" is such a cliche, but in this case, it does. No one is the overdog; Jürgen held that role until his exit last week. Chigs might be slightly the underdog, but he and Crystelle are peaking at the right time, making Giuseppe's semi-overdog status shaky. 
For this final Showstopper, they're doing a Mad Hatter Tea Party Display. The finale as a Tea Party has been something the show has done since its very first season. (The Series 1 final was a Tea Party, in fact.) Since then, there have been picnic-type themes and Alice in Wonderland esque challenges, but this is the first final Showstopper to combine them.
Giuseppe's 'What Is The Hatter With Me' Mad Hatter's Tea Party Showstopper. #GBBOFinal pic.twitter.com/YqGjSEQrxo

— British Bake Off (@BritishBakeOff) November 23, 2021
Giuseppe "What Is the Hatter with Me" Paul calls it simple but effective. He's not sure he means that as a compliment at first, but as they taste each of the four items, the impressed faces grow, and both Paul and Prue are bowled over at the final panna cotta, which Paul threatens to take home with him.
Chigs "Party Treats" The only one of the four to make a large central edible cake, Chigs screwed himself over by overpromising and under-delivering. His Cheshire cat cake is unfinished, and there's no hiding it. But everything he puts out tastes delicious, and he gets extra points with viewers for including a technique Jürgen taught him during one of their practice sessions.
Crystelle's 'Crazy Tea Party' Mad Hatter's Tea Party Showstopper. #GBBOFinal pic.twitter.com/ihQDyZazYO

— British Bake Off (@BritishBakeOff) November 23, 2021
Crystelle "Crazy Tea Party" The queen of the gorgeous Showstoppers, Crystelle is assisted by having a magnificent base with a faux tree on it, but that's not edible and doesn't count. What also isn't edible: He focaccia, which somehow failed to bake utterly. It's raw, and the judges can't eat it.
Crystelle's crash and burn is a heartbreaker, and there's no coming back from it. Chigs, too, lost out because he didn't finish his cake. In the end, there was no contest, as the first Italian to win The Great British Baking Show was crowned. Having conquered the U.K. baking world, the show lets us know that Giuseppe has gone back to Milan for now, and he and his father are putting together a cookbook of all their family's old recipes, so they are not lost forever to time.
---
By
for on November 26th, 2021
More to Love from Telly Visions