By
for on November 6th, 2021
'The Great British Baking Show' Collection 9, Episode 7 Recap: Caramel Week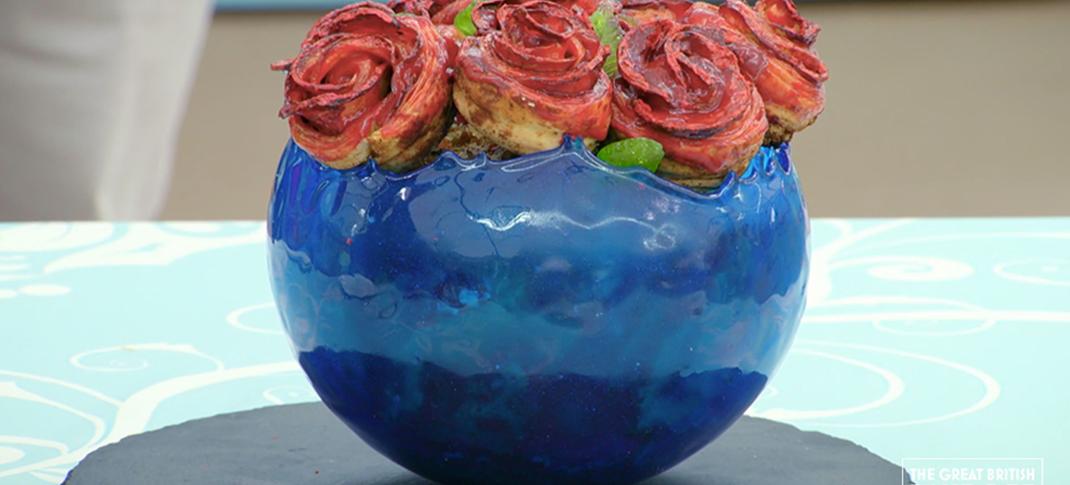 We're reaching the final weeks of The Great British Baking Show. This year has been one of the best since the series moved over to Channel 4. Producers have recognized the series was moving too far in the direction of Nailed It! with its too-difficult challenges and going back to basics. But with only one episode left before the show's quarter-final, it's time for things to get tricky, with one of the most challenging theme weeks in the show's arsenal: Caramel Week. 
It is the first time the show has done Caramel Week since the initial Channel 4 season, Series 8 (known here as Collection 5). In fact, during the show's BBC years, caramel was usually a rare thing. There was a creme caramel technical in Dessert Week way back in Series 3 (Netflix's GBBO: The Beginnings), and caramel decor was emphasized as part of Series 5 (Collection 1)'s European Cakes showstopper. But other than turning up in the Pastry technical last year as part of the eclairs challenge, caramel's been mainly treated as something contestants can choose to do on their own as part of the challenge, not a mandatory assignment.
Caramel is, like chocolate, also a treat that is greatly affected by outside temperature and humidity. So, of course, when the show finally brings it back, it's during a challenge filmed in the pandemic-shifted schedule in August, when climate change is making the U.K. hotter than it's ever been, and there's not nearly as much practice time due to the Bakeoff Bubble. Let's see how badly our bakers struggle.
Signature Challenge
'Come to the Bake Off Tent, they said. It's gonna be nonstop fun, they said.' #GBBO pic.twitter.com/oDogYZb2Gm

— British Bake Off (@BritishBakeOff) November 2, 2021
The Signature this week is to make a "sharing-sized" caramel tart, aka not a small one. Matt notes that though there must be caramel, everything else is up to the contestants regarding ingredient choices and flavors, but it must be "highly decorated." As always, the Signature is judged on a Pass/Fail metric.
Lizzie My Tart Will Go On (Fail) Lizzie makes Titanic disaster jokes, but both judges throw her a life jacket, telling her the flavors are divine, even if the look is not.
Crystelle Apple, Pecan & Miso Caramel Tart (Pass) It's a bit treacly, but the savory flavors cancel the sweetness out, restoring balance.
Chigs Chocolate, Coconut & Ginger Caramel Tart (Fail) The spun sugar work is gorgeous, but it's practically inedible due to being so sweet. Prue makes a puckering face like it hurts her teeth.
Giuseppe Apricot & Hazelnut Caramel Tart (Fail) The pastry is perfect, but the caramel is a touch liquid, and the hazelnut drowns out the caramel.
Jürgen Triple Nut Caramel Delight (Fail) A rare disaster from Jürgen, whose tart didn't cool in time. The caramel is way too chewy; Paul says he can't eat it for fear it'll pull out a tooth.
George Caramel Custard & Banana Tart (Fail) Paul says it looks like global warming, and he's not wrong. The custard is curdled, the caramel is liquid, and there's no flavor.
And that, everyone, is why the show has avoided Caramel Week since the production tried it in Series 8, where, we should note, it came literally in Week 4, when all of the mushy-middlers who couldn't handle it were still in the tent. Listen, when even Jürgen and Giuseppe are being handed failing grades, you have to ask if the challenge you set was fair to begin with. 
Technical Challenge
Old habits die hard. #GBBO pic.twitter.com/vVh9ROPH9v

— British Bake Off (@BritishBakeOff) November 2, 2021
And now it's raining, which means it's warm and humid in time for Paul's Technical, ten identical Caramel Biscuit Bars. Paul warns the group before he leaves that every one of them has eaten this, and they know what it is, so there's no excuse. The show may not be able to say "Twix," but the rest of us can. Notably, they're not calling it the previous name before the Mars Candy company's branding, Millionaire's Shortbread, but maybe that's because the best-known recipe for that in the U.K. happens to be the one by Mary Berry.
6. George: The chocolate is a melted, unfinished mess, and the caramel is so hard, Prue says it'll take a tooth out.
5. Lizzie: They're stuck to the plate because the caramel drooled down the sides, and the biscuit's too soft.
4. Crystelle: The chocolate is uneven, and the caramel dropped.
3. Chigs: Messy chocolate, the biscuit is soggy, but the caramel is correct.
2. Jürgen: Uniform, but messy. But the insides are good.
1. Giuseppe: They look like they practically came right out of the gold wrapper, but the biscuit is way soft.
Paul says don't clap for Giuseppe, his win comes from grading on a steep curve. But Giuseppe will happily take "checked most of the boxes" over the alternative.
Showstopper Challenge
Jürgen's 'Caramel Contrasts' Showstopper. #GBBO pic.twitter.com/OAiDo48yHD

— British Bake Off (@BritishBakeOff) November 2, 2021
For the Showstopper this week, the series is returning to something never actually done by the main trunk of the series, the Domed or Sphered Dessert. Fans will recall the tent has seen sugar work domes before in a Showstopper, but that was in a Christmas Day Special, the first Holiday Special broadcast after the series moved to Channel 4, where the bakers did snowglobes. The main series did sugar boxes in the Series 10 (Collection 7) Pâtisserie semi-final, but this is a first for actual domes on GBBO proper.
The actual dessert is up to them in terms of design and flavor; it just has to have a dome or be in a sphere. They also have to have at least two kinds of caramel in their dessert. Paul notes that traditionally domes are done with caramelized sugar, but like the Holiday special, they allow the bakers to use isomalt. Isomalt is a sugar substitute made from beets, and its chemical base means it is so much easier to work with and guarantees the series won't find itself faced with a mass fail by everyone involved. Considering how badly everyone has said their practice rounds went, perhaps we should not count chickens yet. Group heart attacks, anyone?
Crystelle's 'Grandad Greg's Cactus Garden' Caramel Showstopper. #GBBO pic.twitter.com/uKSJ6SFFo1

— British Bake Off (@BritishBakeOff) November 2, 2021
Crystelle "Grandad Greg's Cactus Garden" She remade her dome three times, and the final dome came out, and then Lizzie put it down, and it got stuck. But it came out, it fills the brief, and the flavor is lovely, even if the mousse is stodgy.
Jürgen "Caramel Contrasts" There's the Jürgen perfection we've all come to respect. Clear dome, perfect lady finger-sized, and beautiful bavarois interior.
Giuseppe "Salted Caramel & Praline Dessert" The dome is hazy, but the shape is perfect. Paul says it's a greenhouse in winter, but there's so much caramel it kind of collapses when cut, and the mousse inside is like wallpaper paste.
Giuseppe's Salted Caramel & Praline Dessert Showstopper. #GBBO pic.twitter.com/gojtAIHiSh

— British Bake Off (@BritishBakeOff) November 2, 2021
Chigs "Caramel Mistake" His dome is not as hazy as Giuseppe, but the cake leaked everywhere. The chocolate work inside is nice once the dome comes off though.
George "Salted Caramel Almond & Hazelnut Dacquoise" It looks great, and he's one of the only ones who did the actual deal dome from sugar. Paul says it's too dry, but Prue defends it.
Lizzie "Roses Really Smell Like Caramel" The only sphere of the group, her roses are a touch brown, but Paul is super impressed, even praising the finesse of the final look, even if it's more like a trifle and needs a spoon to serve. They do not love the flavors, but both agree it was a brave choice.
With the Signature practically a toss out and the Technical graded on a curve, there's only one candidate for Star Baker, and that's Jürgen. As for who goes home, The judges didn't love Lizzie's Showstopper, but George has reached the end of the line by several weeks, so it's time for him to go.
---
By
for on November 6th, 2021
More to Love from Telly Visions