By
for on July 5th, 2023
Everything to Remember Ahead of the 'Grantchester' Season 8 Premiere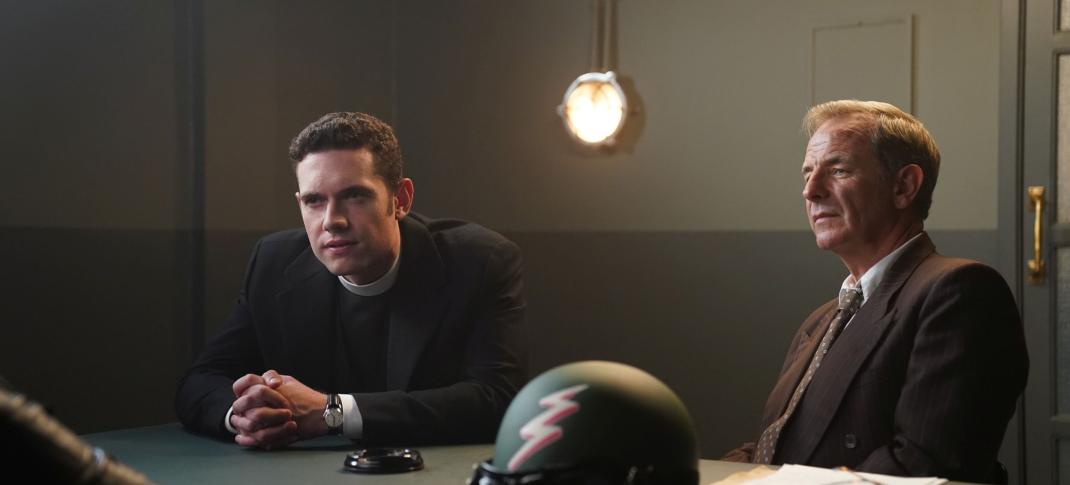 Almost a decade ago, the good Reverend Sidney Chambers (James Norton) was assigned to the vicarage of Grantchester, where he became BFFs with the local detective inspector Geordie Keating (Robson Green) and had three seasons of a will-they-or-wont-they romance with the posh Amanda Kendall (Morven Christie). However, in Season 3, they landed on "Won't," and Norton decided he wanted to see other television shows. In a historically inspired plot twist, he fell in love with the daughter of an American civil rights activist and emigrated to America in Season 4.
After the vicarage's curate Leonard Finch (Al Weaver), attempted to team up with Geordie in Chambers' absence, the new vicar, Will Davenport (Tom Brittany), rolled into town on his motorbike. A celibate priest with anger issues, which stemmed from growing up in genteel poverty with an abusive father, he found friends in Keating and Leonard, despite their disparate backgrounds. It took the vicarage's housekeeper, Sylvia (Tessa Peake-Jones), who had recently married Jack Chapman (Nick Brimble), a bit longer to warm up to Will, but eventually, she did too.
Will has dealt with a lot of upheaval since being stationed in Grantchester. His father passed away, and his mother, Amelia (Jemma Redgrave), remarried St John Gurney-Clifford (Dominic Mafham), adding party girl socialite half-sister Tamara (Emily Patrick) to the family. He worked through his childhood traumas and started seeing women, including a one-nighter with Tamara. The local bishops, Gabriel Abuto (Gary Beatle) and Aubrey Gray (Stuart Bowman), were initially uncertain about Davenport's fitness for the job due to his wealthy background, but they came around.
Constant turbulence at the vicarage is one reason the Bishops keep a sharp eye on Davenport. Not long after Will's arrival, Leonard, who had been in a discreet relationship with local photographer Daniel Marlowe (Oliver Dimsdale) for years, was outed during a group vacation. Leonard was fired from the church and served time in prison, replaced by Henry Jones (Ahmed Elhaj) as the new curate, but Jones didn't last. Meanwhile, Leonard found a new calling, ministering to prisoners. When he got out, he opened a beat cafe but gave it up to start a halfway house.
Sylvia, also known as Mrs. C, also has had issues. Originally a religious woman before her remarriage, she's undergone quite a bit, including a severe depressive episode and a crisis of faith after being diagnosed with cancer. Having married Chapman, a wealthy middle-class businessman, has made her life comfortable enough to see whether crises like this, including expensive surgery, saved her life. Mrs. C repaired her relationship with God, but she's still suspicious.
But it's Geordie whose life has undergone quite a bit of change since losing Sidney and gaining Will. Even before Will's arrival, he had issues with his marriage, cheating on his wife Cathy (Kacey Ainsworth) in Season 2 and being confronted by her desire to work for a living after they get back together. Cathy's job at Swinnerton's has featured a predatory boss who she figured out how to get fired and unionization protests Geordie has had to quell. It also meant eldest Esme (Skye Lucia Degruttola) stepped up to babysit her siblings and help Cathy's ailing mother.
Geordie's work life has also been challenging, not just training Will to take Sidney's place and not see abusive fathers hiding in every corner. Sidney's exit made Geordie's bagman, Larry Peters (Bradley Hall), hopeful of being treated as a partner and bitter when he was pushed off for another priest. He also hoped the new police secretary, Miss Scott (Melissa Johns), would go out with him, but she wasn't interested. However, things are looking up for Peters since DCI Elliott Wallace (Michael Xavier) took over as the main boss.
Wallace doesn't like Geordie, especially since his now ex-fiance slept with Will to blow up their engagement. (Will didn't know she was engaged, let alone to who.) Though Miss Scott has covered well for him, Geordie hasn't been doing well since having to arrest Johnny Richard (Shaun Dooley), who was a POW with him during WWII. He dived into the bottom of the bottle, causing Cathy to throw him out until he sobered up. He's somewhat better now, and he and Cathy are back together, but Wallace still thinks Geordie is too old-fashioned for a 1960s-era police station. 
As for Will, his relationship with Wallace's fiance nearly caused him to miss the far more healthy romance in front of him with Cathy's widowed cousin Bonnie Evans (Charlotte Richie), whose son, Ernie (Isaac Highams), adores Will. He and Bonnie almost weren't, and Will had to run to the train station to stop her from leaving, asking for another chance. That led to the surprise wedding at the end of last season, and Will is now learning how to handle having an instant family unit living in the vicarage with him.
Stream Now
Grantchester
Tom Brittney stars as a handsome vicar with a penchant for crime solving.
Image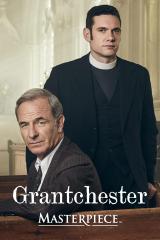 Grantchester Season 8 will give viewers their first answers on how Will is adjusting to married life, how Cathy and Geordie are doing, and of course, more mysteries every week for Keating and Davenport to solve. The season premieres on most PBS stations at 9 p.m. ET on Sunday, July 9, 2023. All episodes will debut on PBS Passport as a binge for members the same day. As always, check your local listings.
---
By
for on July 5th, 2023
More to Love from Telly Visions