By
for on August 15th, 2021
The 'Grantchester' Season 6 Trailer Is Ready For The Drama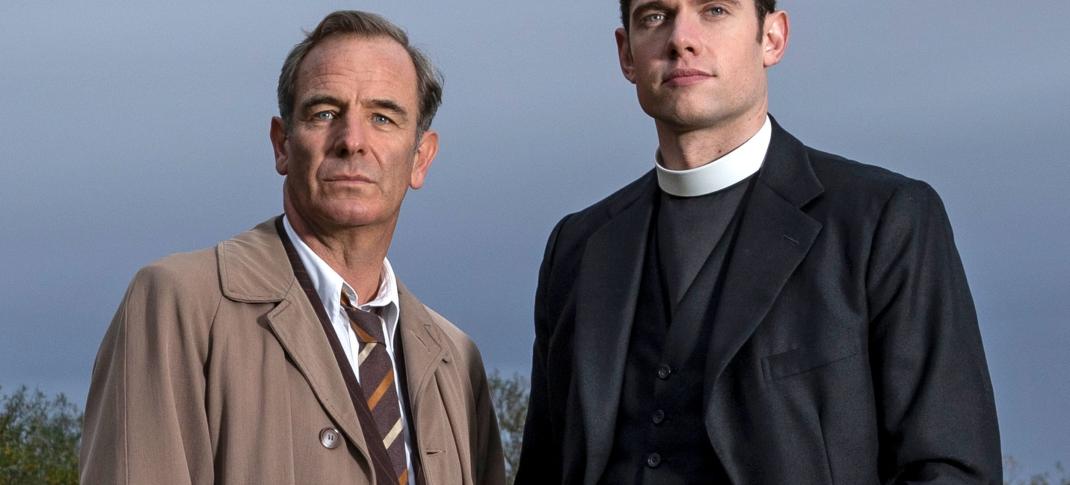 On the surface, Grantchester seems like your typical lighthearted odd couple crime solvers mystery series. One's a priest, and the other's a cop; Sidney (and now Will) are young men of the new generation. Geordie is an old-school World War II vet. One's single and ready to mingle, the other's married with children. And through thick and thin, actors Robson Green and Tom Brittney keep that energy no matter what.
But what keeps Grantchester fans coming back is that it tackles important storylines as well. From sex scandals in the church to sexual harassment of women as they enter the workforce, Grantchester isn't just about mysteries-of-the-week, but wider storytelling about the era. It's also not the kind of mystery that resets back to the mean every week. Each of these more significant issues carries over from one season to the next. And this season, one of the longest-running stories is finally going to be tackled head-on, putting fan-favorite Leonard (Al Weaver) directly in the crosshairs as his relationship with Daniel (Oliver Dimsdale) goes public.
For those of us who believe Leonard should be protected at all costs or have been following the ins and outs of how Archdeacon Gabriel Atubo (recurring guest star Gary Beadle) has handled the Grantchester vicarage since his appointment in Season 3, this storyline makes Season 6 a must-watch. But it seems like a lot more will go down this season, which may finally break Geordie and William up for good.
Check out the new trailer.

 
Here's the synopsis for this season:
It's 1958, and trouble is brewing in the Cambridgeshire village of Grantchester. Reverend Will Davenport relishes his role as a firebrand vicar, but the very role he loves puts him at odds with his own ideas when Leonard is caught up in a scandal. Meanwhile, Geordie finds his principles shaken, Mrs. Chapman is distraught, and Geordie's wife Cathy is defiant. With new crimes around every corner, and morality and legality at odds, it's going to take all of Will's skill and empathy to navigate these choppy waters and help the ones he loves.
But first, the series will head on vacation, where a murder will turn things into a busman's holiday for Geordi. Other storylines include a new woman in Will's life and an old WWII army buddy, played by Dominic Mafham (The Clinic), coming back into Geordie's. Will's newly-married mother, Amelia, is also slated to return this season. Some of this season's more prominent guest stars will include Rachael Stirling (The Bletchley Circle), Miles Jupp (The Thick of It), and Rebecca Front (Poldark). And, of course, the usual suspects will be back, too, including Tessa Peake-Jones, Kacey Ainsworth, Nick Brimble, Bradley Hall, and Skye Lucia Degruttola.
Grantchester Season 6 will premiere on Sunday, Oct. 3, 2021, at 9 p.m. ET on most PBS stations. As always, check your local listings. To catch up on all things Grantchester before the new season debuts, Seasons 1-5 are streaming on PBS Passport.
---
By
for on August 15th, 2021