By
for on April 12th, 2018
'Grantchester' Season 4 Is Coming In 2019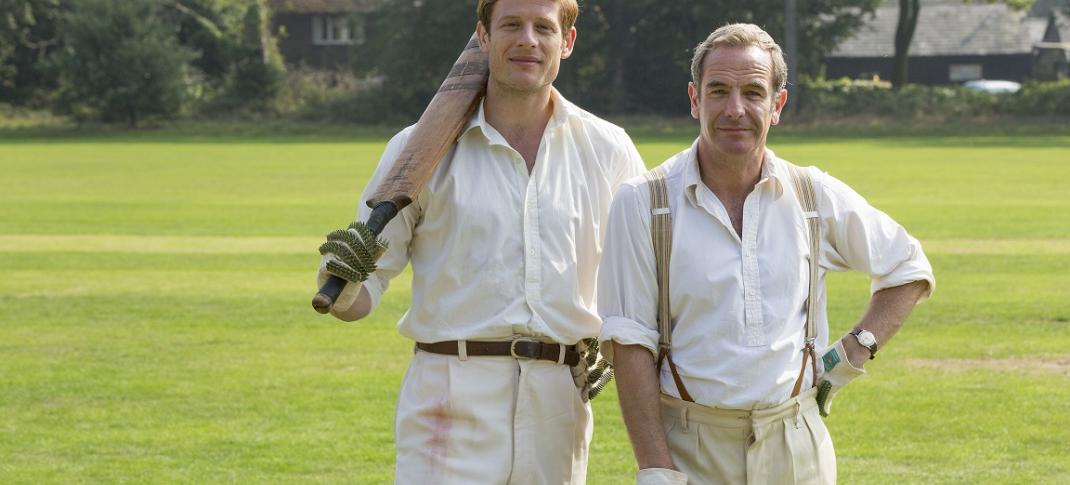 Masterpiece officially announces that Grantchester will return to PBS for Season 4. There's just one catch, however.
It's been nearly a year since Grantchester Season 3 aired on ITV, followed by a run on PBS' Masterpiece last summer. ITV usually announces that the next season is a go once the season ends. The series went to great lengths over the course of the mystery series third season to unwind their plot to move Sidney Chambers to London and marry Amanda. Instead, they ended with the status quo still in place and Sidney where he belonged, behind the pulpit. And there was no further news on whether Season 4 might be forthcoming for months afterward. 
Finally, there is good news for Grantchester fans. Masterpiece  officially confirmed that the show will return for Season 4 with James Norton and Robson Green starring as Reverend Sidney Chambers and DI Geordie Keating respectively. But there's a catch.
These will be the final episodes for Norton's character Sidney Chambers, the charismatic, jazz-loving vicar who has captured the hearts of millions of viewers. Casting of a new vicar will be announced at a later date. In addition to Mr. Green, returning members of Grantchester's ensemble cast include Al Weaver, Tessa Peake-Jones and Kacey Ainsworth.
As sad as fans will be to see Norton move on, this is not unexpected. Author James Runcie complained last year that Norton had become "too hot" for the series. With starring turns in both the BBC's War and Peace and Happy Valley, as well as AMC's McMafia, it's been clear for some time that Norton's gaze has wandered elsewhere. But with renewal for McMafia deemed "dicey" by TV prognosticators, one more return trip to the vicarage for Norton is timely.
As early as last summer, ITV was floating the idea of recasting the lead of the show if they could not get Norton to return. But to suddenly have a different actor as Chambers seemed like a move they'd rather not have to make. Bringing in a new vicar seemed like a better option, but after all the work they did at the end of Season 3 not to have Sidney leave, it would be a bumpy transition. 
This is then the best of both worlds. Norton will return for one last bow, the writers can bring fans closure on the story of Sidney Chambers, and then ITV can keep the show going with a new vicar that moves in to replace him. (Turns out naming the show "Grantchester" after the overarching title of The Grantchester Mysteries instead of "Sidney Chambers" as the books are all titled, was far more forward thinking than ITV knew at the time.)
Masterpiece Executive Producer Rebecca Eaton assured fans the show will continue past Season 4:
It's a bittersweet time for Grantchester fans, who will be cheering the return of the series but crushed to say good-bye to James. We want to assure them that the series they love will continue —with brilliant new episodes and a captivating new vicar.
Executive Producer Diederick Santer enthused they would make Norton's exit one for the ages.
I'm ecstatic that – with Masterpiece and ITV – we are returning to Grantchester with all our favourite characters. While I'm sad that these will be James Norton's final episodes, we will make sure he goes out with a bang. We've got exciting plans for where the show is heading and the vicarage won't be vacant for long.
Filming on Grantchester's fourth season will begin this coming June in London, as well as in the real town of Grantchester. Currently, plans are for Season 4 to hit screens at some time in 2019. 
---
By
for on April 12th, 2018
More to Love from Telly Visions