By
for on June 25th, 2017
'Grantchester' Season 3 Episode 2 Recap: Father to Daughter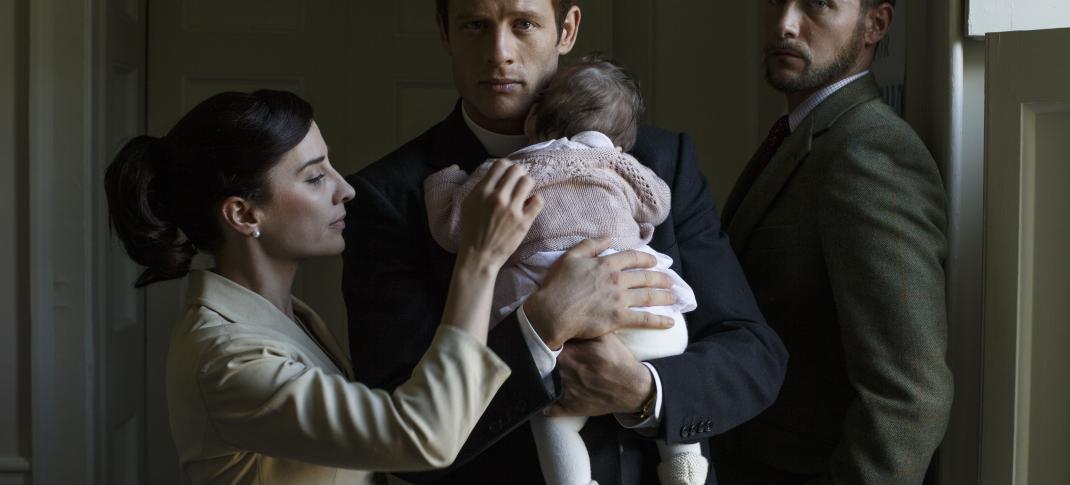 Our latest installment of Grantchester finds Sidney threatened by a dead crow, as he and Inspector Geordie track a pair of deaths which were heralded by the same sign.
Sidney: She's not going to tell us anything. ...we're not going to ask, are we?
Geordie: No.
With Christmas over, Grantchester settles into their third season this week, with an episode that both ties in the events of last season's finale as well as last week's special. As fans will recall, last season ended with the Archdeacon leaving in disgrace over his cover-up of Milburn's serial molestations. This episode begins with his replacement's arrival. Archdeacon Gabriel Atubo (Gary Beadle) seems a nice enough man when we meet him at first, but we're left wondering by the time Sidney leaves his office. Are those vague comments about upholding the church and being pillars of the community just due to prior events? Or is Sidney's new boss trying to warn him that he knows about Amanda, and the ongoing emotional affair he's having with a soon-to-be divorcee?
Sidney certainly doesn't seem to take them as a warning, since the opening segment dives into a night out on the town. Rock and roll has come to Grantchester's dance halls and he and Amanda are loving it. Kathy might have enjoyed it too, but Geordie continues to enforce their mid-marriage slump, whining and complaining that this new music is worse than jazz.
It takes some time before we finally get into the mystery at hand this week, but when we do, it's a doozy. It starts with a pair of crows--one alive and one dead--that have been planted in Sidney's office while they were out cavorting. Geordie might have won out on his insistance it was a harmless prank, until they find the same in the office of a dearly departed doctor who was just killed while he was prepping to feed the homeless. More connections are made as another death three months earlier also had dead crow signs: one Nurse Ivy, whose death at the time was seen as merely old age.
What do the three have in common? Two of them (the doctor and nurse) worked at an insane asylum, those terrible places where families once institutionalized their feebleminded relatives. Such mental hospitals were horror shows in nearly every decade of their existence, and this one was no exception. Though both victims were exalted as pillars of their community, Sidney and Geordie ferret out (with a little help from Leonard) that Nurse Ivy was a terrrible, abusive woman to her niece, and most likely to her patients at the facility too. How does Sidney tie into all this? Why is his phone ringing with threats? He oversaw Ivy's funeral, and unknowingly perpetuated this "pillar of the community" falsehood. Our mysterious murderer tried to get Sidney's attention at the time, to look into the asylum, but the letter never reached him. Now, he is the killer's next target. 
Margaret: I was always good at maths. If Alan eats three oranges and five apples, what does he have and all that?
Geordie: Indigestion by the sound of it.
Being Grantchester, we can only focus on the mystery for so long. While it continues to bubble on the back burner, the continuing story of Amanda's now born child from Christmas plays along as a secondary A-plot. For his part, Sidney is loving surrogate fatherhood. He obviously considers Grace to be his, spiritually, if not biologically. The discovery of how much fatherhood matters comes out in two different ways, first in wanting to keep Amanda from letting Guy see Grace, and second in spending quality time with Geordie's daughter Esme when she goes AWOL from school.
Esme's acting out stems from the continuing fights between her parents. Sidney, now in newfound father mode, assumes telling Geordie that he's making his child unhappy will solve everything. A father would never want his child to be sad, right? He'll be a better husband just as soon as he hears this. Unfortunately, it might be a little too late for that, as Geordie has struck up an affair with Margaret. In the office, the one with the glass door people can see through--like his partner Wilkinson.
(Look, I know that's both Sidney and Geordie who have now been into Margaret. I really wish she were more interesting, or at least given more to do other than a few witty remarks. As it stands, Margaret is more of an idea of a person to be attracted to than an actual human being. But then again, considering that the show's ultimate aim will be to put Geordie and Kathy back together--we hope--perhaps keeping her less of a real character will keep the audience from getting attached.)
The father-daughter theme of the episode continues, when it turns out that the murderer is looking for revenge for his daughter. She was killed by those running the institution, by Nurse Ivy specifically, and covered up by the rest. Not that it makes his threatening of Grace any better, or his attempted drowning of Sideny that follows, but it does remind us of two things. One: Sidney's choice of hobby really doesn't make for a safe child raising environment, even if the church were chill on the "being with a divorced woman" issue. Second: Everyone Knows About Sidney, Amanda and Grace. Everyone. Even peripherial characters who Geordie can't remember the names of when he meets them. That suggests highly that the Archdeacon knew exactly what he was referring to in their meeting, no?
Esme: You're doing the face. Dad calls it your "far away" face.
Oh, yes. In case there were any doubts about it, towards the end of the hour we see the Archdeacon bring in Leonard for his own one on one. In it he gently, but firmly, suggests that being friends with "a known homosexual" was doing God's work, but anything beyond that was firmly out of bounds. But don't worry, Leonard, you'll be getting your own parish soon, to bring your soon-to-be-pulled-out-of-thin-air wife and children, right? Right. Watching Leonard get shoved back into the closet is sickening, and a hell of a way to treat him. Especially since it was he who bravely brought down the last Archdeacon and gave the new one the opportunity to take this position.
At least the Archdeacon might not have to worry so much about Sidney. By the end of the hour, with the mystery wrapped up, he makes the mistake of accompanying Amanda and Grace on their trip to see Guy. Perhaps he thought he was going to be there as some sort of white knight figure, standing between Amanda and her emotionally abusive husband or something. But instead he sees the truth is far more complicated. Guy isn't some terrible person holding Amanda hostage. He's just a man who screwed up, badly, and is going to lose his daughter as a result. Sidney stumbles out, realizing that enough fathers have lost their daughters already this week. And this time, he really should be included among the guilty parties.
Next week, we have a murder with a side of sticky wicket. It's cricket!
---
By
for on June 25th, 2017
More to Love from Telly Visions