By
for on April 18th, 2017
'Grantchester' Season 3 Comes to Masterpiece in June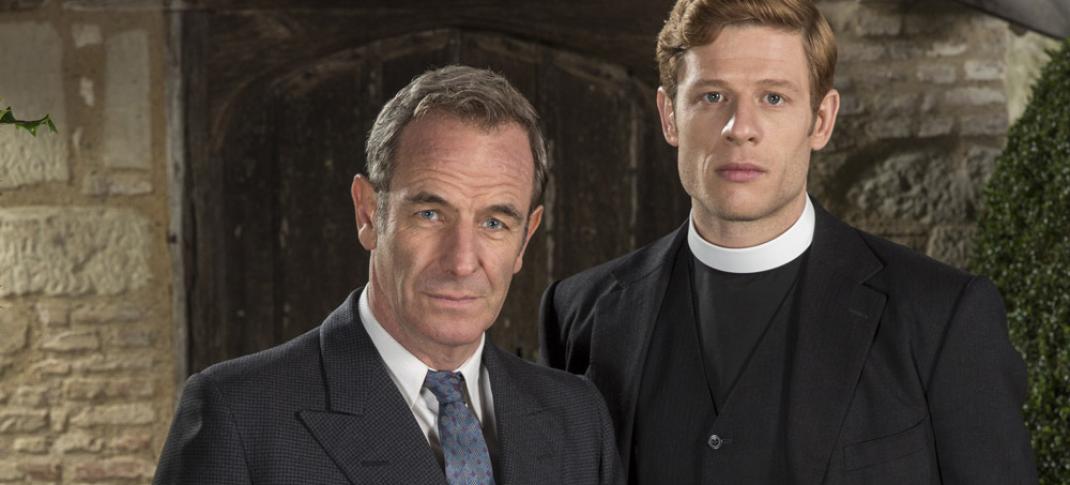 Good news for mystery fans! The new season of popular period mystery Grantchester will air in the U.S. this June. The drama's third season will begin on Sunday, June 18 at 9pm. (So mark your calendars now!)
Stars James Norton and Robson Green will be back as the crime-solving duo of vicar Sidney Chambers and his partner Detective Inspector Geordie Keating. The drama is based on the "Grantchester Mysteries" books author James Runcie, and Season 3 will likely map to the third novel in the series, Sidney Chambers and the Problem of Evil.
When we left things at the end of Season 2, we were all left wondering what would happen between Sidney and Amanda, now that she has left her husband. (And the two have declared their very obvious feelings for one another.) New Archdeacon Gabriel Atubo reminds Sidney that as clergyman he must put duty above his own needs and lead by example. But given the strength of his feelings for Amanda, is this something that Sidney can do? Sidney's moral dilemma here will likely be a large part of this season.
In other Season 3 news, Doctor Who star Peter Davison will play a rather significant guest role this year. The former Fifth Doctor joins the cast as Geoff Towler, the village solicitor and captain of the cricket team. According to the Season 3 press release, Towler apparently "rules his family with a rod of iron", whatever that means. (It certainly sounds ominous.)
Grantchester's new season will begin in the UK at the end of April, so it looks like Americans won't be that far behind this time. And, since the US broadcast will consist of seven episodes versus the UK's six, it looks like Americans are going to finally get to see the Grantchester Christmas special from 2016, as well, as part of the new season. (Or at least this is my best guess as to why we're getting an extra episode anyway. It certainly makes sense. Woohoo!)
Are you excited for more Grantchester? What would you like to see in Season 3? 
---
By
for on April 18th, 2017