By
for on July 21st, 2020
'Grantchester' Officially Renewed for Season 6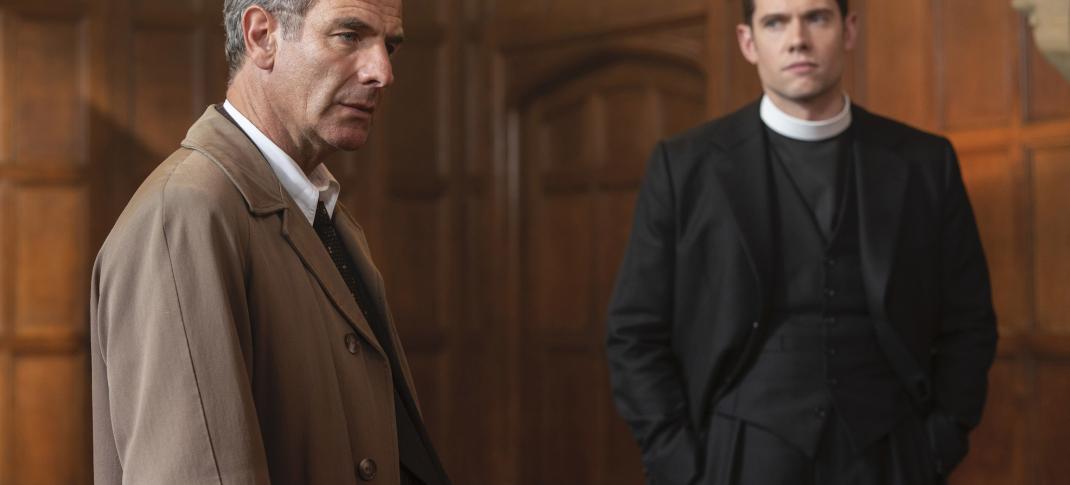 Good news for Grantchester fans - the popular mystery series has been officially renewed for a sixth season.
Stars Tom Brittney and Robson Green announced the renewal news during an Instagram Live chat prior to the Season 5 finale broadcast. Both actors are slated to return for the new season as vicar Will Davenport and Detective Inspector Geordie Keating, respectively. Season 6 will likely take place in 1958, given the series' general pattern. 
You can watch Green and Brittney's conversation in full on the Masterpiece Instagram. It's an hour-long discussion, and the whole thing is fun and charming. (Brittney also wears a suit, for those of you who care about such things. He looks very snazzy.)
        View this post on Instagram                  

#GrantchesterPBS' @tombrittney welcomes @robsongreenonthegram to Instagram and not only do they sing, dance and entertain... they also make a very special announcement! Take a look

A post shared by MASTERPIECE | PBS (@masterpiecepbs) on Jul 17, 2020 at 9:58am PDT
The actors revealed that Grantchester Season 6 is currently scheduled to start shooting in September, and could well be one of the first big British dramas to go back into production following the industry-wide shutdowns caused by the coronavirus pandemic.
"It's looking good, Grantchester could be one of the first things filming," Brittney said. "You can't write COVID into the 1950s."
According to Keating, he was asked to keep September to January free, indicating that there may well be some bumps in the road as the series figures out and adust to the new normal of a  post-COVID production world. "I think it's going be strange," he said. "I just hope the scripts aren't dictated too much by something beyond our control but I'm sure they will be."
Since Season 5 ended with Will breaking his vow of celibacy, the events of the sixth season could go in any number of new directions. Might Will's decision to have sex lead to a rekindling of his relationship with Ellie? Only time will tell. 
Are you excited about more Grantchester? What would you like to see in Season 6? Let's discuss in the comments. 
---
By
for on July 21st, 2020