By
for on November 13th, 2023
Carrie Coon's Costume Corner: 'The Gilded Age's "Head to Head"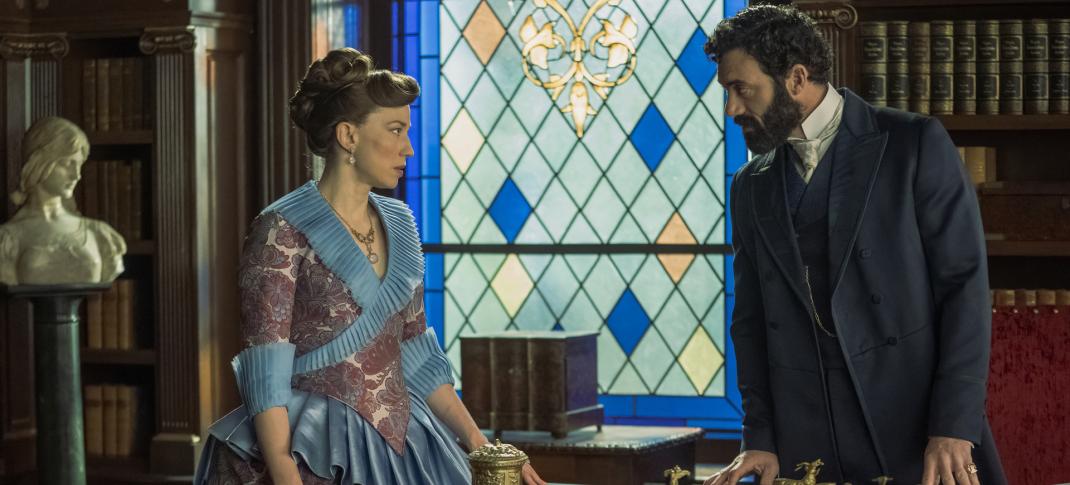 Welcome back to Carrie Coon's Costume Corner, our Gilded Age column covering exclusively Carrie Coon's costumes in her role as the beautiful and socially ambitious nouveau riche matron Bertha Russell. Series costume designer Kasia Walicka Maimone's costumes for other characters are fascinating and worthy of conversation, but Bertha's gowns are more adventurous, more exuberant, more statement-making, more everything. 
In "Head to Head," Bertha wears four ensembles — three dresses and one set of sleepwear — and I've chosen to mix things up a bit by choosing her most casual look for Gown of the Week. 
I chose Bertha x Renoir (or "Renoir, But Make It Fashion") for this episode's Gown of the Week because we so rarely see Bertha out of battle dress that it's worth noting. Because she's seated on a settee in her bedroom, we don't get to see this look from head to toe, but what we do see is lovely. settee in her bedroom, we don't get a head-to-toe glimpse of the ensemble. This ensemble is a matching dressing gown and nightgown set in ecru silk charmeuse, with a wide broderie collar and cuffs. The dressing gown also features tiny, sewn-down pleats from the center to the side seam, a lovely detail, and a reminder of how much work actual human hands put into creating it.
Gown Of The Week: Bertha x Renoir
The color might be closer to cream or white, but the lighting in this scene is so dim and golden that it's hard to tell. Either way, Bertha x Renoir is lush and soft and a bit vulnerable, which suits the moment. She's still processing her feelings of betrayal now that George (aka Mr. "You're Being Jejune!") has told her the truth about Mrs. Winterton/the former Miss Turner's attempts at seduction last season. Between the lighting, her hair arranged in a casual curl over one shoulder, and the large arrangement of lilac, coral, and cream flowers on the table next to her, this is the softest version of Bertha we've seen this season so far.
Shiny Pleats of Blue Silk
This week, Bertha is still hard at work drumming up support for the Metropolitan Opera. At a tea where she worries Ward McAllister by announcing that the Met's opening night will be the same as the Academy of Music's, she's swathed in Shiny Pleats of Blue Silk, which features elements of several other gowns she's worn so far: contrasting, complementary colors, a deep but narrow V-neckline framed by stiff, pleated fabric, swoops across the bodice, a Basque waistline, and oversized-to-abstract botanical motifs. The fabric at the neckline is quite matte, and I think it's the same satiny fabric that forms the peplum and the skirt, overlaid with a matte chiffon or possibly tulle, in a matching shade of French blue. 
The collar fabric criss-crosses down from right shoulder to left waist as a visual contrast across the bodice — a pale mauve background with an allover floofy maroon botanical woven in — into the blue peplum and tiered, pleated skirt below. The skirt is partially covered by an asymmetrical swoop of the same fabric as the bodice. Her sleeves are elbow length, with more of the pleated matte fabric from the collar forming the deep cuffs. The finishing touch is a very pretty necklace-and-earrings parure: gold, set with cabochons of what looks like synthetic moonstone, or perhaps a variant of its cousin, rainbow labradorite. The stones' iridescence and subtle color shifts from pink to blue harmonize with the dress perfectly. (For my fellow vocab nerds, that color-shifting phenomenon has a name, which I learned this very week: adularescence.) 
Shiny Pleats of Blue Silk isn't breaking new ground, but this look is bolder than it seems at first glance, underscoring the purpose of the gathering, namely, the announcement that the Metropolitan Opera's season will begin on the same night The Academy of Music has chosen to open their season. Make 'em sweat, Bertha!
Gracious Luncheon Hostess
Despite her fury at George for concealing Turner's seduction attempt, Bertha maintains her commitment to being a Gracious Luncheon Hostess when Pittsburgh union leader Mr. Henderson comes to New York to meet with George face-to-face. Here, the objective isn't to be the talk of the town or even to be sartorially memorable. Instead, Bertha needs to convey a certain bland wealthiness, which she accomplishes easily by wearing a very conservative, dark teal-and-black gown. The pattern is another botanical–based on the matteness of the black pattern and the relative lack of shine on the teal background, I think it's flocked taffeta, and the gown features a stand-up collar, and wrist-length sleeves with puffed shoulders. The tone-on-tone use of teal suggests the idea of a v-neckline while being very modest. We know better than to think that Bertha is any kind of angel in the house, but the Gracious Luncheon Hostess dress is a strong effort at that particular drag.
50 Shades of Blue-Green
Bertha's final gown of the episode is one we caught a tiny glimpse of at the beginning of "Some Kind of Trick," and thanks to the many blues and aquas featured, I'm calling it 50 Shades of Blue-Green. The Duke of Buckingham is on his way from England to New York on a Cunard Line ship, and Bertha means to use George's business connections with Cunard so Bertha can swoop in and, as she puts it, "put Turner's nose out of joint." I love that Bertha's inner Alexis Carrington Colby is coming to the fore this season; nothing pairs better with dramatic gowns and fabulous hats than scheming.
By my count, 50 Shades of Blue-Green features five different fabrics, which may be a record for the season so far. The bodice alone accounts for three of the five: at the center, it's celadon chiffon in vertical pleats (these are reminiscent of the famous early 20th century Delphos dress by Fortuny, valued in this 2018 Antiques Roadshow clip at $15,000) from the stand collar to the Basque waistline. Flanking the pleats and highlighting the waist's deep V is a heavyweight satin border, in very pale aqua. The rest of the bodice is a nearly matte celadon fabric. The sheer, lacy sleeves are the same shade of aqua as the satiny V on the bodice, and it looks as though the same lace is laid over the skirt. Covering Bertha from neck to wrist and neck to ankle, the silhouette of 50 Shades of Blue-Green isn't far off from that of Gracious Luncheon Hostess, but what a contrast between the two versions of modest dress!
---
By
for on November 13th, 2023
More to Love from Telly Visions