By
for on September 19th, 2020
Getting Up to Speed with 'Last Tango in Halifax'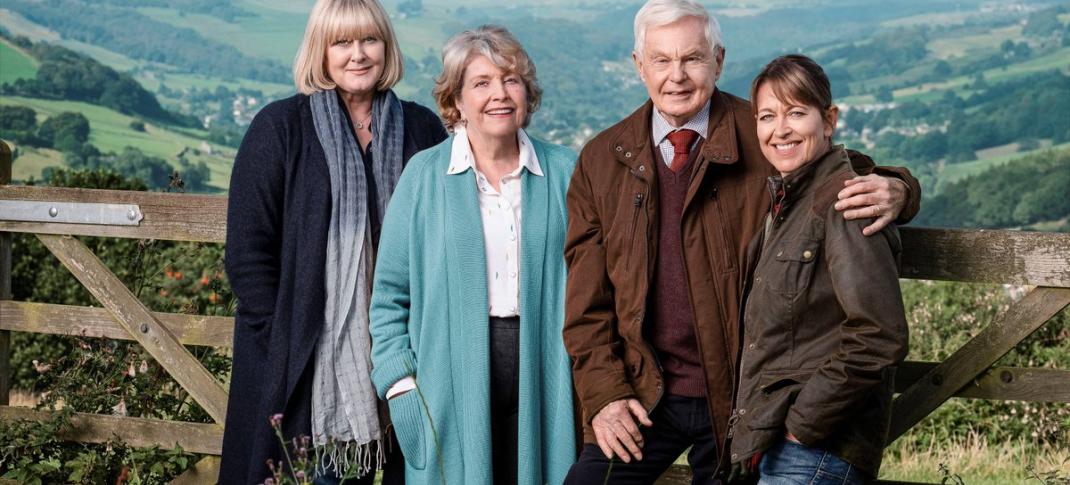 Hands up - who is excited about the return of Last Tango in Halifax? Great! Now, who has gotten a little fuzzy on the details of the Buttershaw family's shenanigans since we last saw them in Christmastime 2017?
Well, never fear because we've put together a quick overview of the show to remind you of the key plot points of the series.
First off, it all began on Facebook.
Inspired by creator Sally Wainwright's mother's own love story, Last Tango In Halifax began as the heartwarming tale of a couple of widowed septuagenarians who reconnected after sixty years apart. With technical assistance from their grandsons, Alan (Derek Jacobi) and Celia (Anne Reid) rediscovered one another through Facebook and arranged to meet in person at a local tearoom.
By the end of an eventful day, the couple decided to get hitched asap. Celia's daughter Caroline (Sarah Lancashire) and Alan's lass Gillian (Nicola Walker) are worlds apart and not too fond of one another at the start, but they agreed that if it makes their parents happy, they could support the marriage.
As Season 1 progressed, we learned more about the family, starting with the circumstances behind Alan and Celia losing touch all those years ago– Gillian's mother sabotaged the couple to snag Alan for herself.
Caroline was in a secret relationship with one of her fellow teachers, Kate McKenzie (Nina Sosanya) and Gillian was having a fling with Paul (Sacha Dhawan), a much younger co-worker from the supermarket where she worked part-time. Further demonstrating her poor impulse control, Gillian slept with Caroline's estranged husband, John (Tony Gardner). Though Caroline finally came around to committing wholeheartedly to her relationship with Kate, an angry John outed her to Celia before Caroline could broach the subject of her sexuality more gently. The family dinner to welcome Kate was a hot mess and Alan was so disappointed with Celia's behavior that the newly reunited couple fell out.
In season 2, we settled in for even more family drama and plenty of secrets.
Alan had a potentially fatal heart attack from which he thankfully recovered. He and Celia reconciled and decided to marry immediately with no fuss and no relatives invited.
Gillian's son Raff (Josh Bolt) announced he was about to become a father and was considering quitting school to support his new family. In other baby news, both John's girlfriend Judith (Ronni Ancona) and Kate (by her good friend and sperm donor, Greg) were pregnant.
Lest we forget our beloved Gillian, whose past is a virtual dumping ground of bad life choices, revealed two new bombshells. She had an abortion at 15. It was Robbie's (Dean Andrews) baby and she never told him.  And in a drunken confession to Caroline, Gillian revealed she had murdered her physically abusive husband Eddie and let on like it was a suicide. Caroline promised to keep mum about the whole thing.
The highlight of the season was Alan and Celia's bigger, second wedding, with all their family and friends in attendance. It was a fun and joyous event which also allowed Caroline and Gillian to kiss and make up with their respective partners.
[video:https://www.pbs.org/video/last-tango-halifax-season-2-episode-6-preview/ align:center]
Moving on to season 3, we found out that dear, sweet Alan too had a secret. (Gasp!)
He had a brief affair in the '60s which resulted in a son Alan never knew about. It turns out Gary (Rupert Graves) was wealthy, charming, and extremely needy, constantly offering up money, jobs, and plane tickets to win his newfound family's acceptance.
And what would Last Tango be without family gatherings? This time two weddings and, alas, a funeral. Caroline proposed to Kate and they got to have the wedding day they'd dreamed of, despite Celia's selfish refusal to attend. The couple's happiness was cruelly short-lived as Kate was struck down by an illegal teenage driver and didn't survive the surgery. Her baby, Flora, was fine though it took Caroline a while to come to terms with raising a baby alone.
The big finale of the season was Gillian and Robbie's wedding - a day filled with apprehension for the bride and a rather queasy stomach for the groom who combined an ambitious stag night with the flu. Caroline brought her sister down from the edge and got her to the church (though not exactly on time). The wedding went ahead despite Gillian's misgivings, with the possibility of divorce swimming around in the back of the bride's mind.
In 2017, the Buttershaws and company returned for a two-part Christmas special with some less than friendly holiday spirits.
Caroline moved on to a different job in a state school (her previous employer didn't want her back after her bereavement leave). Her new school required relocation to a ramshackle farmhouse in Huddersfield- one that it turned out just might be haunted by an 18th-century counterfeiter. An Ouija board séance for Christmas was the crowning touch to set the creepy mood.
Speaking of haunting, Gillian couldn't shake the feeling that her barn was occupied by the vengeful ghost of her dead husband Eddie.  Her guilt over Eddie's death mounted until she confessed to Robbie that she killed his brother. While he didn't go to the police, they acknowledged the end of the road for their relationship. Gillian remained at the farm and Robbie headed off for the Great White North of Canada.
Meanwhile, Celia joined the local amateur dramatics society production of Blithe Spirit as the medium Madame Arcati. When another cast member was forced to drop out, Celia convinced a hesitant Alan to step in. Though he got cold feet and recruited his friend Harry (Paul Copley) to take his place, on the night, Alan was called on again.  Turned out, he was a natural on stage!
That should have us pretty well caught up for the new season. If you're a long-time viewer, you know what you're in for – plenty of dysfunction, discord, and ultimately familial love, Yorkshire style! Watch out for our Season 4 episode recaps in the coming weeks and join in with your opinions on all the Halifax happenings.
---
By
for on September 19th, 2020
More to Love from Telly Visions