By
for on February 7th, 2015
Get Your First Look at Sir Ian McKellen as 'Mr. Holmes'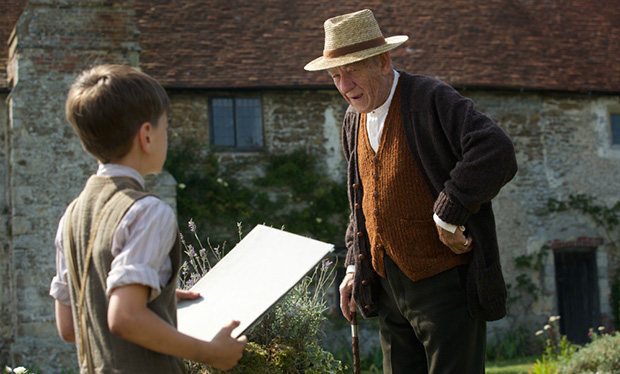 Since 
Sir Ian McKellen
is one of those sorts of actors that most people would be willing to watch read out math equations, any time he takes a role, it's of interest. When he decides to take on play an iconic part like the great Sherlock Holmes - who, by the way, is the
most frequently portrayed fictional character in film or television
- it pretty much guarantees that the end result is going to be awesome. McKellen will be playing the great detective in the upcoming film 
Mr. Holmes
, which is based on the 2005 novel
 A Slight Trick of the Mind
by 
Mitch Cullen
.
The movie will offer a slightly different take on the tale of Sherlock Holmes - unlike contemporary series Sherlock and Elementary which focus on a younger detective solving various cases, this story will be set during the twilight of his life, as he battles old age, dementia, and a growing obsession with an unsolved case from his past. Without his Watson, the 93-year-old Holmes now lives with a housekeeper and her young son 
The first clip of McKellen-as-Holmes has been released and, as you probably have already guessed, he seems as perfect in the part as you could imagine. And also sort of heartbreaking. Laura Linney also stars as Holmes' housekeeper, Mrs. Munro, along with Milo Parker as her son Roger. 
Watch for yourselves below: 
McKellen, who seems very excited about his involvement in this film and proud of the work he and director Bill Condon have done, also tweeted out a teaser poster for Mr. Holmes. 
First teaser poster for UK release of my upcoming film, 'Mr Holmes'. Sorry to be a tease, but I hope you like it. pic.twitter.com/d6Aod8wtVO

— Ian McKellen (@IanMcKellen) February 6, 2015
This outfit though! So awesome! 
McKellen also tweeted that the "proper trailer" for Mr. Holmes "will soon be ready", so hopefully we won't have to wait to long to see more from this movie. 
What do you think of the prospect of Sir Ian playing Sherlock Holmes? Thumbs up or down? 
---
By
for on February 7th, 2015
More to Love from Telly Visions