By
for on January 29th, 2020
Get Your First Look at PBS's New 'All Creatures Great and Small'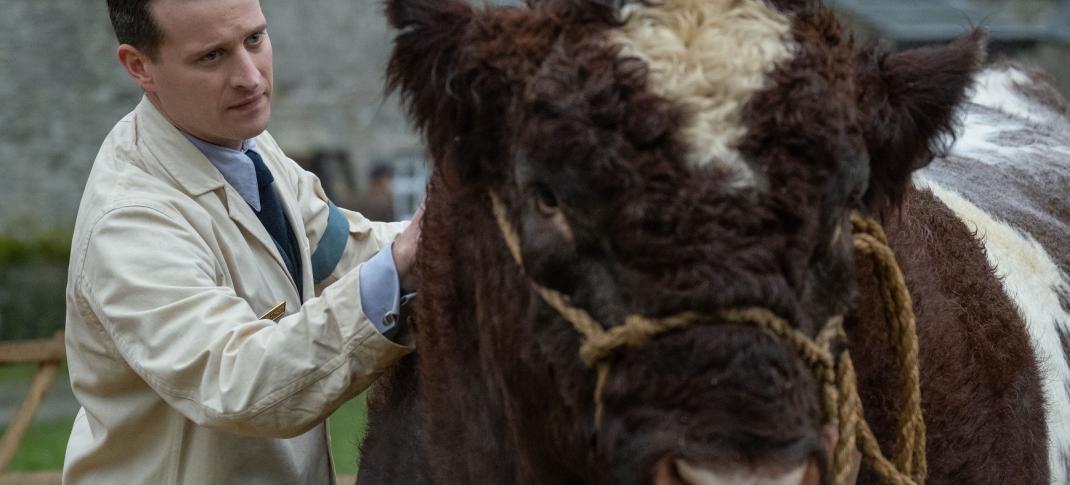 Production is well under way on the new Masterpiece remake of beloved British classic All Creatures Great and Small. And, to celebrate, PBS has released three new images from the upcoming series, which all look as warm and heartfelt as the original. (And actually quite like the original, which originally ran from 1978 to 1980, and again from 1988 to 1990.)
And, of course, there's a shot with a cute, rustic animal. It's All Creatures Great and Small, after all. 
Based on the series of novels by author James Alfred ("Alf") Wright, who wrote under the psuedonym James Herriot, the drama focuses on the heartwarming and humorous story of a rural country veterinarian, and the various farmers and townsfolk who live alongside him in their Yorkshire village during the 1930s. It's very quaint, cute and throughly relaxing. And also there's the whole cute animals thing. In short, this really is probalby exactly the sort of programming we need right now. 
See? Cute animal. Check.
Newcomer Nicholas Ralph will make his television debut in the series, playing veterinary surgeon Herriot, a character who ultimately became renowned for his inspiring compassion, humor and love of life. (No pressure, kiddo.) 
He'll be joined by Mr. Selfridge alum Samuel West as Siegfried Farnon, the wonderfully eccentric veterinary surgeon and proprietor of Skeldale House who reluctantly hires the recently qualified Herriot into his rural practice.The Child in Time's Anna Madeley will portray Mrs Hall, the resident housekeeper and matriarch of the same institution.
Here's your first look at the brand-new adaptation of All Creatures Great and Small starring Nicholas Ralph as James Herriot, along with Samuel West, Callum Woodhouse, Anna Madeley and Rachel Shenton - coming to MASTERPIECE! pic.twitter.com/xzWtNVK5fp

— MASTERPIECE | PBS (@masterpiecepbs) January 24, 2020
Siegfried's errant and charismatic younger brother, Tristan, will be played by The Durrells in Corfu's Callum Woodhouse and Rachel Shenton takes the role of Helen Alderson, an independent local farmer's daughter who helps her father manage the family farm and care for her younger sister.
This revival is timed to coincide with the 50th anniversary of the publication of Herriot's original books, which were released in 1970. Though, that's no guarantee that the show will see the light of day this year, but with production in progress and new assets being released, it certainly seems possible. Herriot's books have sold 60 million copies internationally and never been out of print. Their focus on community and its importance in our lives gives Herriot's work an enduring power and contemporary resonance that reminds us all that belonging to a community makes us part of something greater than ourselves.
"This is exactly the right ensemble cast to deliver the warmth, wit and charm of All Creatures Great and Small," Masterpiece executive producer Rebecca Eaton said in a statement back in June of 2019. "Like the original, this new series will capture the hearts of Masterpiece  viewers."
There's no firm airdate for this new All Creatures Great and Small as yet, but here's hoping it's not too far off! Is this a revival you're looking forward to? Or one you wish that PBS had left alone? Let's discuss in the comments. 
---
By
for on January 29th, 2020
More to Love from Telly Visions