By
for on November 28th, 2018
Get a Sneak Peek at the 'Call the Midwife' 2018 Christmas Special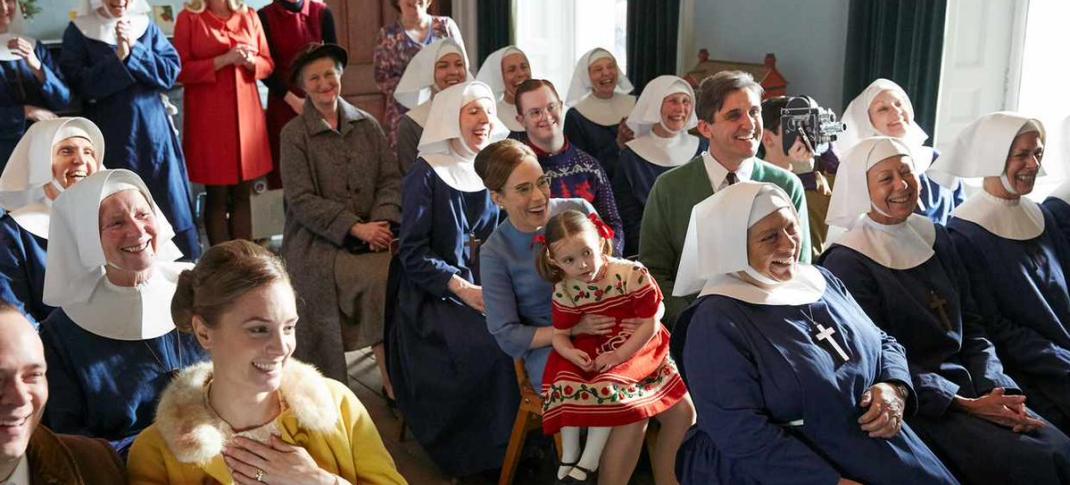 The holidays are approaching, which can only mean one thing – it's time for the very important festive tradition that is the Call the Midwife Christmas special!
While last year's holiday story dramatized the Big Freeze of 1962, this year's will focus on the arrival of a group of child refugees from China.
Miriam Margolyes – probably best known to Americans as Professor Sprout in the Harry Potter movies – will be appearing in the Christmas special as the forthright and indefatigable Sister Mildred. She arrives unexpectedly at Nonnatus House along with four Chinese orphans. Having fled China, the children were found abandoned in Hong Kong and are being adopted in the UK as part of the World Refugee Project.
The Christmas special also sees Trixie return to Poplar just in time to cover for the Sisters as they leave for the Mother House. The Order's Mother Superior has been taken ill and a new spiritual leader needs to be elected. It soon becomes clear, much to Sister Julienne's horror, that she is the favored candidate to take over.
As part of the corporation's annual "Children in Need" charity telethon, the BBC dropped a first look clip at the highly anticipated holiday installment, which features the return of fan favorite Helen George.
Watch the clip for yourselves below:
In related festive good news, it's also been confirmed that this year's Call the Midwife holiday special will broadcast on Christmas Day on PBS in the U.S. the same day that it airs in the U.K.!
US fans! Call the Midwife Christmas Special 2018 to air on Christmas Day evening on PBS in the US :-) pic.twitter.com/VtG7Zz9URn

— Call The Midwife (@CallTheMidwife1) November 23, 2018
(Yay!)
Season 8 will broadcast on the BBC in (very) early 2019, likely beginning shortly after the New Year. As per usual, it will come to America later in the spring, probably in late March or early April. (This has been the series' pattern for the past few seasons; therefore, it seems unlikely that it would shift things to any great degree now.)
Ready for more emotional adventures with Call the Midwife? Are you looking forward to the annual holiday festivities at Nonnatus House? Let's discuss in the comments.
---
By
for on November 28th, 2018