By
for on March 4th, 2014
This is Fun: Ellen DeGeneres Helps Minnie Driver Audition for 'Downton Abbey'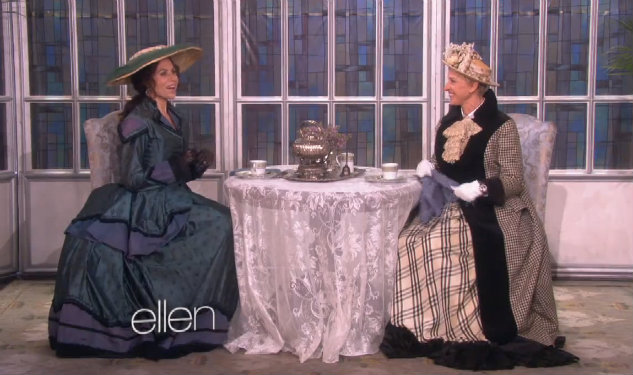 Just go ahead and add Minnie Driver to the ever-expanding list of famous people who are gunning for a role on megahit costume drama Downton Abbey. But Driver has something most of those celebs don't – an audition tape, courtesy of The Ellen DeGeneres Show.
Driver appeared on DeGeneres' afternoon chat show last week, ostensibly to promote her new NBC series About A Boy, based on the popular 2002 British-American film of the same name. But that's not the only British topic the pair covered. The two participated in a Downton-themed skit complete with posh period costumes and overly dramatic period names (Lady Gwendymere of West Bedford Applebees for DeGeneres and Countess Penelope of I Can't Believe It's Not Buttersworth for Driver).
The catch? Driver wasn't allowed to see the script for her impromptu "audition" beforehand, and had to perform her lines for the first time off of a teleprompter. Predictably, hilarity ensues – especially when Driver is forced to bark like a dog, make violent arm gestures and try on a variety of accents on the fly.
This clip might not get Driver a job, but it should definitely make Downton fans laugh. 
Watch for yourselves below: 
What do you think? While I doubt we'll be seeing Driver put in an appearance at Highclere Castle anytime soon, do you have a favorite wishlist Downton guest star candidate? (After all, if Paul Giammati can show up, anyone can!)
Let us know in the comments. 
---
By
for on March 4th, 2014
More to Love from Telly Visions