By
for on August 28th, 2015
Fish Out of Water Telly: A Very British Phenomenon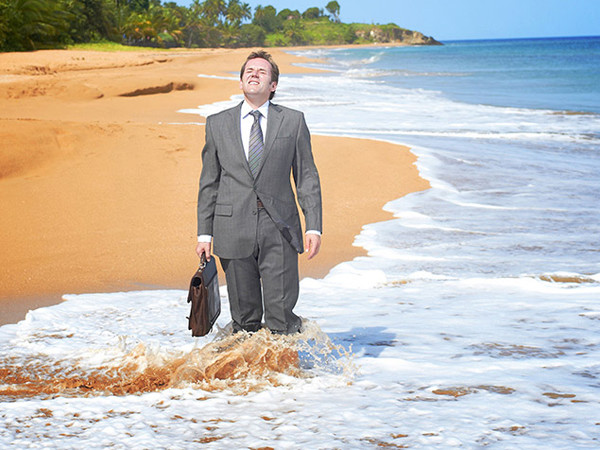 There's a three part mini-series that aired in the UK recently called Very British Problems. Based on, believe it or not, a Twitter feed of the same name, this show gathered a host of British celebrities to talk about social awkwardness as a national character trait.
Topics such as avoiding others, confusing doubletalk and the complicated process of saying goodbye are addressed in a humorous manner. At the same time, it's acknowledged that straight forward communications would be simpler, but it's just not the British way.
All this self-conscious discomfort got me to thinking about how the British have the perfect sensibility for fish out of water stories. That universal feeling of embarrassment in an unfamiliar situation is apparently a constant state of being for our friends across the pond so it's not surprising that it's a well-utilized device in British telly. Think Life on Mars, Doc Martin or even An Idiot Abroad's hesitant world traveler, Karl Pilkington. Therefore I thought it might be worthwhile to look at a few more examples. Shall we?
Death in Paradise. PBS viewers are probably familiar with DI Richard Poole (Ben Miller), the British police detective sent to a Caribbean island to solve a previous inspector's murder and forced to stay on as the man in charge. The problem was, of course, Poole's distaste for island life, particularly the climate, the accommodations and his new colleagues. 
[This video is no longer available.]
Alas, poor Richard's tenure was a short two series long and his replacement DI Goodman (Kris Marshall) is more amenable to the tropical lifestyle. However, Death in Paradise definitely started with as a classic fish out of water tale which can be streamed on Netflix.
The Indian Doctor. When a Welsh mining village loses its only doctor, the Coal Board recruits its next GP from the subcontinent. Dr. Prem Sharma (Sanjeev Bhaskar) arrives in a new land with hopes for a fresh start. Dr. Sharma is open to this big adventure and wins over most of the villagers with his bedside manner and charm (so not Doc Martin). Nonetheless, he still encounters dismissive attitudes from some of his potential patients which he handles with grace and patience. His spoiled wife Kamini (Ayesha Dharker), on the other hand, is having a more difficult time adjusting to her new home which she considers "an ignorant backwater."
This 1960's period dramedy is all about taking the risk to get acquainted and finally reaching acceptance both on the part of the Sharmas and the community in which they find themselves. You can experience all three series of The Indian Doctor on Hulu Plus.
The Delivery Man. Darren Boyd's Matthew Bunting may not your conventional "foreigner in a foreign land", but his situation qualifies for fish out of water status since he is embarking on a new career as a hospital midwife. A former police officer, Matthew decides he wants to do something more meaningful and nurturing with his life.
So he leaves behind the handcuffs and criminals for a stethoscope and newborn babies. As you would expect, he is treated as a novelty by his female co-workers and patients. Reactions to Matthew's presence range from snide remarks of derision to lovesick declarations of lust, but our new midwife does have one lovely ally, Lisa (Aisling Bea).
If you'd like to check out this story of one who marches to the beat of his own drum, Netflix has recently added Delivery Man to its catalog of British fare.
The Inbetweeners. Being a teenager is a classic case of fish out of water. There are constant challenges to fit in and we spend most of our adolescence feeling uncomfortably out of our depth. In this teen comedy, Will McKenzie (Simon Bird) is the poster child for teenage misfits. Due to his parents' breakup, he has had to switch from a private grammar school to a public comprehensive. Precocious Mr. McKenzie is overwhelmed by this strange, less orderly environment and the struggle to acquire some new friends in addition to the inevitable embarrassments of growing up.
Each of Will's newfound mates could be considered a fish out of water as well so awkwardness is in abundance here. Hulu Plus and Netflix have all three series of The Inbetweeners on offer and Netflix has both of their spin-off films as well.
So next time you find yourself in a situation that makes you stand out (and not in a good way) think of these characters and how they survived the public embarrassment. Who knows?  You too may be painfully British! Also feel free to share your favorite fish out of water series, and films too, in the comments. 
---
By
for on August 28th, 2015
More to Love from Telly Visions