By
for on September 8th, 2023
Filming Begins on 'The Responder' Season 2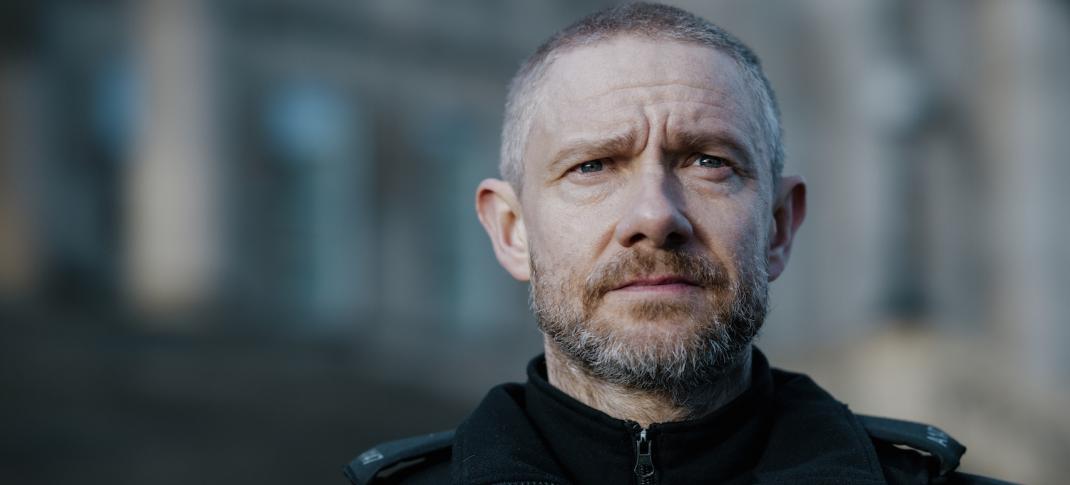 Filming has officially begun on the second season of buzzy crime procedural The Responder, a story about the emotional extremes of life on the front line of British policing and an officer who found himself demoted, demoralized, and drawn to the edge of a dark world of corruption. The series also nabbed six BAFTA nominations and racked up over 9.5 million viewers for its 2022 premiere, making it one of the year's most successful dramas. Where it will go in its second outing is anyone's guess, but people are looking forward to finding out.
The Responder stars Martin Freeman (Sherlock) as troubled Liverpool police night officer Chris Carson, who found himself struggling to hold his life (and mental health) together after getting tangled up with the city's criminal underworld. The first season saw him make several dark, unethical decisions, and in its second, it sounds like he'll try and pick up the pieces.
Season 2 picks up six months after the events of the series' first installment, as Chris attempts to rebuild his life and relationships. But the combination of trying to be a better police officer, a better person, and a better father all while dealing with the trauma inherent in his chosen line of work as a night response officer...well, it's a lot. Chris needs a day job. But is he prepared to risk everything to get one?
Also putting her life back together is Rachel Hargreaves (Adelayo Adedayo), the recruit assigned to partner with Carson, who found herself tangled up in the mess of his life and career. She's still furious about how Chris dragged her down with him into the dirt, professionally speaking, and now she's desperately trying to take control of a life and a career that sometimes feels like it's slipping away. But after working with a succession of supposedly "normal" cops, Rachel realizes she's got more in common with Chris than she'd ever want to admit.
As they are sucked back together, they must pull each other back into the light. But then, a routine stop on a black Range Rover changes everything, and suddenly, the darkness beckons once again.
The bulk of the series cast is returning for Season 2, including Freeman, Adedayo, MyAnna Buring (The Witcher), Warren Brown (Luther), Josh Finan (The Gentlemen), Emily Fairn (Black Mirror), Philip S. McGuinness (The Alienist), Faye McKeever (A Confession), Mark Womack (The Vanishing Man) and Amaka Okafor (The Split) reprise their roles. New faces joining the line-up in the second season include Adam Nagaitis (The Terror), Bernard Hill (Wolf Hall), and Ian Puleston-Davies (Tin Star).
"Throwing myself back into the world of The Responder has been such a ride over this last year or so," writer Tony Schumacher said in a statement. "Gathering the characters old and new around me has been a delight, and finally getting to see these people brought to life by so many incredible people fills me with genuine excitement. I just can't wait for you to see them too!"
The five-part second season is written by ex-police officer Schumacher and directed by Jeanette Nordahl, Mounia Akl, and Charlotte Regan. It is produced by Barrington Robinson, with Laurence Bowen, Chris Carey, and Toby Bruce serving as executive producers for Dancing Ledge Productions. Rebecca Ferguson is the executive producer for the BBC.
Filming for Season 2 will take place in and around Liverpool. The first season of The Responder is currently available to stream on BritBox.
---
By
for on September 8th, 2023
More to Love from Telly Visions