By
for on May 22nd, 2023
BritBox Sets Premiere Date for Tenth Anniversary Season of 'Father Brown'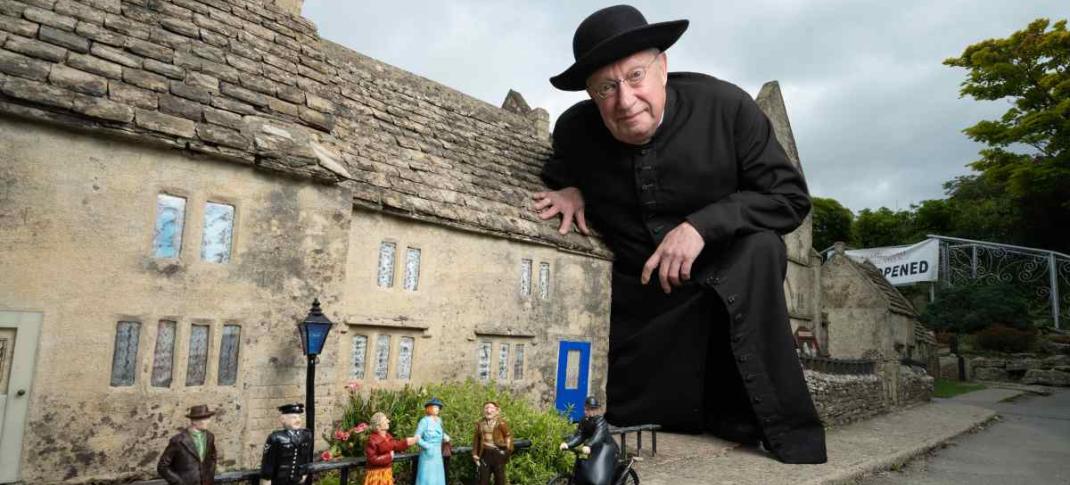 Mystery series are a staple of the British entertainment industry, so much so at you might be forgiven for wondering if every English citizen just happens to be a part-time crime solver on the side. Because if you go by what you see on the screen in these series, pretty much anyone can apparently partner up with their local constabulary to help bring criminals to justice, from restaurant owners and book publicists to PR professionals and retirees. Or, in the case of the long-running cozy mystery series Father Brown, a Roman Catholic priest who....also happens to solve crimes. (It's true, the vicars of Grantchester  are not alone in their penchant for mixing spiritual and temporal duties in this way.)
Based loosely on the short stories by G.K. Chesterton, Father Brown is set during the 1950s and stars Mark Williams (Harry Potter) as the titular man of the cloth. As the series' tenth season begins, it's 1954 in the sleepy Cotswold village of Kembleford and new characters and familiar friends are Father Brown's team of sleuths. Dashing Chief Inspector Sullivan (Tom Chambers) has returned to town and immediately catches the eye of the lively new parish secretary, Mrs. Devine (Claudie Blakey), while plucky new housekeeper Brenda (Ruby-May Martinwood) finds herself joining in on her boss's crime-solving activities. 
Fan favorites John Burton (Doctors), Nancy Carroll (Murder in Provence), and John Light (North and South) are all returning alongside Williams. But as many viewers have likely already heard, Season 10 does have some notable absences, including Sorcha Cusack (A Discovery of Witches) as Mrs. McCarthy, Jack Deam (Ridley) as Inspector Mallory, and Emer Kenny (Karen Pirie) as Bunty Windermere. 
As for Father Brown himself, he'll have to face off with his nemesis Flambeau (John Light) yet again, who has returned to Kembleford after being accused of murder. He'll risk his own life to prove his innocence – but is his faith in Flambeau misplaced? Other episodes in the new season will include a murder involving the newly-opened Kembleford Model Village, a troubled young woman from a borstal, and a terminally ill celebrity florist.
The tenth season is once again comprised of ten episodes. Father Brown has already been renewed for an eleventh season and filming is currently underway, featuring guest stars Sylvester McCoy (Doctor Who) and Lorna Watson, star of Father Brown spinoff series Sister Boniface Mysteries, hasn't appeared on this show since its first season. 
Season 10 of Father Brown will premiere on BritBox on Tuesday, June 13 with two episodes, and two more installments will follow weekly through July. Seasons 1-9 are currently streaming on BritBox and also available to view on many PBS stations around the country. But those broadcasts will vary by specific station and region, so, as always, check your local listings.
---
By
for on May 22nd, 2023
More to Love from Telly Visions