By
for on January 21st, 2014
This Fan Made 'Downton Abbey' LEGO Set is Out of This World Awesome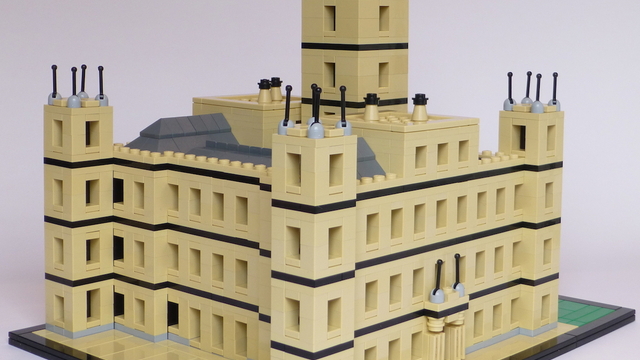 Sure, we've seen some awesome Downton Abbey-inspired creations from all around the internet over the past few years, but this one might just take the cake.
Twenty-four year old Eric Stevens of Rochester, New York built an amazing replica of the house and characters from everyone's favorite costume drama as a Christmas present for his girlfriend – and it all looks amazing. 
Stevens not only re-created the gorgeous Downton estate in LEGO form, he also put together tiny versions of the Crawley family – including Robert, Cora, Mary, Edith, Sybil and Dowager Countess Violet – as well as several of the series' popular servants, such Carson, Thomas, Bates and Branson (back when he was in chauffeur mode). Sadly missing are Anna and Mrs. Hughes, but I guess we can't have everything.  Which is actually bearable in this instance, just because the rest of it is so fantastic.
You can flip through Stevens' flickr gallery for a ton of detailed shots of each figure.  My personal favorite is the Dowager Countess, if only because that hat is just epic, but the mini-version of Cora also looks spot on. 
The do-it-yourself creation cost about $250 to create, according to Stevens, and he apparently spent hours online designing a computer model of Downton's real-life counterpart Highclere Castle using aerial photos. Now that's dedication.
Local PBS station WXXI did an interview with Stevens, in which he discusses his fabulous fan creation: 
Though Stevens said he has no plans to market his set, but he has submitted his design to the Lego Cuusoo Project, where fans can vote on designs to be considered for future LEGO projects.  You can vote for Stevens' Architecture Highclere Castle design here.
---
By
for on January 21st, 2014