By
for on July 23rd, 2012
Downton Abbey Series 3: See a New Cast Photo and Get Some Plot Details!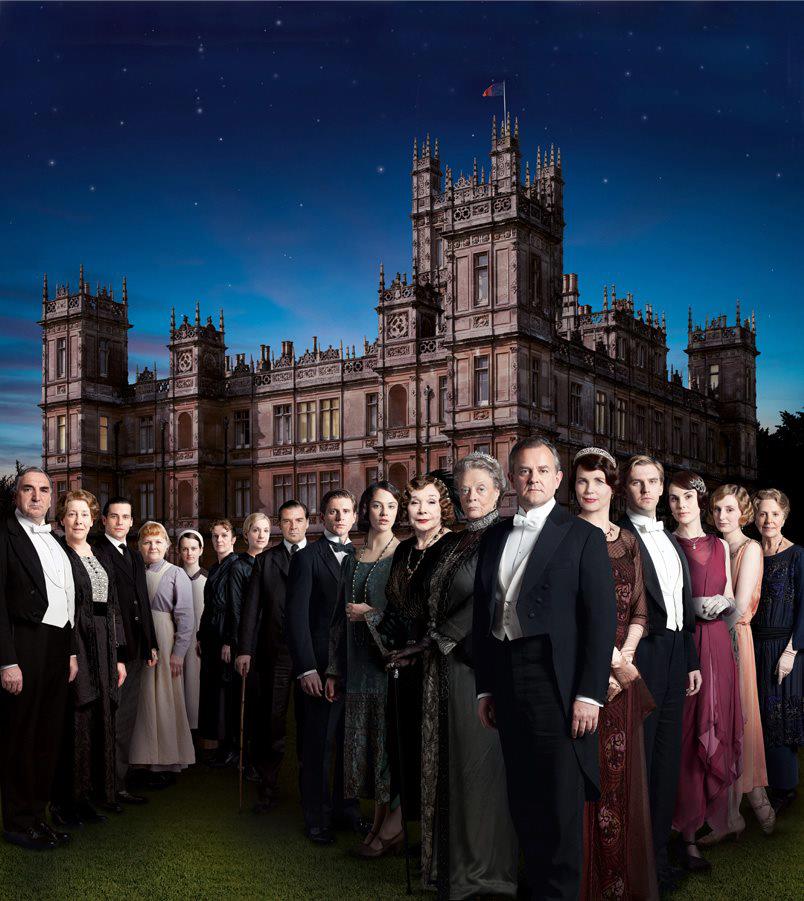 New details about the highly anticipated third series of Downton Abbey have started to emerge following the show's panel at the Television Critics Association Summer Press Tour. Stars Hugh Bonneville, Elizabeth McGovern, Michelle Dockery, Brendan Coyle, Joanne Froggatt and cast newcomer Shirley MacLaine were all on hand to discuss the new episodes, drop a few hints about upcoming storylines and just be generally amazing. Then today, to keep the Downton mania flowing, we also got a first look at the official Series 3 promo art.
Click through for all the latest Downton dish, and a bigger version of that picture you see up top. As some plot of these plot-specific items could be consider spoilery, even if they are all plastered on every major entertainment outlet there is this morning, I'm still dumping them all under a cut in their own clearly labeled area and wishing all of you trying to avoid them good luck and Godspeed on that particular journey. 
Oh, and by the way, it's official: Downton returns to America on January 6, 2013. You can start making your countdown calendars now.
Here's a slightly bigger version of the new Series 3 art, our first official piece that includes MacLaine's Martha Levinson.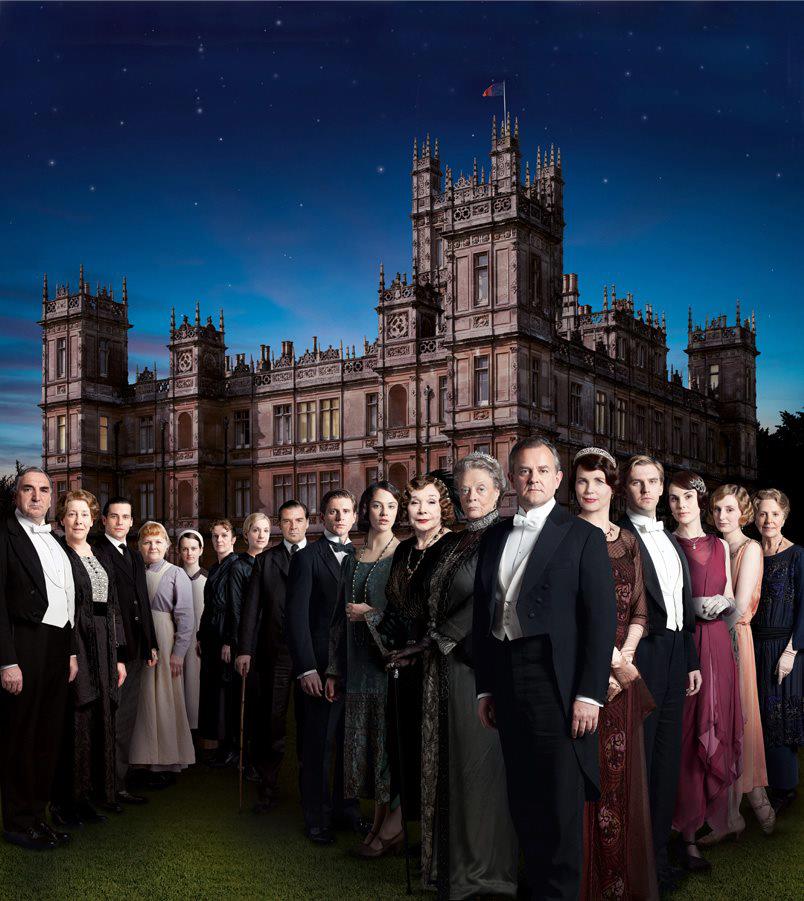 [SPOILER ALERT! Those who don't want to see anything about the third season of Downton would do well to stop reading now!]
The upcoming season of Downton Abbey will be set in the 1920s – think snazzy outfits and social issues – and it sounds like lots of drama is in store for all our favorite characters.
What have we learned so far about what will be happening in the new episodes?
We'll Explore the Stories of the 1920s. While I think we're all looking forward to seeing Lady Sybil's inevitable flapper attire (you know it's coming!), there are plenty of other big social stories going on that should have an impact on all the Downton characters. Julian Fellowes specifically mentioned that one of the influencing factors in the Series 3 story is the "Irish Troubles," which sounds like Sybil and Branson are going to have plenty to do this time around. Though, honestly, I think that sounds really intriguing – I enjoy socially-conscious Sybil, and Boring Branson is marginally more interesting when he's dealing with political issues than when he's bossing Sybil around or endlessly fixing things in the Really, Does That Car Ever Run Garage.
Uh Oh, the Crawleys Are Broke. Thanks to an investment gone wrong, Robert has to tell Cora that he's lost most of her fortune. Since we've only heard approximately 16,000 times that Lady Crawley's money is what keeps the lights on at Downton, this means that our favorite family will likely be facing some serious austerity measures in this new decade. The most interesting bit looks to be that a family financial crisis is Cora's chance to shine – apparently her more American sensibilities about money, risk and change will play a big part in the Crawleys' future.
Cora's Mother Arrives. Ostensibly, it would seem that this financial disaster is what brings Cora's very American mother across the pond. Martha Levinson, it would appear, is still positively rolling in cash, and since her American fortune bought her daughter a title, it seems likely that she will have some role to play in repairing the diminished state of the Crawley financials. From all the TCA reports going around, Shirley MacLaine is very excited to be part of the cast and her character sure seems like a worthy adversary for Maggie Smith's Dowager Countess.
All is Not Roses and Sunshine for Matthew and Mary. While we do now have official confirmation that Series 3 will show us Matthew and Mary in the middle of wedding planning, that doesn't necessarily mean that the conflict is over for the popular couple.  Yet, in the trailer screened for critics, our favorite duo is shown arguing over some unknown situation and Mary accuses Matthew of being "disloyal" to the family. Will one of them get cold feet? Who knows, but this situation is already making me kind of anxious.
Someone's Getting Married! Since Cora directly referenced a Downton wedding in the clip shown to TCA attendees, clearly someone's tying the knot this season. While I imagine we're all hoping for Matthew and Mary to make it down the aisle – personally, I don't think my heart can take much more relationship will they/won't they angst for them – could it be possible that there's a fakeout brewing here? What if it's Edith that gets married and not her sister? Anything is possible!
Free Bates! Of course, one of the big plots in Series 3 is what will become of our beloved Mr. Bates, currently languishing in jail, having barely escaped being hanged for murder.  It sounds as though much of the coming season's storyline will focus on the fight for Mr. Bates' freedom. I suppose we can't let Bates and Anna be happy ever, huh?
We're All Waiting For It: Shirley vs. Dame Maggie. We've seen a little tease of it already, but, let's be honest, what we are really all waiting for in Series 3 is the chance to see Maggie Smith's Dowager Countess go head to head with Shirley MacLaine's Martha. From all early reports, their scenes together sound pretty fantastic. "When I'm with her, I'm reminded of the virtues of the English," Lady Violet says of the newcomer. "But isn't she American?" asks Matthew. "Exactly," says the Dowager. My initial reaction to this is "OMG, MORE NOW PLEASE," and I feel like I can't possibly be the only one.
Some other vaguely comforting news: apparently Fellowes also said that Smith's Downton Abbey departure "is entirely up to her." Here's hoping Dame Maggie decides to stick around snarking at people in period dress for a long, long time to come!
We're officially 167 days away from the US premiere of Downton Abbey. Just in case any of you were counting.
---
By
for on July 23rd, 2012