By
for on May 20th, 2022
'Downton Abbey: A New Era' Review: A New Level Of Fan Service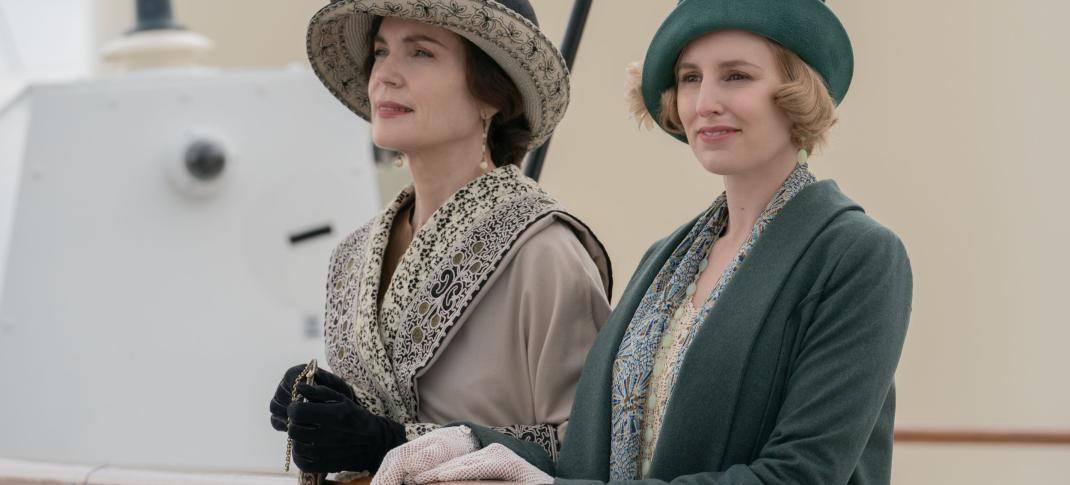 Downton Abbey has made a habit of defying expectations. The series was not supposed to be a big hit for Masterpiece; edited down to four episodes from seven and exiled to the doldrums of January. The first film, distributed by indie studio Focus Features, was viewed as a niche offering at best. The sequel, Downton Abbey: A New Era, is similarly seen as having an uphill climb, fighting to bring older audiences back to theaters after the pandemic has kept them home for two years and counting. But if the new film fails to beat the odds after more than a decade of surprising the industry, it won't be for lack of trying.
Fellowes understands what the Downton audience wants. It's not looking for the old Upstairs Downstairs, but it doesn't want to stray too far from that formula. It doesn't want a movie to feel different from a regular episode, just run a bit longer, with a slightly higher budget. And after years of lockdowns and masking, it wants an escapist European fantasy and to have cathartic laughs over in-jokes. 
In that, Downton Abbey: A New Era isn't much different from its most significant competition at the box office, the Benedict Cumberbatch-led Dr. Strange in the Multiverse of Madness. Both films have plots bordering on complete nonsense and happily acknowledge it with a wink. They bring back faces from earlier installments in surprise cameos; their emotional climaxes work better if the audience watched previous installments. Most notably, they rely on audiences having behind-the-scenes insider information to fully appreciate it. It's as if Fellowes studied Marvel movies and why those films get audiences to fill theaters while everyone else falters, took copious notes, and then overlayed the formula on the Downton world. Crazily, it works.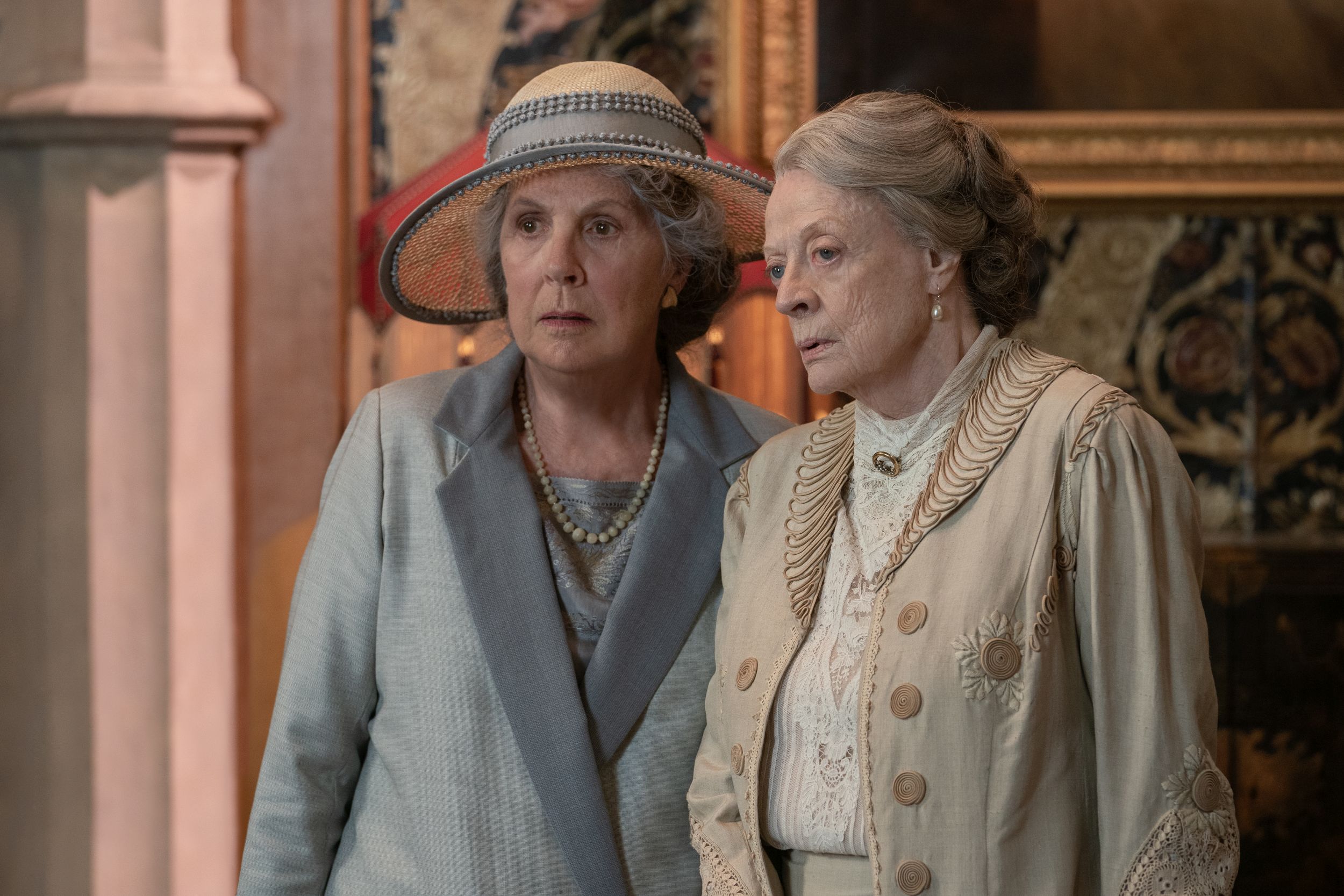 Neither of A New Era's plots has quite the same heft as a royal visit, so Fellowes intertwines two stories. Lady Mary receives a request from director Jack Barber (Hugh Dancy) to use Downton as the on-sight filming location of his new Gilded Age-set silent film. Simultaneously, the Dowager Countess Violet learns the elder Marquis de Montmirail has passed away and bequeathed her the French villa where they once spent a single week in 1864. The rest of the Crawley have questions as to why a man Violet has not seen since October 1864 left her a million-pound property when he has an entire wife (Nathalie Baye) and son (Jonathan Zaccaï). But Violet isn't about to look a gift house in the door.
Violet decides to give the villa to Sybbie, Lady Sybil's daughter, to help equalize her wealth to that of her cousins. (It's not Hexham money, but it will do.) Violet is too ill to travel, so Robert and Cora go with Branson, Lucy, and Lady Bagshaw, to inspect the property. Edith and Hexham tag along; Baxter, Bates, and Carson are their support. Carson going along is a stretch, but obviously, married couple Jim Carter and Imelda Staunton wanted to film together in Southern France, so Mary devises a need to send him since he disapproves of Downton as a movie set. But the thousands of pounds Hollywood is offering can pay for the roof the castle desperately needs, plus other infrastructure repairs to keep it habitable, so she makes the deal. 
The in-jokes here are numerous. The "Hollywood" plot is a retelling of Highclere Castle becoming the set of Downton Abbey. (The castle was farther along in disrepair and no longer habitable when ITV and Carnival films came along in 2009, but that first season saved the building.) Watching Hugh Bonneville rant about actors with painted faces sitting on the furniture and jokes about which parts of the house are genuine and which are set dressing feel like exchanges Fellowes probably witnessed. The film's setting is also a joke, as fans of Downton know that Fellowes' new series is The Gilded Age. Though it's not an English romance, Season 2 has already hinted at a Cora-and-Robert style fortune-hunting marriage.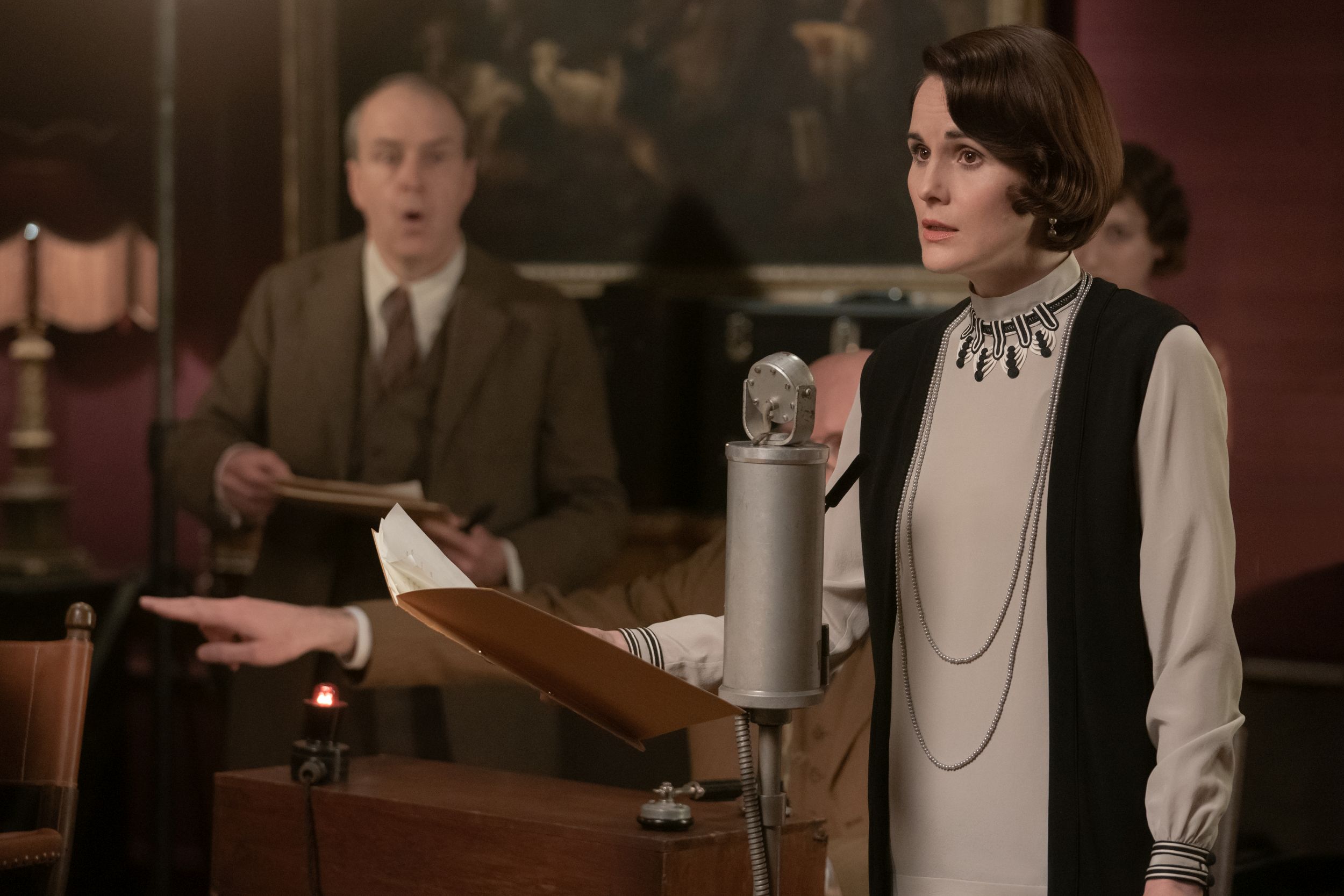 As for the guest stars who come on through, leading man Guy Dexter (Dominic West) has eyes only for butler Barrow. Leading lady Myrna Dalgleish (Laura Haddock) can't do a posh accident and is terrified talkies spell the end of her career, especially when the studio decides this film now needs to become a talkie too. (As sound engineer Mr. Stubbins, Alex Macqueen is a film highlight.) Barber becomes a stand-in love interest for Lady Mary, as Matthew Goode was the only cast member who couldn't align his schedule for filming. (Rather than admit he's off in other projects, the script decides he and Mary have drifted apart. He's chosen a life of car racing over her.)
Don't worry; Mary's not heading to the altar yet again — she's too busy stepping into the role of an untouchable married object of desire Violet perfected all those years ago in France. After all, when George comes of age in a few short years, she will step into the role of the fearsome Dowager Countess, and Michelle Dockery does an excellent job of making you believe she's following in Maggie Smith's footsteps.
Whether or not fans will get to see that remains to be seen. Unlike the first Downton Abbey film, this one feels far more final in its conclusion, with multiple characters drifting towards the exits. But should the movie's box office once again shock the industry, doubtless Fellowes will find yet another story to tell. As long as he keeps fans feeling like these films are made especially for them, they'll keep repaying by showing up.
Downton Abbey: A New Era is out in theaters now. Downton Abbey Seasons 1-6 are streaming on Peacock, and the first Downton Abbey movie is available on HBO Max.
---
By
for on May 20th, 2022
More to Love from Telly Visions