By
for on July 27th, 2019
'Downton Abbey' Movie Will Leave The Door Open For a Sequel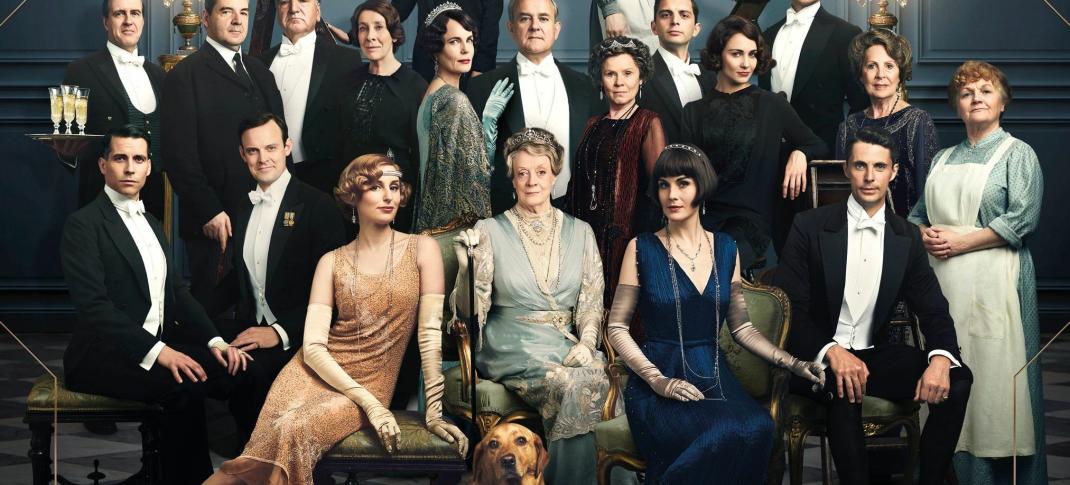 The final Downton Abbey movie poster is here, as producers say "never say never" on a potential sequel.
The Downton Abbey movie is rounding into the final six weeks before release, which means the publicity machine is ramping up. The film, which takes place in the fall of 1927, involves the arrival of the King and Queen of England, George V (Simon Jones) and his wife, Mary of Teck (Geraldine James), to stay at Downton, throwing the Granthams into a tizzy of activity. But while this sort of thing happens regularly in period fiction and romance novels, one has to wonder if such things were still happening in the first half of the 20th century. According to creator Julian Fellowes, they did, and this story is based on something that happened in real life.
Speaking to Vanity Fair, Fellowes said he based this episode on a trip the King and Queen took just before the Great War broke out. They went to Wentworth Woodhouse in Yorkshire in 1912.
Downton is also in Yorkshire... it seemed to me quite a good parallel, [and something] that the servants and the family would be equally as excited about. In a film, every story has to be resolved within that film, and you want a unifying bond in a film—so it isn't too scattered in its focus. That's what the royal visit has provided us—an event that involves everyone in the house. And they all have different responses and different duties, but they're all in that sense working towards the same end, which is that the visit should be a success. So we feel that being played out.
The new poster focuses on upstairs and down, with images showing both groups readying for the royal arrival.
The arrival of aristocracy that outranks them also means that the show got to bring out the Granthams' finest for their feature film debut. Michelle Dockery, who plays Lady Mary Crawley, said it was great fun to see the family have to deal with not being at the top of the pecking order for once.
There are more diamonds and fancier food, and it's really interesting to see that the family and the servants are not at the top. They're now having to impress the royals, which I think is really great—to see them kind of getting in a bit of a tiz about the arrival of the king and queen.
According to Fellowes, Mary is the one running Downton now. She's still new to trying to manage the household, especially for an event this size. She'll need to lean on everyone she can, from brother-in-law Branson (Allen Leech) to former head butler Carson (Jim Carter). Meanwhile, while Robert (Hugh Bonneville) and Cora (Elizabeth McGovern) are settling into retirement. But Robert's mother, the Dowager Countess Violet (Maggie Smith) hasn't lost any of her fire, especially when it comes to sparring with newcomer Lady Bagshaw (Imelda Staunton, Carter's real-life wife).
Fans get a look at her in the U.K. version of the theatrical trailer:
The affair is also a great excuse to bring back Lady Edith (Laura Carmichael), now the highest-ranking member of the family since her marriage to Bertie (Harry Hadden-Paton), the 7th Marquess of Hexham. Those who are worried Edith and Mary will be back to their old bickering ways needn't worry though. The outside forces of the invading royalty have everyone on the same side.
As for a chance at Downton Abbey: The Movie 2, director Michael Engler said the film wouldn't end on a cliffhanger. But he's learned never to close the door on possibility. It took several years to get the cast schedules to line up to make this installment, but he won't say the stars couldn't align again eventurally. Says Engler: "For me now to say, 'Absolutely, definitely this is it, there will never be another film,' I would just be foolish. Because you end up eating your words, you know?"
For his part, Bonneville thinks Downton Abbey should be treated like any other franchise: "How many movies were there of Star Wars? This could run and run."
The Downton Abbey movie arrives in theaters in the U.S. on Sept. 20, 2019.
---
By
for on July 27th, 2019
More to Love from Telly Visions