By
for on September 11th, 2017
'Downton Abbey' Cast Members Reunite for 'The Guernsey Literary and Potato Peel Pie Society'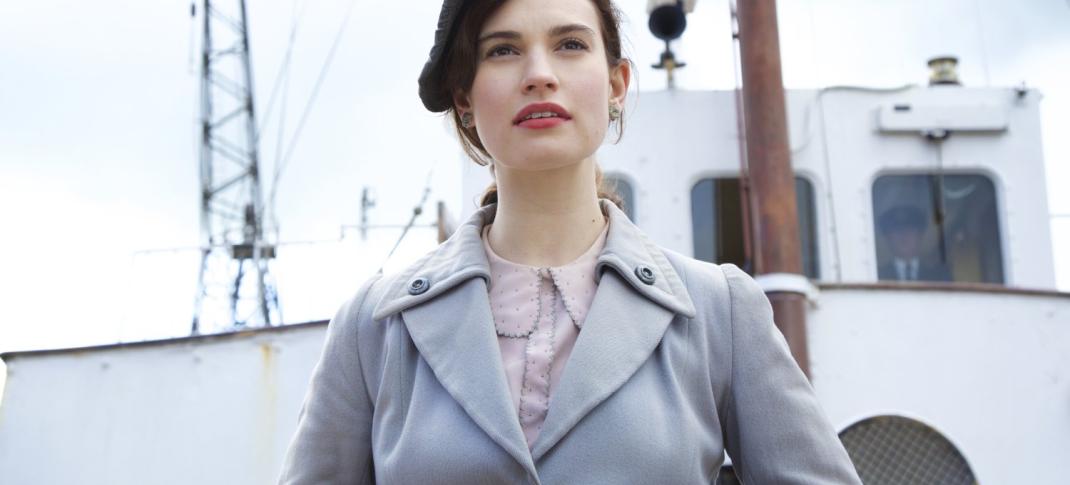 While fans of Downton Abbey patiently await updates from creator/writer Julian Fellowes on his plans for a theatrical movie of the mega-hit Masterpiece historical drama, a new movie featuring four of its cast members has been filming in England and The Channel Islands. The Guernsey Literary and Potato Peel Pie Society, adapted from the international best-selling novel by Mary Ann Shaffer and Annie Barrows, is somewhat of a mini-reunion for Downton cast members. The World War II period drama will star Lily James as free-spirited journalist Juliet Ashton and feature Jessica Brown Findlay as Elizabeth McKenna, Matthew Goode as Sidney Stark, and Penelope Wilton as Amelia Maugery.
The all British production has Four Weddings and a Funeral and Harry Potter and the Goblet of Fire's Mike Newell at the helm as director, and Don Roos (Marley & Me, The Opposite of Sex) and Thomas Bezucha (Big Eden, The Family Stone) adapting the novel for the big-screen. Filmed in England in London, Cornwall, and Devon, and in the Channel Islands at St. Peter Port Harbour, Guernsey, principal photography concluded in the U.K. in May with a release date projected for 2018.
English actress Lily James' career has certainly skyrocketed since she first appeared as Lady Rose MacClare, the young and adventurous cousin of the Crawleys of Downton Abbey during Season 3 in 2012.  Portraying iconic literary heroines, we have seen James as Elizabeth Bennet in Pride and Prejudice and Zombies, Natasha Rostova in War and Peace and Cinderella in Disney's recent live action remake of animated classic Cinderella. 
Snagging the plum role as Juliet Ashton in the film adaptation of The Guernsey Literary and Potato Peel Pie Society will no doubt add to her fame. We are all anticipation of the chemistry between her co-star Dutch-born actor Michiel Huisman (Game of Thrones, The Age of Adaline), who the plays her love interest, Dawsey Adams.
Originally published in 2008, The Guernsey Literary and Potato Peel Pie Society was an immediate hit with critics and readers alike, landing on the New York Times bestseller for 11 weeks. Opening in 1946 post-war England, our heroine and unmarried thirty-something Juliet Ashton is ready to move on from her comedic war-time newspaper column to more serious fare. Interested in writing a novel, she is searching for the inspiration for a new story. Living in bombed out London she has few personal connections that are still alive. Her parents and brother are dead, and besides her agent Sidney Stark and his sister Sophie, she has few friends and only one suitor, the "great catch," the wealthy and imposing American publishing heir Markham V. Reynolds, Jr. who woos a woman who has lived for five years on war rations with champagne, lobster, and dancing at the Savoy.  
When Juliet receives a letter from one of her readers, Dawsey Adams, her life takes a new path. He is a young farmer and literary society member living on Guernsey Island who claims he owns a used book with her name inscribed on the flyleaf inside. They strike up a correspondence, which widens to include the other delightfully eclectic members of their Guernsey Literary and Potato Peel Society.
While learning about their lives, their island, their literary tastes, and the impact of the Nazi occupation during the war, Juliet is drawn into the lives of Dawsey and the other society members and believes that their stories could be the inspiration she was seeking for her novel. With the encouragement of her agent Sidney, Juliet travels to Guernsey to meet the members who formed a literary society to survive the horrors of German occupation. What transpires for her, is life-altering.  
Like many other readers around the world, The Guernsey Literary and Potato Peel Society remains one of my favorite historical fiction books set during WWII. [Click here to read my full review from 2010.] Originally conceived, written, and revised over many years by Mary Ann Shaffer, her niece Annie Barrows finished the novel after her aunt's death in 2008.
Besides having one of the longest and quirkiest titles in recent memory, The Guernsey Literary and Potato Peel Society will vividly transport readers into post-war London and Nazi-occupied Guernsey; the only British soil to be invaded and controlled by the Germans during WWII. Peopled with unique, endearing characters and framed with a smoldering love story, TGLAPPS reaffirms the redoubtable British spirit to "Keep Calm and Carry On" during challenging times – something that we all can relate to today. With a stellar production company and cast behind it, the Guernsey Literary and Potato Peel Society movie will be a must see for this period drama fan in 2018. 
---
By
for on September 11th, 2017
More to Love from Telly Visions