By
for on September 21st, 2017
Discover the Historical Personalities Behind 'Victoria and Abdul'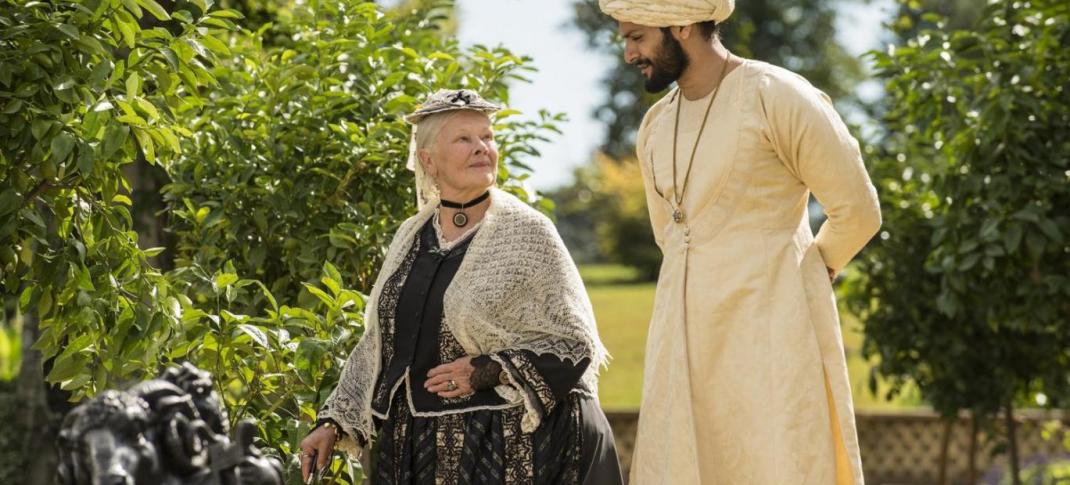 Fans of the hit Masterpiece series Victoria will be thrilled to see their favorite British Queen later in life when the new movie Victoria and Abdul opens in theaters in the US on Friday, September 22nd. Inspired by extraordinary true-life events, the script, based on Shrabani Basu's book, reveals the unexpected friendship between Queen Victoria and Mohammad Hafiz Abdul Karim, a young Indian sent to England in 1887 to attend Her Majesty during her Golden Jubilee celebrations. Starring venerable British actress Dame Judi Dench as the ageing Queen, and Indian actor Ali Fazal as her young servant, Working Title Films and BBC Films are co-producers of this lavish, historical biographical drama filmed on location at the Queen's favorite residence, Osborne House on the Isle of Wight, and in Scotland and India.  
Long-time Masterpiece viewers will recognize many of Victoria and Abdul's amazing supporting cast from previous productions: Tim Pigott-Smith (Jewel in the Crown, King Charles III) as Sir Henry Ponsonby the Queen's Private Secretary; Simon Callow (Inspector Lewis) as composer Giacomo Puccini; Michael Gambon (Cranford) as Prime Minister Sir Robert Cecil, The Marquess of Salisbury; and Olivia Williams (Miss Austen Regrets) as Jane Spencer, Baroness Churchill, Lady of the Bedchamber. Also rounding out Queen Victoria's inner circle is Eddie Izzard (Valkyrie) as Albert "Bertie", Prince of Wales, the Queen's dissipated son. 
Victoria and Abdul is a sequel to Mrs. Brown, a 1997 film which also starred Dench as the widowed Queen, brought out of deep mourning by John Brown, a trusted Scottish servant who soon becomes her special companion and confidant – much to the annoyance of her family, friends, and political advisors. Like Queen Victoria's dear husband Prince Albert, John Brown died before his time, succumbing under questionable circumstances while in service to Her Majesty in 1883; only 56 years old. Alone again, it will be four more years until Victoria meets Abdul Karim, presented to her as a "gift from India" in 1887.
Impressed by his tall, handsome figure, and kindly nature, the Queen befriends Abdul, who soon becomes her Munshi (teacher), instructing her in Urdu and the Koran; introducing her to curry, and advising her on Indian affairs. Now a powerful figure in the royal court, Abdul's relationship with the Queen incites envy and resentment within royal circles; a prickly thorn in the side of Victoria's family, especially her son Bertie, who deeply resents their friendship and Karim's powerful influence over his mother. 
Directed by Stephen Frears (Dangerous Liaisons, High Fidelity, The Queen), Victoria and Abdul promises to transport us back in time to the royal court and into the life of the redoubtable Queen of England and Empress of India, a monarch who dared to seek friendship beyond the inner-circle, and learn about a nation in which she ruled, yet never visited.
Here for your edification and enjoyment is the run-down of the historical who's who in the movie:
Queen Victoria (1819 – 1901) was Queen of the United Kingdom of Great Britain and Ireland from 20 June 1837 until her death. From 1876, she was also the of Empress of India. In 1840, she married her cousin, Prince Albert of Saxe-Coburg and Gotha, who became Prince Consort. Their union produced 9 children, whom she later aligned with many European crowned heads. Widowed in 1861, she deeply mourned the loss of her husband and withdrew from public life. Never remarrying, Victoria remained a widow for sixty years. Her two close friendships with her male servants John Brown and Abdul Karim were the cause of gossip and derision in the royal household, and an international scandal. In Victoria and Abdul, Dame Judi Dench reprises her role as Queen Victoria, a monarch who ruled over 20% of the world, yet was extremely lonely in her ivory tower. 
Mohammad Hafiz Abdul Karim (1863 – 1909) was born under Raj rule near Jhansi in British India. One of two Indian servants selected as a "gift from India" and sent to England for the Golden Jubilee of Queen Victoria in 1887, Karim quickly earned the Queen's confidence and deep regard, becoming her teacher and companion.
Despised by the royal court, Karim's influence over his Queen, and power in court, lasted for fifteen years, until the end of her reign. Bollywood actor Ali Fazal portrays the amiable Abdul Karim. 
Albert Edward, Prince of Wales (1841-1910) was the first son of Queen Victoria and Prince Albert and heir apparent to the British throne, later crowned King Edward VII. After the death of his father in 1861, his mother sent him abroad as her official emissary, traveling the world to her many colonies and dominions.
Largely excluded from holding any political power, the resentful Prince Albert chose to live the life a leisured elite – becoming the playboy prince – causing great conflict between him and his mother. British comedian and actor Eddie Izzard plays the disgruntled prince. 
Sir Henry Ponsonby (1825 – 1895) was born in Corfu while his father, Major-General Sir Frederick Cavendish Ponsonby, served as senior commander of the British Army. Entering military life in 1844, Ponsonby served for 24 years, retiring in 1868 as major-general. In 1870, he became Private Secretary to Queen Victoria, a position of greater importance and power during the Victorian era.
In a time when the written word was the main source of communication between his sovereign and her ministers, Ponsonby not only read all government documents, and her replies, he also acted as her advisor, ally, and guard dog, scheduling all of her audiences. Often in the middle of political and family conflicts, Ponsonby's mindset was often challenged, but rarely wavered. Tim Pigott-Smith stars as Ponsonby in his final film performance before his death on April 7, 2017.  
Robert Arthur Talbot Gascoyne-Cecil, 3rd Marquess of Salisbury (1830 – 1903) was a conservative statesman and Prime Minister for 13 years. An aristocrat, Lord Ceil was a descendant of Lord Burghley and the 1st Earl of Salisbury, chief ministers of Elizabeth I. Famous for his strong and effective foreign policy during a time of Britain's tremendous colonial expansion, at home, Lord Cecil was a traditionalist, attempting to hold back the tide of social reform.
During his tenure as Secretary of State for India, 1866–67, when faced with a devastating famine, he argued against experts who wanted "to run the risk of losing the lives than to run the risk of wasting the money." Portraying the legendary statesman is Michael Gambon, who is also slated to play Mr. Lawrence in the new BBC/PBS Little Women, due out in 2018.
Jane Spencer, the Dowager Lady Churchill (1826 – 1900), served faithfully as Lady of the Bedchamber to Queen Victoria for 46 years, until her death in 1900, making her the longest serving member of the queen's personal household. Born Lady Jane Conyngham, the eldest daughter of the Earl of Mount Charles (later 2nd Marquess Conyngham), in 1849 she married Lord Francis Spencer, who later inherited the title 2nd Baron Churchill (related to Winston Churchill and Princess Diana).
A devoted friend and trusted advisor, Baroness Churchill was often the brunt of the Queen's explosive temper. Her most crucial role, however, was as an intermediary between the Queen, her family, and her household staff – an unpopular position that she stoically performed with a combination of dignity, good humor, and vigilance. Olivia Williams takes on the role as formidable Baroness Churchill. 
Billed as a biographical comedy-drama, Victoria and Abdul opens in limited release on Friday, September 22, 2017 with a wider release slated for September 28. I am anxious to see it for purely selfish reasons – the performances, costumes, and scenery. How about you?  
---
By
for on September 21st, 2017
More to Love from Telly Visions