By
for on October 9th, 2014
Did You Know 'Downton Abbey' Star Elizabeth McGovern is in a Band?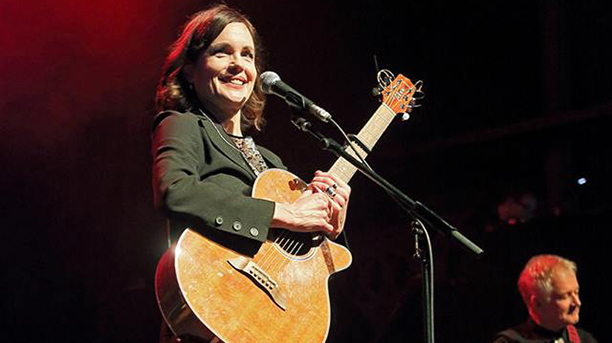 While American actress Elizabeth McGovern is probably best known these days for her involvement in the very British Downton Abbey, in which she plays Lady Cora Crawley, she also has a few hidden talents that might surprise those who only know her from the popular costume drama.
For example, Did you know that when she's not busy filming at Highclere Castle, McGovern regularly fronts a folk-rock band called Sadie and the Hotheads? Yup, her seven-piece group which will be embarking on a ten-date US tour along the East Coast this December.  The band, which was formed in 2007, has seen something of an uptick in popularity since the rise of a global appreciation of all things connected to Downton Abbey.
The tour will kick off in Washington, D.C. on December 4 and wrap in Hartford, CT on December 14. 
It's a bit…challenging to accurately describe the musical stylings of Sadie and the Hotheads, but their music is an eclectic mix of several different genres mixed in, along with a hefty dose of quirky lyrics. The band's website says their sound features "a world of musical influences, from '60s pop to country, esoteric folk to jazz, Celtic to torch songs."
Watch them perform The Cow Song below if you want a better idea of what they sound like.  
McGovern talked to the AP about Downton fans coming out to see her sing with the band saying: "When we first started touring there would be a lot of people carrying Downton Abbey books, and I could see a look of surprise on their faces because it isn't what you expect. I mean it's not a classical quartet of violins."
Tickets for all Sadie and the Hotheads tour dates went on sale at the end of last week, through a variety of outlets, including Ticketmaster and individual venue websites, depending on the specific show. You can see a full list of their confirmed tour dates and locations at the band's website.
For the locals, the DC performance will be held at DC's Lincoln Theatre, and prices range from general seats at $35 to VIP packages at $125. You can purchase tickets for this show via the Lincoln's  website or directly from Ticketfly, if you're interested in checking McGovern's band out for yourself.
And for those of you are in the DC area – keep an eye on the blog over the next couple of weeks. We're going to have a pair of tickets to the Lincoln Theatre show to give away, so you could have the chance to go for free!
What do you think of Sadie and the Hotheads' music?
---
By
for on October 9th, 2014
More to Love from Telly Visions