By
for on July 23rd, 2023
Episode 3 of 'DI Ray' Picks Up the Pace As the Body Count Piles Up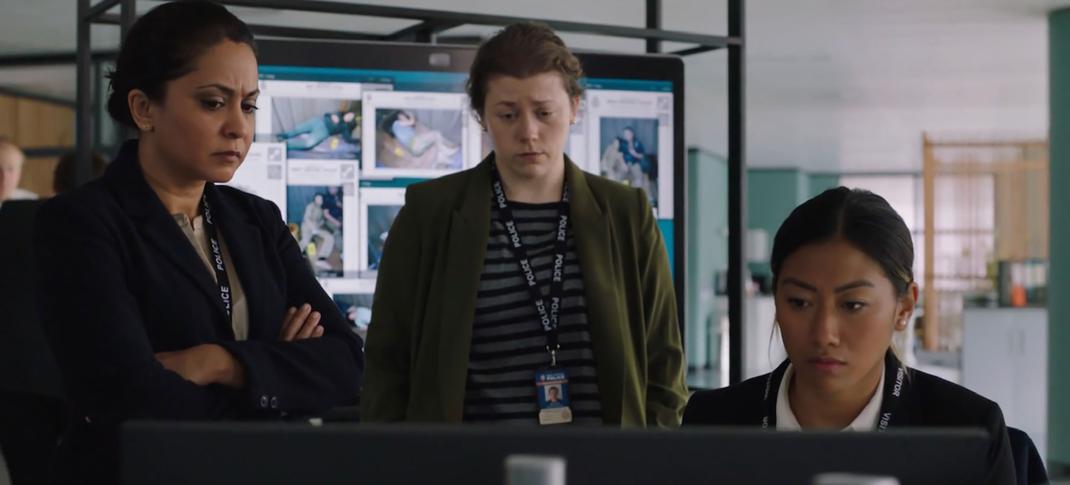 After two episodes spent on red herrings, D.I. Ray's third episode finally picks up the pace, as DI Rachita Ray has an opportunity to prove herself as the "Culturally Specific Homicide" she was brought on to investigate turns into something much more significant. The young man discovered alive in the shipping container is sent to the hospital to be placed under a medically induced coma as Ray heads back to the office, where she learns the other people in the container died of suffocation. They had Vietnamese currency in their pockets but no phones or IDs. The team suspects the people were being transported as part of a so-called "labor exchange program," otherwise known as human trafficking.
Ray calls for an interpreter, brought in by PC Debs Knott (Demelza O'Sullivan), the same officer who handed Ray the wrong lanyard on her first day in Homicides. (It seems like yet more microaggressions, but it comes back later, so hold that thought.) Per Ray's instructions, the interpreter, Min (Jan Le), poses as a person looking to immigrate from Vietnam to the UK for work on a social media site used by one of these "labor exchange programs." She learns that the employer where they send the immigrants to work is called Dish2U. Ray, Min, and DC Carly Lake head to Dish2U, where people come to work through a dubious "agency" that controls their money and documents.
While in recent years, sensationalist true-crime media has painted human trafficking as sweet, innocent white women getting snatched in parking lots, it is refreshing (if tragic) to see this show highlight the lesser-known victims of trafficking: immigrants desperate for employment, preyed upon by people who want to exploit them for their labor.
Though Ray seems on the brink of learning more about the human trafficking scheme, she is called away from the Dish2U site by Henderson, who tells Ray PC Knott accused Ray of bullying because she responded when Knott confused Ray's name and credentials. Also, Henderson reveals no forensic evidence of the intruder who tried to drown Ray in her bathtub. As a woman, it's brutal to watch Ray be disbelieved and led to question her perception of events. As a viewer, it's deliciously frustrating and an excellent execution of dramatic irony.
Not to be deterred, Ray and PS Khan head to Imran's family's home to speak to his sister Mona (Duaa Karim). Mona is upset that Ray is painting Imran as a potential criminal because, in her eyes, he was killed for being Muslim. Imran's mother recalls him arguing with a man outside her home and confirms it's the same man in the photo with Anjuli's car. He's identified as Marco, previously arrested for domestic violence. Ray tracks down Laura Milne (Lucy Phelps), who was with Marco when he was arrested, but Laura claims not to have seen nor heard from Marco since.
However, Marco turns out to be part of an organized crime investigation whose real name is Magnus Tranter. Also, Imran was no mere drug trafficking lackey — he was a government informant. Ray is permitted to continue the human trafficking case but is ordered to drop Tranter angle not to expose the covert investigation. As Ray is leaving the meeting, Martyn calls. He is inexplicably in the process of changing his shirt and offers to take Ray's concerns about her intruder up the chain. Ray tells him not to. Besides, Henderson is already looking for reasons to knock Ray down a peg, and as Ray puts it, Henderson would "have a bloody party" if she knew Ray and Martyn were together.
Stream Now
DI Ray
D.I. Rachita Ray investigates the suspected honor killing of a young Muslim man.
Image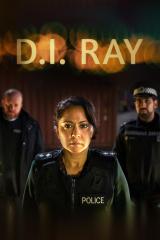 Ray's next lead is Karl Shaw (Michael Jinks), the driver who brought the shipping container to the yard. She visits his mother and manages to squeeze out that he will be at a hospital for his pregnant girlfriend's doctor's appointment. Ray rushes to the hospital and confronts him, admitting he was told to close off the air to the container so Border Control wouldn't suspect anything. When he opened the container, it was too late. But before Ray can get more out of him, a car appears out of nowhere and mows him down, killing him instantly. Ray insists it was Marco, AKA Magnus Tranter (Rick S. Carr), and suspects he was tracking her to ensure he got to Karl before she did.
It's been a rough day, so she and PS Khatri (Maanuv Thiara) go out for drinks after work. They talk about their families and bond over the song "Soho Road" (a bop, by the way). Ray and Khatri's dynamic has been delightful, but until now, the jury was unsure whether their feelings would stay platonic. It would almost be more interesting if they did because Ray needs someone in her corner to cheer her on without complications or expectations. But this is television, so it would never go any way other than romantic. As they leave the bar, Ray kisses Khatri, and he doesn't seem to mind.
They wake up in Ray's apartment the following day, where both are sweet and awkward. Even more embarrassing, though, is the lunch Ray has that afternoon with Martyn and her parents, Dev and Debo. Martyn tells Ray's parents that they are engaged, and her parents are overjoyed. It's a bit bewildering and quite sad that no one in Ray's life can tell how miserable she is, not even her parents, who adore her.
After lunch, Martyn picks a fight with her about returning to work. Yes, he's a lousy fiancé, but beyond that, something about the way the camera lingers on him in this scene screams "evil." The urgent matter that called Ray back was the teenage boy from the shipping container woke up. Narayan David Hecter gives a heart-wrenching performance as 16-year-old Thao, describing the final moments of desperation when the people in the container realized their air had been cut off. Thao only survived because his father, who perished in the container, told Thao to stay by a crack in the container for air. It's a horrific scene to imagine, especially when said by such a young and vulnerable character.
That night, Ray is at home when Khatri makes a surprise visit to bring her some takeout. They share a sweet moment, but Ray miserably reveals to him that she is engaged, and beyond that, they both know she's his boss. The scene is tender and heartbreaking, making you want to scream at Ray to stop making such sensible decisions. Khatri is ready to leave without a fight, but he tells Ray, "Whatever you do, don't get stuck." With that line, Khatri solidified himself as a significant sweetheart — if he hadn't already stolen the hearts of anyone watching.
Moreover, this was the first installment where the cliffhanger had me immediately reaching for the next episode, as Ray and Khatri's sad rendezvous turns tragic. Khatri leaves, turns around to say one last thing, and is struck by a drive-by shooting, falling into Ray's arms. The shooting is orchestrated by, surprise, surprise, Martyn, who has a sneaky photo of Ray and Khatri kissing. He is in cahoots with Magnus Tranter, who was the one to carry out the shooting ultimately. Ray falls to the floor with Khatri in her arms, both appearing unresponsive. 
---
By
for on July 23rd, 2023
More to Love from Telly Visions