By
for on June 8th, 2022
Delightful 'Our Flag Means Death' Will Be Back For Season 2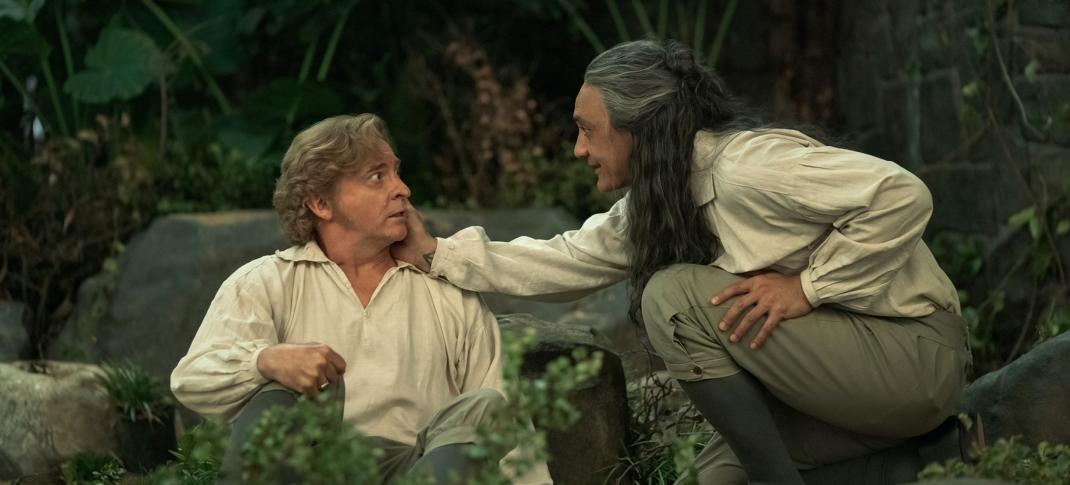 When Taika Waititi announced his new project was Our Flag Means Death, most assumed he was going to do the same thing for pirates that his other series, What We Do In The Shadows, did for vampires, creating a comedy classic. That it was based on an actual historical figure, gentleman-turned-pirate Stede Bonnet, whose ludicrous decision to turn to piracy was driven mainly by a desire to escape his wife, only seemed to solidify that angle. But fans who turned into the series discovered that outside the hard comedy shell was a soft romantic center, with an LGBTQ+ love story between Stede (Rhys Darby) and Edward Teach, better known as Blackbeard (Waititi).
The series has already developed a hardcore following, even with HBO Max's particularly confusing release schedule. (The show is already a hot subject on AO3.) But when it concluded at the end of March, with Edward and Stede having broken up due to misunderstandings. In the show's final moments, Teach was well on his way to building his Blackbeard reputation over his grief for Stede while Stede was desperately trying to find Teach again. With a need for a Happily Ever After, fans began to get anxious as the months dragged on, and no Season 2 announcement was forthcoming.
Thankfully, HBO Max was merely waiting for the right time to announce a new season, which it did on June 1, the beginning of LGBTQ+ Pride month. According to series creator David Jenkins, the second season will still have plenty of pirate stuff, but it will focus more on the aftermath of Stede and Blackbeard's breakup. "If you can follow the beats of having your heart shattered and trying to recover from it, and having done something that hurt someone you love and trying to repair that, that's an interesting story."
Jenkins also made sure to give a shout-out in the press release to the fandom that has already sworn loyalty to these two pirates. "We felt the show was special while we were making it, but fans' open-armed embrace of the inhabitants of the Revenge makes heading into a second season all the more sweet," Jenkins said. "Thanks to our team at HBO Max, our invested executive producers, and our wildly enthusiastic audience for making another voyage to this world possible."
Darby and Waititi will be back for Season 2, as will most of the core cast. Season 1 featured Guz Khan (Turn Up Charlie), Nathan Foad (Bloods), Samson Kayo (Timewasters), Vico Ortiz (The Sex Lives of College Girls), Ewen Bremner (Will), Joel Fry (Game of Thrones), and Matt Maher (Captain Marvel). Kristian Nairn (Robin Hood: The Rebellion), Con O'Neill (Chernobyl), Rory Kinnear (Ridley Road), Samba Schutte (The Grind), Nat Faxon (Hamlet 2), Fred Armisen (Portland), Leslie Jones (Ghostbusters), and David Fane (Wellington Paranormal) also co-star. Khan has already revealed he won't be back for the second season due to scheduling conflicts, but otherwise, it seems like everyone else will be back.
Our Flag Means Death Season 2 does not yet have a release date, but audiences can probably bank on a 2023 debut.
---
By
for on June 8th, 2022
More to Love from Telly Visions