By
for on January 26th, 2015
David Tennant Joins the Marvel Universe as 'Jessica Jones' Villain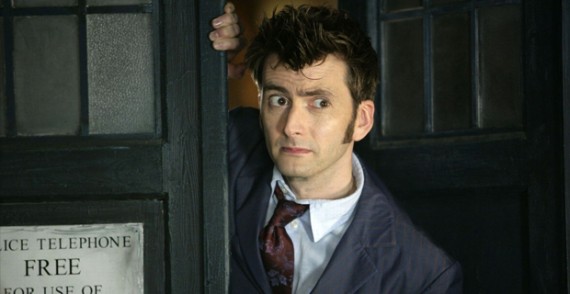 Rejoice, David Tennant fans! Though you may have wept at the cancellation of the American Broadchurch remake series Gracepoint  - if only because it meant a lack of the former Tenth Doctor on your TV every week (I mean, honestly, otherwise, why would you?) – you can rest easy, because the former Time Lord has just landed another big role. Yes, indeed, Tennant has officially joined the Marvel Cinematic Universe, and will be playing the villain in Marvel's upcoming 13-episode Netflix series A.K.A. Jessica Jones.
The official description for the Jessica Jones series as follows: "After a tragic ending to her short-lived super hero stint, Jessica Jones (Krysten Ritter, ABC's Don't Trust the B—- in Apt. 23) is rebuilding her personal life and career as a detective who gets pulled into cases involving people with extraordinary abilities in New York City. An enigmatic figure from Jessica's past, Kilgrave's reappearance will send shockwaves through the former super hero's world."
So dramatic, right? These superheroes and their issues.
The "enigmatic figure" Tennant will be playing is named Zebediah Kilgrave,who is otherwise known as the villainous Purple Man. In the comics, this character can produce pheromones which allow him to control the minds of people he's nearby.. He's also, as the name implies, actually purple, so this is going to be amazing in soooo many different ways. And also, super creepy.
"I'm so honored and excited by the prospect of David inhabiting this multifaceted character," said Executive Producer/Showrunner Melissa Rosenberg. "He can deliver the most heart-wrenching moment to the driest of lines, and all points in between. He'll make Kilgrave a truly original villain.
Tennant joins the likes of several other famous Brits who've taken on Marvel parts of various sizes, including Tom Hiddleston (Loki), Benedict Cumberbatch (Doctor Strange), Ben Kingsley, (The Mandarin), Hayley Atwell (Peggy Carter), Toby Jones (Arnim Zola), Paul Bettany (JARVIS/The Vision), Anthony Hopkins (Odin) and more. Heck, Tennant's not even the first former Doctor to join the MCU – his Doctor Who predecessor Christopher Eccleston played the leader of a clan of evil elves in Thor: The Dark World.
A.K.A Jessica Jones has a thirteen episode order from Netflix and is slated to be released sometime later in 2015. The series is the second in the streaming service's upcoming four-pack of Marvel titles, following Daredevil which will drop this May. Interestingly enough, I think the Purple Man is also a enemy of Daredevil's at one point or other in the comics, so don't be surprised if we see Tennant pop up in a couple of places once Marvel's plan to take over the world of streaming really gets under way.
Thoughts? Do you think this is a better or worse idea for Tennant than Gracepoint? 
---
By
for on January 26th, 2015