By
for on October 12th, 2013
David Suchet's Last Case: Watch ITV's Bittersweet and Awesome Trailer for the Final Series of 'Poirot'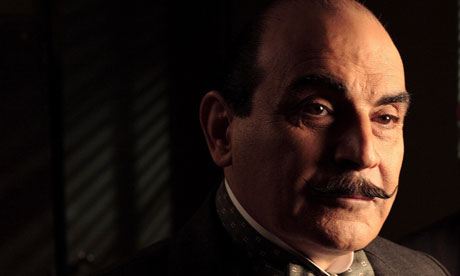 David Suchet
will reprise his iconic role as Belgian detective Hercule Poirot one more time for a final series of
Agatha Christie's Poirot
. With the release of this new season, the actor will achieve his stated
"life's ambition"
of filming the entirety of Christie's
Poirot
canon.  Suchet has been playing Poirot for over twenty years, so this is a truly impressive accomplishment.
The thirteenth and final series is comprised of four new feature-length Poirot films, which include The Big Four, Dead Man's Folly, The Labours of Hercules and Curtain, the latter of which is the famous detective's last case.  ITV has released an official trailer for this final season, and it's wonderfully bittersweet. With a tagline of "The End is Near", the spot features new footage interspersed with classic clips from Suchet's many previous episodes and a voiceover of the detective reflecting on his life and career.
It's really rather lovely. Watch for yourselves below.  
The airing of the final series of Poirot will begin at the end of October in the UK, but the final season will look a tiny bit different for Americans when it airs here (which we can probably assume is in 2014 at some point). We'll actually get five episodes – because the UK already aired one of the final Poirot mysteries earlier this year. So, in addition to the four episodes named above, we'll presumably also get to see Elephants Can Remember, which screened in the UK in June. So, while we still can't tell you that they show's not wrapping things up, at least there are still five more Poirot episodes for us to look forward to!
Suchet has played the Belgian supersleuth since his first appearance when 1989's The Adventure of the Clapham Cook was broadcast. That's a lot of years of mysteries solved! And while it is bittersweet to think about Poirot ending for good, there's something rather heartwarming about knowing that Suchet managed to film every Poirot mystery, and will forever be considered the iconic interpretation of the character. It's a pretty fantastic achievement.
Are you looking forward to seeing the final series of Poirot? We'll keep you posted as we know more about likely US airdates. Fingers crossed it's not too far in the\future! 
---
By
for on October 12th, 2013
More to Love from Telly Visions